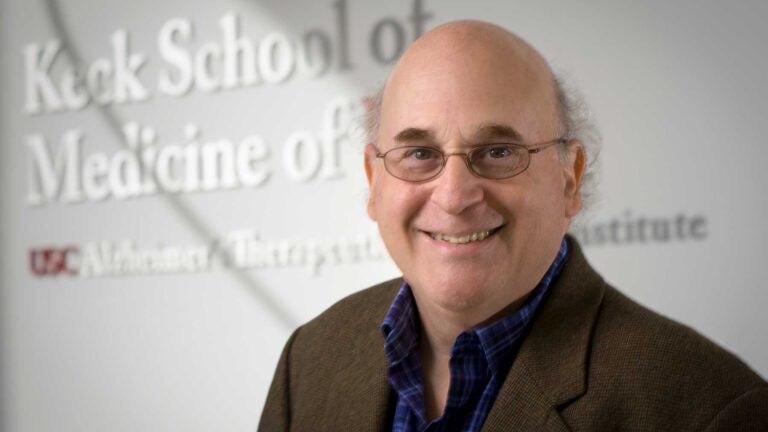 USC, Harvard hospitals and Mayo Clinic to build national Alzheimer's research system
New infrastructure could enable researchers to accelerate clinical trials and find new treatments for the disease, thanks to a grant from the National Institutes of Health
Three premier researchers from the Keck School of Medicine of USC, two Harvard-affiliated hospitals and Mayo Clinic have been awarded up to $70 million to build essential nationwide infrastructure that would remove a bottleneck in the development of techniques to treat Alzheimer's disease.
The new infrastructure will implement more efficient methods to recruit participants for clinical trials. It will provide centralized services, enabling Alzheimer's researchers to run innovative clinical trials, manage and analyze huge amounts of data and recruit participants from diverse backgrounds. The group will also share data, software, instruments and biologic samples such as blood, tissue and cerebrospinal fluid.
Combining brainpower to solve this intractable problem is necessary because everyone will be affected or will know someone affected by this disease in their lifetime, said Paul Aisen, one of the principal investigators of the National Institutes of Health grant and the director of the USC Alzheimer's Therapeutic Research Institute (ATRI) in San Diego.
Alzheimer's disease is the sixth leading cause of death in the United States.
"A new therapy for Alzheimer's disease has not been approved in the past 14 years, and none of the approved therapies actually change the course of the disease," Aisen said. "Scientists have made great strides in understanding Alzheimer's disease, and technological advances have placed us on the verge of a breakthrough. This collaboration will remove some of the barriers that have hamstrung researchers from timely completion of clinical trials in Alzheimer's disease and other dementias."
Aisen from USC ATRI, Ronald Petersen from Mayo Clinic in Minnesota and Reisa Sperling from Brigham and Women's Hospital and Massachusetts General Hospital — both Harvard-affiliated hospitals in Boston — comprise the leadership team that will collaborate with others to create the Alzheimer's Clinical Trial Consortium (ACTC).
The consortium is expected to receive nearly $70 million over five years, pending the availability of funds, to build an initial network of 35 Alzheimer's disease trial sites at top universities across the nation. More sites may be added later, the NIH said.
"When we announced the funding opportunity for a new publicly supported clinical trials network, we envisioned a next-generation consortium, where shared expertise could enhance the ideas and approaches of individual investigators proposing and conducting trials," said Laurie Ryan, chief of the Dementias of Aging Branch in the National Institute on Aging's Division of Neuroscience, which leads NIH research on Alzheimer's. "I think we will have that now. I am particularly interested in how we can better engage diverse communities into research, so that trials can more effectively include and benefit everyone who is affected by Alzheimer's."
Specific clinical trials would be funded separately. The consortium expects to have the capacity to manage five to seven trials over the five years of the award.
"We must overhaul our current recruitment strategies for clinical trials, particularly to improve the diversity of our study participants and to reach people who do not yet have symptoms of Alzheimer's disease for inclusion in future prevention trials," said Sperling, who leads the Center for Alzheimer Research and Treatment at Brigham and Women's Hospital and Harvard Medical School. "The new ACTC presents a terrific opportunity to innovate in recruitment, cognitive assessments and neuroimaging for the next generation of Alzheimer's trials."
Software, data and networks galore
Alzheimer's disease is the sixth leading cause of death in the United States. About 5.5 million Americans are living with Alzheimer's in the U.S. this year, according to the Alzheimer's Association. Without successful treatments, that number is projected to rise to about 13.5 million by 2050.
As a research institution devoted to promoting health across the life span, USC researchers across a range of disciplines are examining the health, societal and political effects and implications of the disease.
The NIH allocated $1.3 billion to Alzheimer's disease research in fiscal year 2017 — $884 million more than in 2013. In fact, federal funds used to find a cure or treatment for this disease, which kills 1 in 3 seniors, have steadily increased over the years.
The goal of the consortium is to accelerate Alzheimer's clinical trials toward finding effective interventions that will treat or prevent this devastating disease.
The consortium will help scientists intervene early, before memory loss occurs, when treatments are expected to be most effective. Early intervention requires screening thousands of volunteers to identify eligible participants — a time-consuming task that can result in delayed recruitment or under-enrollment. To speed up the process, the consortium will develop new and more efficient methods for recruiting and retaining participants.
"Some clinical trials fail simply because time runs out before researchers are able to finish signing collaboration agreements or recruit the requisite number of participants," Petersen said. "The ACTC will do the hard work of recruiting potential participants. These 'trial-ready cohorts' allow researchers to spend their time investigating hypotheses and gaining a better understanding of Alzheimer's disease rather than dealing with tedious logistics."
Vanguards in their field
Scientists who lead Alzheimer's clinical trials must assess participants' cognitive state, analyze brain scans and manage data — areas in which the three principal investigators excel.
Aisen has 25 years of experience designing Alzheimer's disease clinical trials. He and USC ATRI are renowned for developing the gold standard for measuring study outcomes and for creating techniques to catalog massive amounts of data using biostatistics and advanced information systems. In a way, Aisen is like a traffic cop who helps direct vehicles so that drivers can avoid congestion and reach their destination without encountering roadblocks.
Sperling is a world leader in rethinking the Alzheimer's problem. As the project director of global, multi-site prevention trials in Alzheimer's disease, she has helped redefine the stages of Alzheimer's disease, including those before symptoms arise. Her research team has developed cutting-edge cognitive and imaging tools for therapeutic trials at the preclinical stage of Alzheimer's disease, before symptoms arise.
Petersen has made a name for himself in mild cognitive impairment research. He developed the first clinical trial for people suffering from this early dementia condition and has contributed a wealth of information about the stage of the disease when symptoms theoretically could be halted or reversed.
"This nationwide collaboration will move us closer toward techniques to prevent Alzheimer's disease," Aisen said. "Perhaps one day we'll be able to do a blood draw to identify individuals in need of preventive measures to stave dementia and Alzheimer's disease. We're not there yet, but we've had many promising studies that have provided bread crumbs on how to get there."