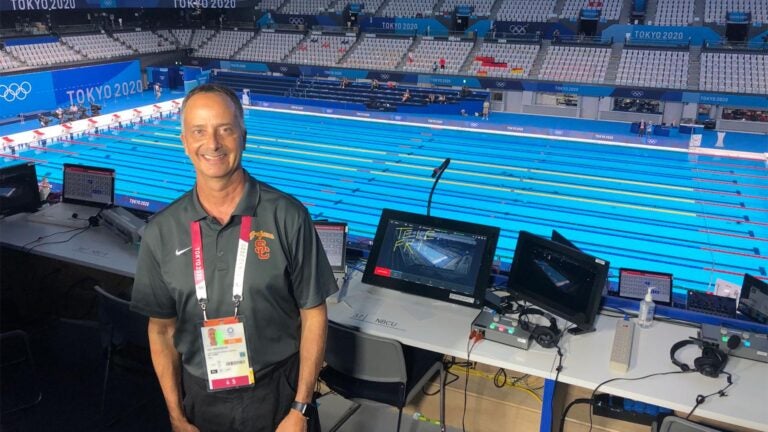 USC Annenberg's resident Olympics expert has a front-row seat at his 12th Games
Award-winning sportswriter and journalism professor Alan Abrahamson is considered one of the world's foremost authorities on the Olympic movement.
After covering the Olympics for over two decades, Alan Abrahamson has his routine down.
One of the world's foremost experts on the Olympic movement, the award-winning sportswriter, best-selling author television analyst and journalism instructor knows that every other year he'll be traveling somewhere around the globe to write about the most important international athletic competition there is.
This time, though, it's barely been six months since the COVID-delayed Tokyo Olympics ended. But as he heads back across the world to the 2022 Winter Olympics in Beijing – this time without USC journalism students because of the pandemic — that tight turnaround doesn't really seem to bother him.
For Abrahamson, it's just less time he had to wait to do what he loves.
"It feels incredibly quick to be going back into the Olympic scene, and in this case, an Olympic bubble," said Abrahamson, an associate professor of professional practice at the USC Annenberg School for Communication and Journalism. "I have been isolating now for weeks because I don't want to run the risk of having our friend 'Mr. Omicron' derail my plans for Beijing."
Munich Games a turning point for USC Olympics expert
For Abrahamson, the 1972 Olympic Games in Munich was the turning point. As part of the only Jewish family in his little town of Clayton, Ohio – just outside of Dayton – a 13-year-old Abrahamson watched as 11 Israeli athletes were held hostage and eventually murdered.
"I became acutely aware that someone might want to hurt me because of who I was," he said.
But with that tragedy also came hope. He watched a Jewish athlete, Mark Spitz, win seven gold medals. He saw Frank Shorter win the gold in the marathon, which left a huge impression on the skinny track and field fan growing up in a state where football is king,
"Frank Shorter showed scrawny little Jewish me in that instant that you could have status by not playing football," Abrahamson said. "I decided right then and there that I was either going to win an Olympic gold medal – which that didn't turn out so well – or I was going to be part of this somehow."
USC Olympics expert's dreams delayed
Abrahamson started working for the sports section of the local paper in high school before attending Northwestern University. His hoped to cover the 1980 Olympic Games in Moscow — even going so far as studying Russian all four years of college to prepare — before the United States announced it would boycott the games. He graduated that year and his Olympic dream would be put on hold for 20 years.
Over the next two decades, Abrahamson took a year off to travel the world, went to law school, passed the bar exam and took a job with a big San Francisco law firm. One year into his law career, while working on an especially mundane case — an antitrust action involving the market for curly fries — he had an epiphany: He hated it.
"I thought this had to be the worst thing of all time," Abrahamson said.
He practiced law for one more year before deciding to get back into journalism, first with a small legal publication, then with the Los Angeles Times. He spent nine years on the Times' news desk before moving to sports and, in 2000, was finally asked to cover the Olympics in Sydney.
There, Abrahamson vividly remembers watching Australian sprinter Cathy Freeman win gold in the 400m in front of her home crowd.
"The stadium literally shook it — it was incredible," Abrahamson said. "For a little 14-year-old boy from rural Ohio, it was a dream come true."
Front-row seat for Olympics history
Abrahamson has had a lot of unforgettable moments in his 20-plus year career covering the Games. From watching Misty May-Treanor and Kerri Walsh Jennings win gold in beach volleyball at the 2004 Athens Games, to seeing Kenyan runner David Rudisha break the 800m world record in London in 2012, and covering every one of Michael Phelps' Olympic races, he has witnessed some of the greatest athletic achievements of this century in person.
In 2010 he launched 3 Wire Sports, a site dedicated to the Olympic Games and the culture that surrounds them. Abrahamson also served as a columnist at NBCOlympics.com, NBCSports.com and UniversalSports.com from 2006 until 2010, before coming to USC Annenberg. One of his greatest joys at USC has been giving his students the opportunities he sought while in college, like taking a group to cover the 2018 winter games in Pyeongchang, South Korea.
"It's just as rewarding to me to see young people live out their dream, as it is to be able to do it myself," he said. "To be able to help young people now do that, or get a taste of that, is truly full circle and incredibly rewarding and gratifying."
It's just as rewarding to me to see young people live out their dream, as it is to be able to do it myself.

Alan Abrahamason, Olympics expert
Although Abrahamson isn't taking any students to Beijing this year, he hopes to resume doing so in the future. And he notes that for any prospective journalism students interested in the Olympics — or sports in general — the choice of school is an easy one.
"I just feel like we have something really, really special going on at the Annenberg School," Abrahamson said. Dean Willow Bay and Director of the School of Journalism Gordon Stables "understand sports — they get sports. They're big supporters, and it's a great environment."
USC Olympics expert's advisory role
Abrahamson is also a member of the International Olympic Committee's press committee and was first to suggest publicly – in 2016 – that the International Olympic Committee make a historic, simultaneous double award of the 2024 and 2028 Games to L.A. and then Paris. Though the IOC reversed the order, with Paris hosting in 2024 and L.A. in 2028, he still played a part in bringing the Olympics to his own backyard.
"The Los Angeles games in 1932 were transformative as they introduced the concept of a village. The 1984 Los Angeles games were also transformative as they saved – literally and figuratively – the movement," Abrahamson said. "There is no question in my mind that the 2028 games will also be transformative … interest in the Olympic movement will, just as it did after 1984, explode around planet Earth."
A question he gets all the time is which Olympics was his favorite — London for summer, Sochi for winter — but for someone who loves the Olympics as much as Abrahamson, every Games is a privilege to cover.
As Abrahamson enters his 12th Olympics, he's noticed how much has changed since his first Games in 2000. Instead of writing a story a day, he writes three to five, along with making TV appearances, doing social media and posting a video blog. Now, all the buses that carry journalists have Wi-Fi — an idea he suggested to the IOC years ago. Bottom line: There's no downtime, and with a six-month turnaround from the Summer Games, there hasn't been much prep time, either.
But in one way, nothing has changed. He still walks into every Olympic Village like it's his first.
"Every time I'm at the Games, I still feel like the 14-year-old little boy from Clayton, Ohio," Abrahamson said. "Very few people in life get to live out their dreams. I get to."