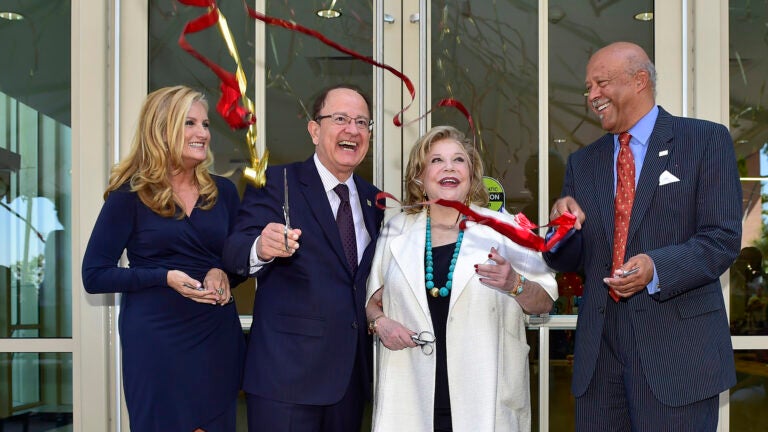 USC Annenberg unveils Wallis Annenberg Hall
Transformative building fosters exploration and development of the digital future
The USC Annenberg School for Communication and Journalism inaugurated a new era of digital media education, communication and production with the grand opening of the visionary Wallis Annenberg Hall.
A crowd of more than 500 students, faculty, staff, trustees, alumni and friends of USC Annenberg cheered the Oct. 1 ribbon-cutting that marked the official opening of the 88,000-square-foot, future-focused facility that rises from the center of the University Park Campus. Cardinal and gold metallic streamers filled the air as members of the USC Trojan Marching Band trumpeted the occasion.
School and university leaders heralded the building as an expression of the school's dedication to transparency, collaboration and experimentation. As the digital media revolution pushes ahead, Wallis Annenberg Hall is uniquely prepared to help build the next generation of communicators.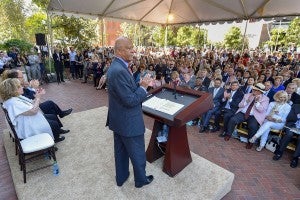 Wallis Annenberg's leadership
Thanks to philanthropist Wallis Annenberg, students will have access to the digital tools of the future in the richest of learning environments, said USC President C. L. Max Nikias. It is her sustained support of USC Annenberg that has allowed it to flourish, he said.
"Bearing testament to Wallis' vision of access and connectivity, the building is full of spaces that encourage collaboration and cooperation," Nikias told the crowd that gathered around the tall glass entranceway leading into the building's four-story atrium. "It is also home to some of the most creative minds — faculty and students — who will push the limits of technology, communication and journalism. They will redefine how we connect, how we think and how we access information and experience our days."
The $59 million building, initiated by a lead gift of $50 million from the Annenberg Foundation, was designed with the input of students, faculty and staff. The physical spaces and digital networks comprise a learning and production laboratory unique to an academic environment — a place where students and scholars can be nimble and innovative as they work collaboratively.
"In today's dynamic era, communication is at the center of everything. Wallis Annenberg Hall is a perfect example of that — a pulsing, networked, fully collaborative space," said USC Annenberg Dean Ernest J. Wilson III. "It embodies our values and guides our actions and ambitions as we study, chronicle and invent the future of journalism, public relations and communication."
Combining the best of the new and old
At the heart of the building is a 20,000-square-foot media center — a newsroom that fully converges audio, video and text production for delivery on all platforms. It combines the school's student-run digital, broadcast, radio and public relations operations. Journalism and communication students share material and expertise among platforms, using up-to-the-minute technologies. Television, radio and direct-to-Web video broadcast studios are multipurpose and allow students to stream professional-quality programming to any medium seamlessly.
"Here, students will acquire legacy skills and legacy ethics while learning how to use modern platforms," Nikias said. "They will balance the demand for instantaneous information with the time-tested traditions of storytelling. They will, in a time of converged media, master all domains of contemporary journalism and move between them fluidly."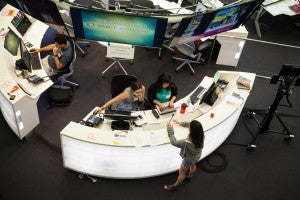 From the beginning, the idea of the media center helped spark the vision for the entire building, said Wallis Annenberg, who as president and CEO of the Annenberg Foundation directed the gift that initiated planning for the building.
"It started with the idea that the real future of journalism — the students here — should learn and train and innovate in the kind of 21st century newsroom, the kind of interactive, multimedia incubator, that should be commonplace in 10 or 15 years," Annenberg told the crowd gathered to celebrate the building named in her honor.
"It started with the notion that a great school of journalism and communication leads the way, serves as a laboratory for change. It doesn't just anticipate the future, but wills it into being."
Namesakes make it possible
Nikias took the opportunity to publicly thank Wallis Annenberg, whom he called the "dean" of the USC Board of Trustees. She has been a lifelong advocate for the essential role journalism plays in enriching society and sustaining democracy. Now, Wallis Annenberg Hall will forever link her name with the university, he said.
"As USC's longest-serving trustee, Wallis has provided strong guidance and counsel to this university for over 40 years," Nikias said, drawing applause and cheers from the audience. Thanks to her support, USC will "forever give Annenberg students access to a world of exciting possibilities, where they will create and convey timeless stories that connect and chronicle the human journey.
"And for this, Wallis, we will be forever grateful."
The Annenberg Foundation and the Annenberg family have contributed a total of $350 million to USC, beginning with Ambassador Walter H. Annenberg, who founded USC Annenberg in 1971.
Here's what's inside
MSNBC anchor and USC Annenberg alumna Alex Witt, as a featured speaker of the grand opening ceremony, told the audience that she hires interns every semester for her show, so she's familiar with the competition USC students and graduates face as they launch their careers.
"I am 1000 percent confident the students here are being educated in the premier facility in this country. There is nothing like it anywhere," Witt said. "USC students are going to come out of this place, and they're going to be competitive not only with those who are also applying for jobs, they're going to be head and shoulders above the rest of them."
The first steps through Wallis Annenberg Hall's collegiate Gothic exterior reveal a Greek assembly-style forum, topped with a towering atrium and skylight. The forum is designed to encourage impromptu gatherings as well as host guest lectures and programs. A 30-foot digital media wall will greet visitors as a real-time showcase of student programming.
Throughout the building, collaborative spaces drive the design. Students are drawn into reconfigurable project areas with movable walls, a digital lounge providing ongoing technical training and workshops, open study areas and drop-in spaces. Corners easily became meeting areas, thanks to well-placed chairs and electrical outlets. Hallways are lined with whiteboards, allowing for impromptu conversations and meet-ups.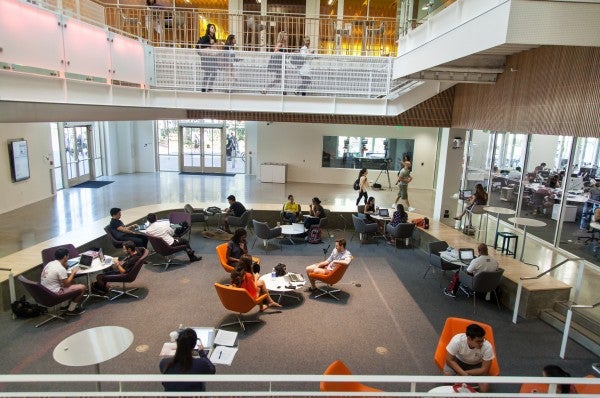 And anywhere that glass could replace drywall, it does. The philosophies of sharing and transparency are clearly visible.
Behind the scenes, a central media ecosystem – unique for an academic environment — encourages digital collaboration by communication and journalism faculty, students and scholars. USC Annenberg boasts an integrated multimedia system built on a 500-terabyte, private media cloud. Students can strip, rebuild and transfer projects seamlessly from a range of sources – including classrooms, Media Center workstations and laptops – and even deliver programming ready for use on TV, radio or the Web.
With the new era of entrepreneurial journalism and communication in mind, USC Annenberg designed a glassed-in "do-it-yourself" video broadcast studio, visible from Childs Way, featuring technology that allows any student to direct and produce a Web or TV program while sitting in front of the camera. The one-man-band studio is an example of the technology being used to spark students' creativity and innovation.
Customizable spaces
The space likely will be used in ways the technologists haven't even thought of, school leaders said.
Almost all of the advanced technology of Wallis Annenberg Hall is customizable, with the ability to accommodate emerging technologies. Throughout the building, technologies are scalable and flexible as new innovations pop up.
Among the building's other features:
five floors and 23 classrooms
3,000 wired data ports and full WiFi, including 111 hotspots
148-seat auditorium and an Italian bistro-style café
Design and architecture of Wallis Annenberg Hall is by Harley Ellis Devereaux, in partnership with Bernards as the general contractor. The new building, on the west side of Pertusati Bookstore, supplements the school's operations in its flagship building on Watt Way.
An integral part of Wallis Annenberg Hall is USC Annenberg's new nine-month journalism master's degree. The program launched in August, and students in the inaugural class already are using the advanced technology of the classrooms and the media center to produce journalism across all platforms. Dean Wilson has dubbed the degree "a new program in a new building for a new era."
Fall also brings both of USC Annenberg's schools, the School of Communication and the School of Journalism, two new directors: Sarah Banet-Weiser and Willow Bay, respectively.
Two years after launching a $150 million fundraising initiative, USC Annenberg has raised more than $100 million for Wallis Annenberg Hall, scholarships and fellowships, chaired professorships and new student projects. The initiative is part of the broader Campaign for the University of Southern California, a multi-year effort to raise $6 billion for the university's academic, community and capital priorities. Three years after its launch, the campaign has raised more than $3.6 billion.
For more information about Wallis Annenberg Hall and USC Annenberg's fundraising drive, visit the hall's website.