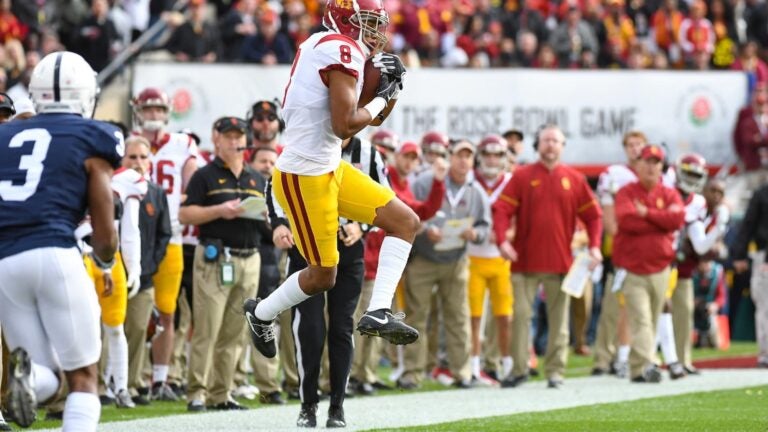 USC announces 2017 football schedule
Rose Bowl champs open season with home games against Western Michigan, Stanford and Texas
The 2017 football schedule for defending Rose Bowl champion USC has been announced by the Pac-12 and it features seven home games in the Los Angeles Memorial Coliseum.
The schedule features three straight home games to open the season, including a rare visit by Texas, and the regular season finale against crosstown rival UCLA. Also visiting the Coliseum will be Pac-12 opponents Stanford, Utah, Arizona and Oregon State and non-conference foe Western Michigan.
Overall, USC's 12-game schedule features five teams that played in bowls this past season and won at least eight games. The Trojans will play nine league foes in the 2017 regular season (all but Oregon and Washington).
However, for the first time since the 1995 season, the Trojans will not have a regular-season bye week, only getting a week off on the final weekend of November should they advance to the Pac-12 Championship Game on Dec. 1 or 2 at Levi's Stadium in Santa Clara.
New season tickets, starting at $320 for all seven home games, are now available for purchase online or by calling 213-740-GOSC (4672).
Current season ticket holders can renew their tickets now by going to the USC Athletics website and clicking on "Manage My Account" under football.
125th USC team
The 125th team in USC history will open its 2017 slate with a three-game homestand, as Western Michigan of the Mid-American Conference on Sept. 2 and the Big 12's Texas on Sept. 16 sandwich league foe Stanford's Sept. 9 appearance. The Broncos won 13 games in 2016 and played in the Cotton Bowl, while the Longhorns will be making their first L.A. visit versus Troy since 1967, and both teams will be guided by a new head coach (Tom Herman with Texas and Tim Lester with Western Michigan). The Cardinal clash marks the seventh year in a row that USC will play the Pac-12's first conference game of the year.
After Texas, the Trojans take to the road for a pair of Pac-12 encounters, at California on Sept. 23 and then visiting Washington State for a Friday night game Sept. 29.
USC returns to the Coliseum for two league contests, hosting Oregon State on Oct. 7 and Utah on Oct. 14.
USC then goes back on the road for its traditional intersectional battle with Notre Dame on Oct. 21 before finishing with a stretch of four Pac-12 games, first playing at Arizona State on Oct. 28. Arizona comes to the Coliseum on Nov. 4, then USC goes to defending Pac-12 South Division champion Colorado on Nov. 11 before hosting the Bruins on Nov. 18.
Game times and television plans for USC's 2017 games will be announced later. All games will be nationally televised by either the ESPN channels, ABC, Fox, Fox Sports 1 or the Pac-12 Network.
Winning streak
USC is riding a nine-game winning streak heading into the 2017 season after going 10-3 and finishing ranked No. 3 nationally in 2016, capped by the thrilling 52-49 last-second victory over Penn State in the Rose Bowl.
Head coach Clay Helton's 2017 Trojans return 14 starters on offense, defense and special teams, including: quarterback Sam Darnold, the Rose Bowl Offensive MVP who will enter the upcoming season as a leading Heisman Trophy candidate after throwing for 3,086 yards and 31 TDs in the 2016 season; tailback Ronald Jones II, who led the Trojans in rushing in 2016 with 1,082 yards and 12 touchdowns; inside linebacker Cameron Smith, USC's 2016 tackle leader; two-year starting cornerback Iman Marshall; defensive end Porter Gustin; wide receiver Deontay Burnett; and placekicker Matt Boermeester, who hit the Rose Bowl game-winning field goal at the gun.