USC Announces Commencement Speakers for Baccalaureate and Satellite Ceremonies
Finance executive Mellody Hobson will deliver main commencement speech; Pete Carroll among honorary degree recipients
Contact: Tanya Abrams at (213) 74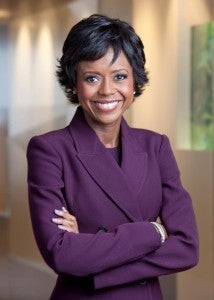 0-6973 or tanyaabr@usc.edu
More than 51,000 members of the Trojan Family will unite on the University Park Campus for USC's 132nd commencement ceremony on May 15.
Mellody Hobson, president of the Chicago-based money management firm Ariel Investments, will deliver the commencement address. Hobson is also chair of the board of trustees for Ariel Investment Trust.
Approximately 15,000 degrees will be conferred during USC's commencement this year, including more than 1,500 doctorate degrees, either at the main ceremony in Alumni Park or at one of the satellite ceremonies across campus.
Degree candidates, Half Century Trojans, faculty and distinguished guests will form a processional leaving Bovard Auditorium at 8:30 a.m. USC President C. L. Max Nikias will preside over the main ceremony at 9 a.m. in Alumni Park.
—
Novelist Pico Iyer to deliver baccalaureate keynote address; Snapchat CEO Evan T. Spiegel, Ice Bucket Challenge creator Anthony Carbajal and anchormen Charles Gibson and Jorge Ramos among satellite ceremony speakers
On May 13, the Keck School of Medicine of USC will hold its satellite ceremony for M.S., Ph.D. and public health graduates. Keith Yamamoto, vice chancellor for research and executive vice dean, School of Medicine of the University of California, San Francisco, will serve as the speaker. The speaker at the Keck School's satellite ceremony for M.D. graduates on May 16 will be Charles Gibson, former anchor of ABC's "World News With Charles Gibson."
The baccalaureate ceremony for USC degree candidates and their families will be held at 5 p.m. on May 14 at Bovard Auditorium. Essayist and novelist Pico Iyer will deliver the keynote address at the nondenominational, interfaith celebration. The baccalaureate dinner will follow at 6:30 p.m. on Pardee Way.
Diplomas on May 15 will be presented at satellite ceremonies for individual schools with the following speakers:
USC School of Architecture
Gwendolyn Wright, professor of architecture, Columbia University
USC Roski School of Art and Design
Robbert Flick, professor of photography, USC Roski
USC Division of Biokinesiology and Physical Therapy
Anthony Carbajal, ALS advocate and creator of ALS Ice Bucket Challenge
USC Marshall School of Business, Leventhal School of Accounting
Mary Ann Sigler, partner and chief financial officer, Platinum Equity
USC Marshall School of Business (Graduate)
Robert J. Currey, chairman and CEO, Enventis Corporation
USC Marshall (Undergraduate)
Evan T. Spiegel, co-founder and CEO, Snapchat
USC School of Cinematic Arts
Jay Roach, filmmaker
USC Annenberg School for Communication and Journalism, School of Communication
Debra Lee, CEO, BET Networks
USC Annenberg School for Communication and Journalism, School of Journalism
Jorge Ramos Ávalos, anchorman, Noticiero Univision
Herman Ostrow School of Dentistry of USC
Mike Meru, orthodontist
USC School of Dramatic Arts
Seema Sueko, associate artistic director, The Pasadena Playhouse
USC Rossier School of Education
John Slaughter, professor of education, USC Rossier, and professor of engineering, USC Viterbi School of Engineering
USC Viterbi School of Engineering (Graduate)
Ram Shriram, founder, Sherpalo Ventures
USC Viterbi (Undergraduate)
Mike Abbott, general partner, Kleiner Perkins Caufield & Byers
USC Gould School of Law
The Honorable André Birotte Jr., U.S. attorney, Central District of California
USC Dornsife College of Letters, Arts and Sciences (Group 1)
Peter Mancall, vice dean for the humanities
USC Dornsife (Group 2)
Dani Byrd, vice dean for institutional affairs
USC Dornsife (Group 3)
Steven Lamy, vice dean for academic programs
USC Dornsife (Group 4)
Wendy Wood, vice dean for social sciences
Keck School of Medicine, Health Promotion and Global Health Programs
Paul Gregerson, chief medical officer of internal medicine, John Wesley Community Health Institute
Keck School of Medicine, Physician Assistant Program
Dawn Morton-Rias, president/CEO, National Commission on Certification of Physician Assistants
USC Thornton School of Music
Laurence Lesser, musician and laureate of the 1966 Tchaikovsky Competition in Moscow
USC Division of Occupational Science and Occupational Therapy
Wenchun Qu, assistant professor of physical medicine and rehabilitation, Mayo College of Medicine
USC School of Pharmacy
Sean Astin, actor and mental health advocate
USC Price School of Public Policy
Curtis Conway, football studio analyst, PAC-12 and NFL Networks
ROTC Commissioning Ceremony: Air Force, Army, Naval
Rear Admiral Sandra Adams, the deputy commander, Navy Expeditionary Combat Command
USC School of Social Work
Kimberly Finney, clinical psychologist and clinical associate professor, USC School of Social Work
Other satellite ceremony speakers to be announced will be posted on individual schools' websites.
—
Mellody Hobson to deliver main commencement speech
Hobson began her career at Ariel Investments as an intern. She became its president less than a decade later. The firm has more than $10 billion in assets under management.
Hobson is dedicated to investor education and has become a nationally recognized voice on financial literacy. She is a regular contributor and analyst for CBS News, the Tom Joyner Morning Show and Black Enterprise magazine. She is also the spokesperson for two reports that examine investing patterns among minorities — the Ariel/Hewitt Study: 401(k) Plans in Living Color and the Ariel Black Investor Survey.
Hobson's involvement in professional and civic institutions extends beyond finance. She is the chairwoman of DreamWorks Animation and a director of The Estée Lauder Companies and Starbucks Corp. She is also the chairwoman of After School Matters, a nonprofit that provides quality programs outside of school for Chicago teens. Hobson serves on the boards of the Lucas Museum of Narrative Art and The Chicago Public Education Fund; she was also appointed emeritus trustee of the Sundance Institute.
Hobson earned her bachelor's degree from Princeton University's Woodrow Wilson School of International Relations and Public Policy. She has also received honorary doctorate degrees in humanities from Howard University and St. Mary's College.
—
Honorary degree recipients include California's attorney general, a health policy leader, a Nobel Prize-winning chemist, a celebrated conductor and a Super Bowl and national college title-winning coach
Six honorary degree recipients, including Hobson, will be recognized for their contributions as civic, academic and arts leaders in the community. They are:
Pete Carroll, the head football coach of the Seattle Seahawks who led his team to a Super Bowl victory in 2014. Carroll returned USC football to national prominence during his nine-year tenure as head coach at the university. His "Always Compete" philosophy has led to a successful four-decade career in football. Carroll is one of just a few coaches in football history to have won a Super Bowl and a national college championship. He is also the founder of A Better LA and A Better Seattle, two gang-violence prevention and community-building organizations that empower inner-city youth and forge relationships with service organizations.
Kamala Harris, the 32nd attorney general of California. As the state's chief lawyer, Harris has worked on a range of critical issues. Her efforts to target and dismantle the operations of a major human trafficking ring have protected people around the world. In addition to combating transnational gangs that traffic in human beings, guns and drugs, Harris has prosecuted mortgage-related fraud and crime during California's financial crisis. Additionally, she has promoted the adoption of more technology in law enforcement and the incorporation of data-driven policing. Harris, who served two terms as district attorney of San Francisco, is also the first female, first African-American and first South Asian attorney general in California's history.
Leonard Schaeffer, a policy expert in health care financing who is considered one of the most transformative health care executives in the nation. Schaeffer is the founding chairman and CEO of WellPoint, one of the nation's largest health insurance companies, and a senior adviser to TPG Capital, a private equity firm. Through scholarly and philanthropic contributions, Schaeffer has dedicated his life to advancing health policy research. He established the USC Leonard D. Schaeffer Center for Health Policy and Economics and brings together policymakers and industry leaders to solve health care's most demanding challenges.
Michael Tilson Thomas, an award-winning conductor, pianist and composer who has won numerous Grammy Awards. In 2009, President Obama awarded him the National Medal of Arts. Thomas has been the music director of the San Francisco Symphony for 20 years. He founded the New World Symphony and created the YouTube Symphony Orchestra. His compositions are inspired by a range of sources, from Anne Frank's diary to Emily Dickinson's poetry. Thomas received his bachelor's and master's degrees from the USC Thornton School of Music. He was named a Judge Widney Professor of Music at USC in 2014.
Ada Yonath, a Nobel Prize winner whose work in observing and documenting the ribosome has significantly advanced understanding of its structure and refocused scholarly discussions about it all over the world. Yonath, who won the international Wolf Prize in Chemistry, has contributed significant research on the effectiveness of antibiotics. Yonath also pioneered the methodology of cryocrystallography, a technique for examining rapid-frozen protein crystals that decreases the adverse effects of radiation that was previously inherent to X-ray crystallography. In 2004, the Keck School of Medicine awarded Yonath its Massry Prize.
For more information, visit commencement.usc.edu.
###