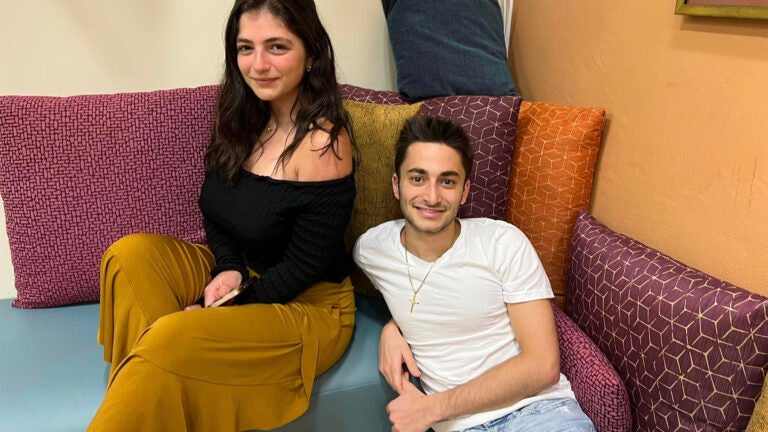 Students have big plans for USC's first Arab American Heritage Month
The newly established Middle Eastern North African Student Assembly is making the most of additional resources as the group advocates for more.
When Anthony Khoory arrived at USC nearly four years ago, he found himself unable to truly enjoy festivals and other cultural events put on by various affinity groups on campus.
"There was nothing wrong with the festivals themselves, but it would bother me because there was something for them and there was nothing for us," said Khoory, a USC Dornsife College of Letters, Arts and Sciences senior whose father is from Iraq and mother is from Syria.
That has changed thanks to Khoory and other determined students. During the early days of the COVID-19 pandemic, he took the first steps in forming a club for Middle Eastern and North African (MENA) students at USC. USC Dornsife sophomore Nour Myra Geha, who grew up in Lebanon, later joined in his efforts. They and other persistent Trojans pushed for the Undergraduate Student Government to admit their club as its own assembly, complete with the funding, dedicated staff member and other resources that come with that status. Last fall, the Middle Eastern North African Student Assembly (MENASA) was officially established with Khoory and Geha as co-directors.
MENASA will kick off Arab American Heritage Month at USC on Monday with an event at Hahn Plaza that begins at noon and will feature a belly dancing performance, music and refreshments, including the Middle Eastern pastry baklawa, a dish similar to Greek baklava. Speakers will include USC President Carol L. Folt, Associate Professor Christine El Haddad of the USC Marshall School of Business, and Amin Nash of the Arab American Civil Council, who will talk about the founding of Little Arabia in Anaheim and the importance of establishing a MENA checkbox on official forms.
We want to educate and inspire people to learn more about these countries beyond what they see on the news.

Nour Myra Geha, MENASA
"We want to educate and inspire people to learn more about these countries beyond what they see on the news," Geha said. "Education happens far beyond the classroom — it happens everywhere on this campus."
The kickoff is part of a series of USC Arab American Heritage Month events that will include a community potluck, a talk on racial justice in the Middle East, a dabke dance night, a Sham El-Nessim celebration, and a concert with Egyptian singer and performer Bayou. The month will conclude with a formal ballroom event with speakers, performances and a DJ on April 27.
"There's a large social component," Khoory said. "We want to connect people within the community and outside the community."
USC Arab American Heritage Month: Recognizing a rich heritage
The Arab America Foundation launched Arab American Heritage Month in 2017 to formally recognize the rich heritage of Arab Americans and the community's contributions to society. While very few states participated initially, recognition grew when President Joe Biden wrote a commemorative letter to the foundation in 2022 recognizing the April as National Arab American Heritage Month.
Biden's support of the month inspired the USC MENA students — at that point still a club and not yet an assembly — to hold a small but memorable opening ceremony a year ago in front of Tommy Trojan. They used their modest budget of $100 to rent a speaker and buy ingredients for desserts that they baked themselves. The students were buoyed by Folt's participation — and by having more than 50 attendees.
"We were so proud of our first event, but it will be much bigger this year," Geha said.
A safe cultural place
More than 1,000 students now follow MENASA on social media, and the assembly has a 19-member executive board. The group emphasizes unity and raising awareness about the MENA region and diaspora, and wants to be known as the kind of safe cultural space for everyone that does not involve religion or politics.
Greedley Harris, director of strategic partnerships for USC Student Equity and Inclusion Programs, said the persistence and hard work of the students over the past few years has made all the difference. It also resulted in establishment of the MENA Student Lounge, which is located within the Center for Black Cultural and Student Affairs inside the Gwynn Wilson Student Union on the University Park Campus.
I'm very proud of the work they've done to build community and to create spaces for MENA students to connect.

Greedley Harris, USC Student Equity and Inclusion Programs
"I'm very proud of the work they've done to build community and to create spaces for MENA students to connect," Harris said. "They have made sure there's representation, created effective programming, and worked with SEIP (Student Equity and Inclusion Programs) to showcase and ultilize the MENA Lounge."
While the student leaders are happy the group will be officially recognized as a student assembly, they believe this is only the beginning.
They are pushing to have a MENA race checkbox on university forms and applications and believe that the lack of their own category leads to inaccurate student body demographics that affect what resources they receive. The U.S. government currently categorizes people with origins in the MENA region as white in census and federal government surveys. A new checkbox for "Middle Eastern" or "North African" was proposed by the Biden administration in January. A final decision by the White House Office of Management and Budget is expected to be made in the summer of 2024.
Poised for growth
Khoory is graduating with a sociology degree in May, leaving Geha and other members of the assembly to continue to grow the organization.
"There's so much potential for this," Geha said. "I know that meeting Anthony that first time and him just speaking Arabic to me made me feel relaxed. I knew that having a space like this would make a lot of people feel 10 times better."
The group is working on redecorating its lounge to better reflect the cultures of all the students who spend time there. They want everyone to feel welcome.
"There is no other way to purposefully meet other people who share your culture, share your history and speak your language," Geha said. "You're able to find community."