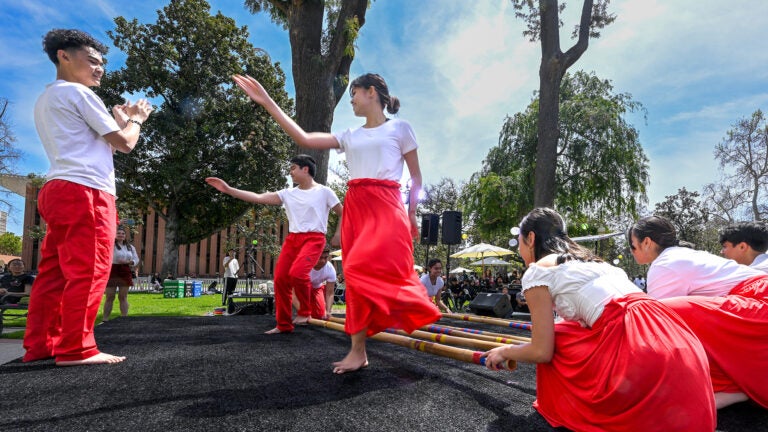 USC gets early start on Asian American and Pacific Islander Heritage Month
More than 650 students, faculty and staff enjoy singing, dancing and speaker remarks during opening event in Founders Park on the University Park Campus.
USC alumnus and newly minted Academy Award winner Ke Huy Quan wasn't at the university's Asian American and Pacific Islander (AAPI) Heritage Month kickoff event in Founders Park on Thursday. It only seemed that way.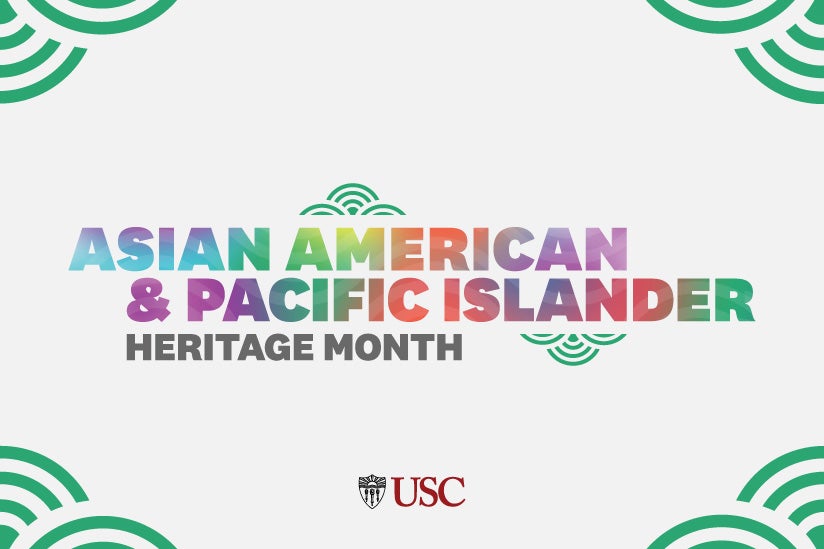 The Everything Everywhere All at Once star's name was prominently mentioned by various speakers at the event, including by USC President Carol L. Folt. She shared that she had recently exchanged emails with Quan, a 1999 USC School of Cinematic Arts graduate whose Oscar for best performance by an actor in a supporting role came last month after a nearly 20-year hiatus from acting.
"He's just really wonderful," Folt told the crowd of more than 650 people. "And he calls himself a proud Trojan and says how wonderful his memories are of USC."
The program, organized by USC's Asian Pacific American Student Services, included two songs by USC's East Asian a cappella group Trogons and a K-pop mashup performed by Band Kori. The crowd seemed especially dazzled by watching members of USC Troy Philippines perform a traditional Filipino folk dance known as tinikling, which involved bamboo poles.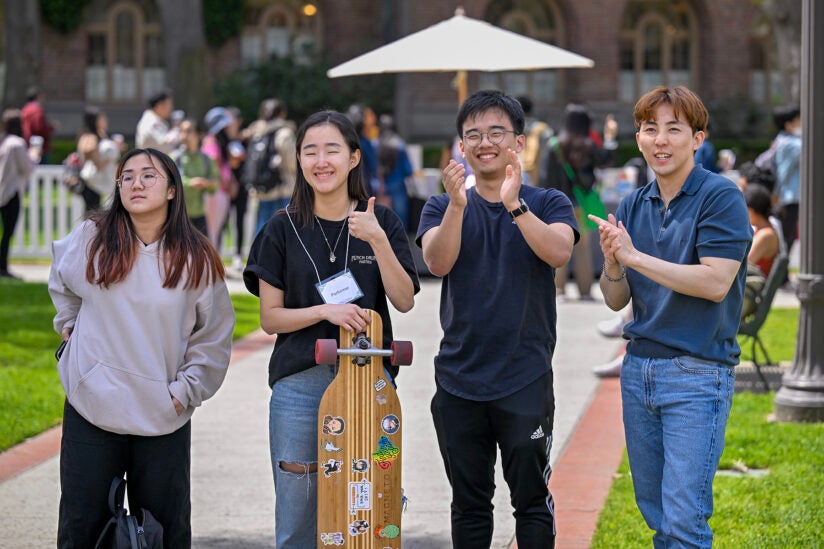 "I'm actually Filipino and I'd never seen the [tinikling] dance before, so that was actually very cool to see," Joshua Lee, a junior at the USC Viterbi School of Engineering, said as he waited in line for food after the performances. "I'm going to ask my mom about it."
AAPI Heritage Month became federally designated in 1992 to recognize the contributions and influence of Asian Americans and Pacific Islander Americans to the history, culture and achievements of the United States. Nationwide, it's observed in May, but at USC the celebration takes place throughout April when all students are still on campus. Folt stated that 24% of USC's undergraduate students and more than 16% of its graduate and professional students identify as AAPI.
USC AAPI Heritage Month: Anyone can be a storyteller
USC Dornsife College of Letters, Arts and Sciences professor Viet Thanh Nguyen, a Pulitzer Prize-winning novelist, encouraged AAPI students to be storytellers in their lives and to celebrate their heritage even if they become doctors, lawyers or engineers instead of filmmakers, musicians, artists or writers.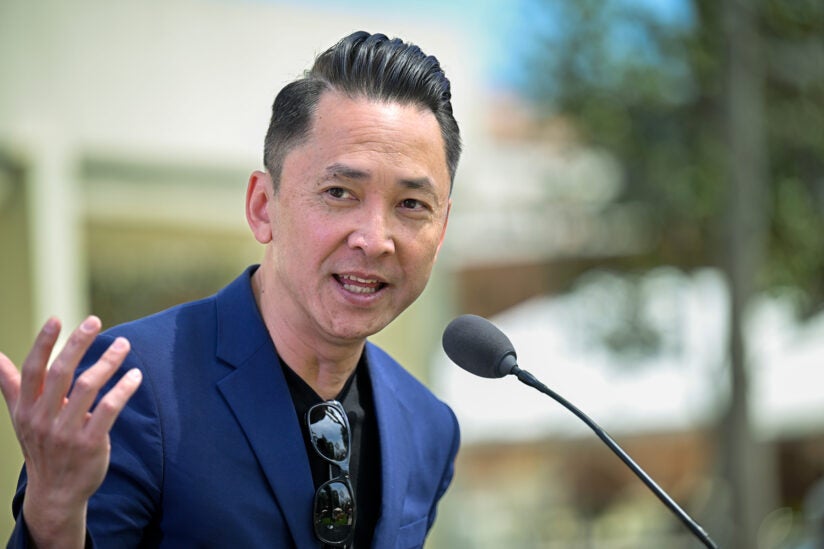 "The beauty and the diversity of the Asian American and Pacific Islander community continues to grow here at USC and elsewhere," the professor of English and American studies and ethnicity said. "You each have the chance to tell your story, to whomever you encounter — especially to your family, your parents, your grandparents and your kids."
Nguyen said he is personally looking forward to hearing some of those stories "in five years, 10 years and 20 years."
USC Asian Pacific Alumni Association Board President Ada Yeh and Lindsay Masukawa, a student at the USC Division of Biokinesiology and Physical Therapy, were the other speakers during the noontime celebration.
"Today we come together to celebrate the beauty of our community, to share stories and experiences, and to honor those who have paved the way for us," Yeh said in her remarks. "Let us remember the importance of unity, solidarity and the power of our voices when we come together."
Through good times and bad
When Masukawa took the stage, she focused on a few "dark chapters" in history, including the incarceration of Japanese Americans beginning in 1942 after U.S. President Franklin Roosevelt signed Executive Order 9066, which authorized the forced removal of all persons deemed a threat to national security from the West Coast to "relocation centers" further inland. Masukawa's grandparents and great-grandparents were among those incarcerated at internment camps.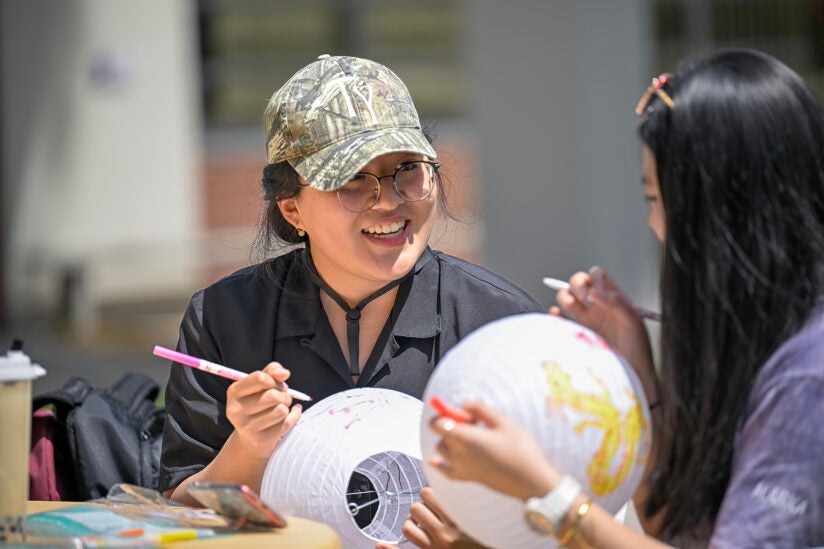 "They not only endured harsh conditions, but they were ashamed to be of Japanese descent and felt the need to prove their Americanness despite being U.S. citizens," she said. "And yet, here I am, two generations later, extremely grateful that I got to grow up in a world where I'm allowed to be proud of my culture. But I also understand that we have so much further to go."
Masukawa said AAPI Heritage Month is an opportunity to shine a light on "a community that comes together in times of loss, in times of celebration and in times of need." Among those more recent times of loss was the Jan. 21 mass shooting inside Star Ballroom Dance Studio in Monterey Park that killed 11 people after an all-day Lunar New Year Festival.
The community helped lay the foundation for healing and was able to "uplift one another in the face of unthinkable tragedy that for many happened very close to home."
"I'm so excited to see the community come together once again," Masukawa said. "But this time to celebrate the vibrance of AAPI cultures, foods and traditions … and to learn from one another's experiences and diverse perspectives."
Students find inspiration at USC AAPI Heritage Month kickoff event
Attendees also enjoyed boba drinks and food that included spicy kelp onigiri (Japanese rice balls wrapped in nori), salmon onigiri, spam musubi and miso chicken onigiri.
Graduate student Natasha Wu of the USC Annenberg School for Communications and Journalism described the event as "inspiring."
"I really appreciate that USC does value different cultures and holds this kind of event," she said. "I'm literally from Taiwan and talking to students from other countries, I've learned about a lot of things."
USC AAPI Heritage Month events
Thursday's kickoff event was the first of more than a dozen AAPI events scheduled throughout April. They include: