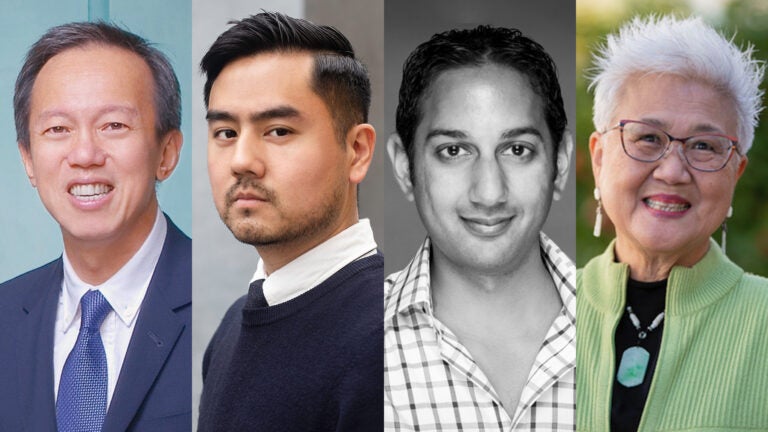 USC Asian Pacific Alumni Association to honor 4 distinguished alumni on Saturday
Leadership Awards will go to Husodo Angkosubroto and Gay Q. Yuen. Pranav Shah and Sean Miura will also be honored.
Four accomplished alums will be celebrated for their achievements and service at the USC Asian Pacific Alumni Association (APAA) Scholarship and Awards Gala on Saturday at The Langham Huntington hotel in Pasadena.
APAA will confer two Leadership Awards at the event, recognizing Husodo Angkosubroto, chairman of PT. Gunung Sewu Kencana, and Gay Q. Yuen, board chair of Friends of the Chinese American Museum of Los Angeles.
Angkosubroto, one of Asia's most influential business leaders, presides over PT. Gunung Sewu Kencana, an Indonesia-based investment and management group founded by Angkosubroto's father in 1953. The group, with a workforce approaching 30,000, has three core businesses: property development; agribusiness, including the third-largest canned-pineapple operation in the world; and financial services with a focus on life insurance.
A dedicated Trojan, Angkosubroto has helped develop strong bonds among USC alumni in Indonesia, and has joined forces with other prominent Trojans in that country to raise money for libraries and bookmobiles. He earned his bachelor's degree in business administration from the USC Marshall School of Business in 1977.
Yuen, current board chair of Friends of the Chinese American Museum of Los Angeles, is leading a $4 million expansion in historic El Pueblo to raise awareness of the history and contributions of Chinese people in America. During her 40-year career as a leader in education, she has made a profound impact on the design of policy, curriculum and instruction for bilingual and minority studies. At California State University, Los Angeles, she oversaw the teacher credentialing programs for elementary, secondary and graduate instruction.
Yuen, who has served as a board member and fundraiser for numerous local nonprofits, received her doctorate from the USC Rossier School of Education in 1995. She also holds degrees from Cal State L.A. and UCLA.
APAA will present two additional awards at the gala.
USC Asian Pacific Alumni Association awards: Service Award
Pranav Shah is founder and president of Off The Grid Management and D34 Rentals. These companies offer experiential marketing stunts, long-term installations, pop-up stores, galas and more. Since starting his businesses in 2020, Shah has worked with such brands as Anheuser-Busch, Meta, T-Mobile and L.A. Opera.
A 2005 graduate of the USC School of Dramatic Arts with a BFA in technical direction, Shah was president of the New York alumni group from 2012-13, and helped put on the group's Tommy Award shows (honoring New York Trojans) for eight years running. Shah also served on the APAA board from 2016-22 and co-chaired the USC Asian Pacific Film Fest for three years. In 2013, he was presented with a USC Alumni Association Widney Alumni House Volunteer Award.
USC Asian Pacific Alumni Association awards: Young Alumni Award
Sean Miura is a Los Angeles-based writer and producer, and the producer and lead curator of Tuesday Night Café, the oldest Asian American public art series. He is also the supervising producer of About To Eat, a multiplatform food and travel channel on BuzzFeed with over a million YouTube subscribers.
Miura has written extensively on Asian American culture, and provided cultural consultation on projects for A24, Netflix and Disney. He is currently a media consultant and Core Exhibit Advisory Committee member for the forthcoming permanent exhibit at the Japanese American National Museum. Miura received a bachelor's degree in communication in 2010 from the USC Annenberg School for Communication and Journalism, and served as an adjunct instructor at the school in 2022.