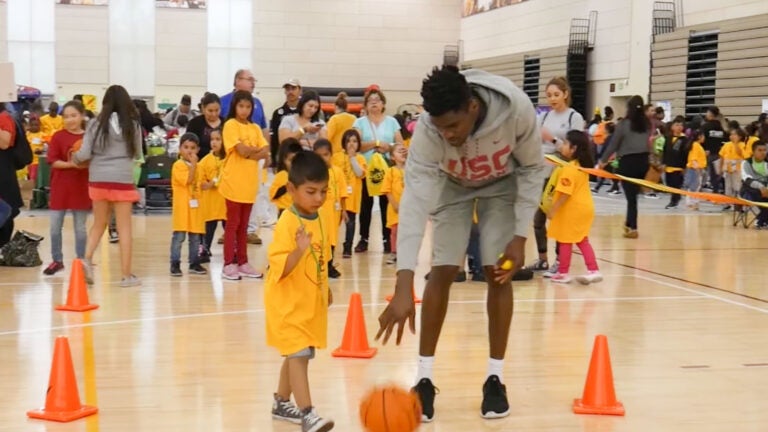 USC student-athletes a force for good in L.A. through outreach work
Trojans teach kids about sustainability, help veterans and take on tough issues like homelessness
USC's talented student-athletes are known for battling fiercely against their opponents, but when they aren't in the heat of competition, they open their hearts to help out the Los Angeles community.
You might spot them volunteering at a local shelter for people experiencing homelessness. Or maybe picking up trash along the beach in Santa Monica. And every year they give away hundreds of toys to kids during the winter holidays.
It's all part of the USC Athletics community service initiative known as Trojan Outreach. Participants from all 21 varsity sports pitch in. Last year, 650 student-athletes performed more than 5,000 hours of volunteer work.
I'm always impressed by the amazing spirit of service that our Trojan student-athletes display through this program every year.

Lynn Swann
"I'm always impressed by the amazing spirit of service that our Trojan student-athletes display through this program every year," said USC Athletic Director Lynn Swann. "These hard-working student-athletes truly embody USC's passion and commitment to serving our community."
Although USC Athletics has overseen community service projects led by athletes for many years, the department received a substantial boost five years ago with a $5 million endowment gift for outreach from the Otis Booth Foundation.
The donation provides long-term support for the initiative, helping athletes bolster their work in the neighborhoods surrounding USC. The funding goes toward supplies for community events ranging from beautification and mural projects to health festivals for local youth, in addition to supporting a full-time staff member to oversee the program.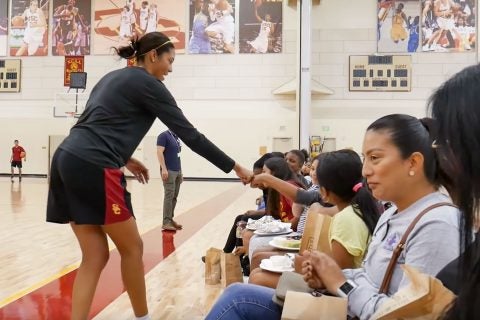 As Trojan Outreach has grown, the student-athletes' hard work has earned them top honors. USC recently received the 2018 Community Service Award from the National Association of Collegiate Directors of Athletics and the Fiesta Bowl.
A major goal for Trojan Outreach this year is performing more group and team projects to encourage collaboration and bonding among athletes, said McCall Hall, director of community outreach for USC Athletics. "Now we have to live up to the hype and keep the momentum going," Hall said. "We've already done a lot of great work this year, and I'm excited to see our student-athletes step up and build on this tradition of giving back."
USC athletes' community service: Valuable experience while helping the community
Children and those in need benefit from the program. But the student-athletes also gain critical experiences, too.
"Because they are so busy studying and training, our Trojan student-athletes don't always have time to take on an internship or a job while they are in college," she said. "Participating in these outreach efforts gives them invaluable experiences and life lessons that they will carry with them into their future careers."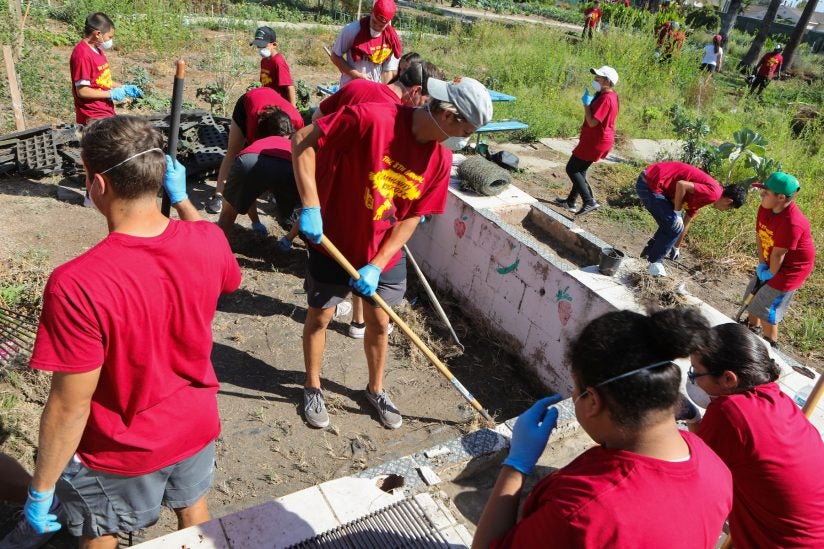 Recent service projects have run the gamut from sports clinics with local kids to an antibullying campaign at a nearby elementary school to a self-portrait painting exercise with local girls to encourage positive body image.
The baseball team and Trojan Dance Force held a community kickoff event in September to mark the start of the athletics season. They met up with students at Peary Middle School in Gardena to talk about sustainability and spruce up the school's community garden.
USC athletes also helped put on a tailgate at Heritage Hall for children dealing with serious health conditions before the recent football matchup against the University of Colorado. The gathering honored the memory of Taylor Hammond, a young boy who battled leukemia and had developed a strong bond with the USC football team.
At another event dubbed Extra Yard for Teachers, 30 students from Audubon Middle School toured USC before congregating at Heritage Hall to talk about how to get along with their fellow students. As they gathered to discuss some of the challenges they face, the kids were joined by special guests from the football team — offensive lineman Jordan Austin and tight end Daniel Imatorbhebhe.
"These football players were able to share their thoughts with these young people about conflict resolution, living their life with intention and setting goals," Hall said.
At the end of the event, USC leaders applauded teacher Valerie Doby, who earned her master's degree in education at USC in 2007, for regularly bringing together her students to discuss issues like being positive and supporting one another. They also surprised her with a check for $10,000 to support her professional development or classroom needs.
During a health festival at the Galen Center in November, USC student-athletes joined nearly 2,000 local kids for health screenings, fitness stations and a healthful lunch, followed by a USC women's volleyball match. The festival was a collaboration with LA's BEST, an afterschool enrichment program that serves thousands of local kids throughout Los Angeles.
USC Athletics is also continuing its popular Trojan Wish program, which treats local kids dealing with health challenges to a special VIP experience at a USC sporting event.
Watch this video see Trojan Outreach in action:
---
Want to follow USC athletes as they help out in the community? Check out Trojan Outreach on Twitter and Instagram.