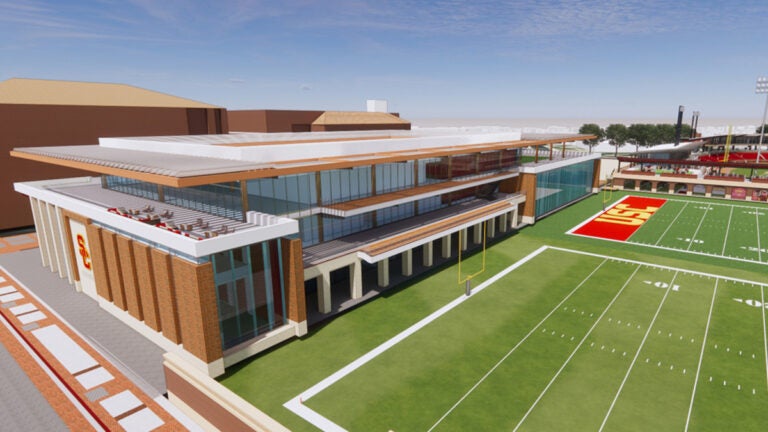 USC unveils strategic vision to transform athletics facilities
University President Carol L. Folt's "moonshot" for athletics builds on recent momentum to support all 21 sports programs and launch USC Athletics into the future.
In the last four years, USC Athletics has achieved historic success on and off the field. Just this past season, women's beach volleyball won its third straight national championship, and Caleb Williams brought the Heisman Trophy back to USC in December. Trojan student-athletes also earned a record-setting graduation success rate of 93% in 2022.
Last week, USC President Carol L. Folt unveiled a strategic vision for athletics facilities to the USC Board of Trustees as part of her athletics "moonshot." The three primary objectives of the vision are to position USC Athletics for success with world-class facilities, promote gender equity in support of Title IX and maximize space use through innovative planning. Trojan student-athletes will soon have state-of-the-art facilities commensurate to their recent achievements and to USC's upcoming integration into the Big Ten Conference, all within the existing footprint of the University Park Campus.
"Every day our exceptional, hard-working student-athletes come here to pursue their dreams. We want to provide the facilities and support for those dreams to come true," Folt said. "These exciting new plans will benefit Trojan athletes across all 21 programs."
USC Athletics facilities: A game-changing football performance center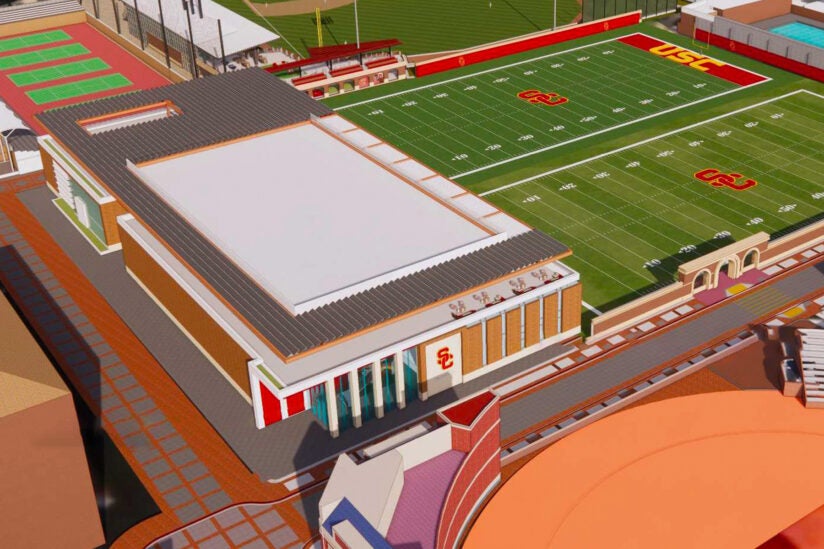 Folt announced that USC football will receive a new performance center, which will include three levels dedicated to team operations as well as a rooftop hospitality deck and player lounge. USC Athletics is also adding a second full-length practice field, which players will access directly from the performance center.
Head football coach Lincoln Riley said this improvement will be "an absolute game-changer for our program. It will be the perfect home for our team and give our players every opportunity to be successful."
The new complex will feature student-athlete-centric spaces, including a new locker room, multiple player lounges, a recovery hub, nutritional support, sports sciences services, a weight room, a training room and an equipment room.
USC football's new home will also feature a team auditorium, position meeting rooms, recruiting areas, staff offices and flexible space for future growth.
USC constructs a new home for women's soccer and lacrosse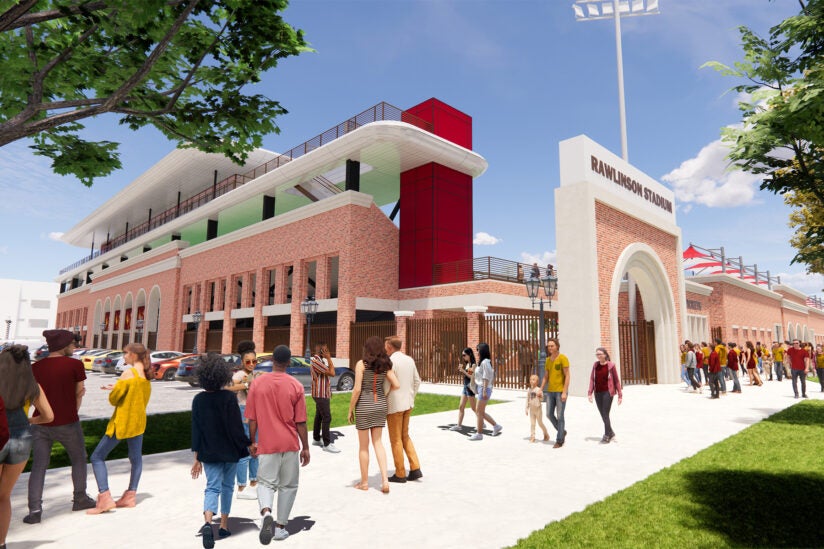 The university also announced this week that USC women's lacrosse and soccer teams will have a new home: Rawlinson Stadium. The stadium will feature a total capacity of 2,500 for game days and include spectator viewing decks and social spaces, a state-of-the-art press box, spectator restrooms, a box office, concession stands and a formal entry plaza.
Rawlinson Stadium — made possible by a gift from the Fritz B. Burns Foundation and support from Folt's presidential fund — will have new, dedicated locker rooms for the soccer and lacrosse teams, as well as a team meeting area, a sports medicine space, a nutrition fueling bar and meeting space for coaches. In addition, Rawlinson Stadium will include an LED video board and a natural grass playing surface.
Major enhancements coming to Dedeaux Field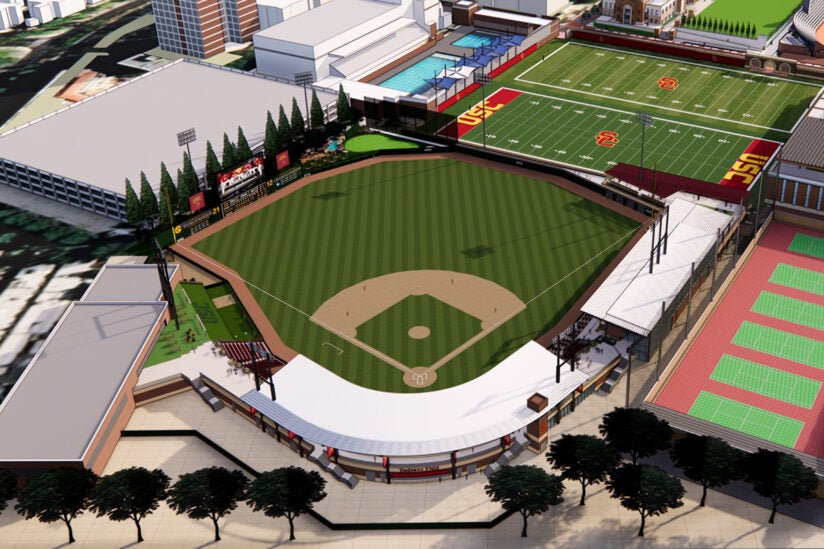 USC baseball will receive an upgraded baseball stadium with a capacity of around 2,500. The stadium features include fan experience enhancements such as a variety of seating options, outdoor social spaces, an indoor hospitality space, multiple concession locations, expanded restrooms, a video board and an audio system.
The stadium will also include a brand-new press box, coaching and support staff offices, and a team meeting space.
USC Athletics facilities: Building on momentum and investing in the future
These and other improvements — from the renovation of the Los Angeles Memorial Coliseum to the renaming of Allyson Felix Field and renovations to the track and field stadium — build on USC's commitment to elevating the student-athlete experience through sustainable and student-focused initiatives including:
First-in-class student-athlete academic support through key student-facing hires.
Doubling the amount of meals offered to student-athletes.
Bolstering student-athlete welfare by doubling the number of sport psychology clinicians.
Integrating athletic medicine into the world-renowned Keck Medicine of USC.
Launching the Trojan Enrichment Program, which allows the maximum amount of educated-related financial support to all student-athletes.
The strategic vision for athletics facilities includes future renovations to the John McKay Center for all student-athletes, a significantly expanded student-athlete dining facility, an upgraded golf practice facility, and enhancements to the Galen Center arena and more. These transformative initiatives represent USC Athletics' holistic commitment to sustained excellence across all 21 athletic programs.