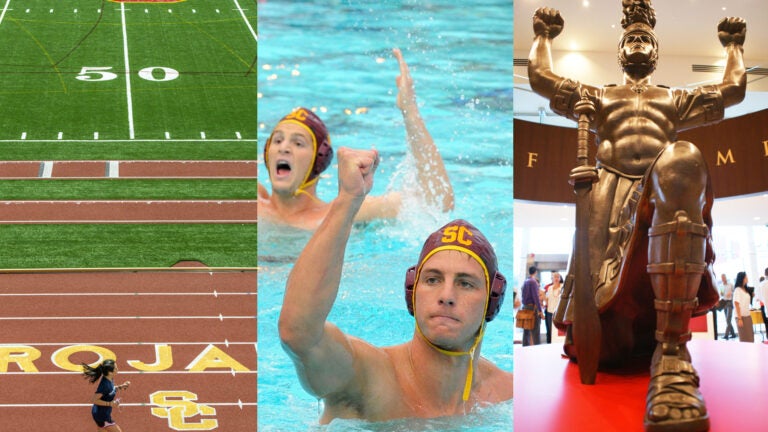 USC Athletics hits its highest fundraising total ever
With $300 million raised, the department's Heritage Initiative meets its Campaign for USC goal
USC Athletics has reached its goal of $300 million for the Heritage Initiative — the most ambitious fundraising effort in the department's history. The initiative is part of the $6 billion Campaign for the University of Southern California.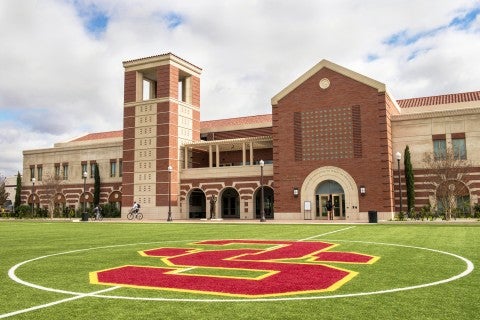 Athletics is the first USC program to meet its complete campaign fundraising goal, well ahead of schedule.
Co-chaired by legendary former Trojan football coach John Robinson and Barbara Hedges, who created a new era for women's sports during her 18-year tenure as an athletics administrator, the initiative secured new funding for priorities, including capital projects, student-athlete scholarships and endowment.
Building a competitive advantage
Among the Heritage Initiative's key goals is ensuring student-athletes have state-of-the-art facilities in which they can hone their success on and off the field.
The initiative raised $54 million for the new John McKay Center — a 110,000-square-foot facility supporting all of USC's 21 NCAA Division I sports. The center houses the Stevens Academic Center (which features tutoring, counseling, and study and computer rooms), a weight room, an athletic training room and a high-tech digital media production facility, as well as meeting rooms, coaches offices and a locker room for the football program.
We went from being 30 years behind the times in our facilities to moving 30 years ahead of our competitors.

Pat Haden
"We went from being 30 years behind the times in our facilities to moving 30 years ahead of our competitors," said Pat Haden, holder of the Charles Griffin Cale Director of Athletics Chair.
USC President C. L. Max Nikias praised Haden's inspiring leadership of USC Athletics and his role in the initiative.
"The Athletics initiative has achieved its most successful fundraising ever — all against the backdrop of NCAA sanctions," Nikias said. "The initiative's outstanding success also speaks to our supporters' passion and dedication to USC, and to the enduring place that Trojan Athletics has in our community."
Among other advances made possible by support raised during the campaign:
Renovating Heritage Hall, a $35 million project that transformed the two-story Heisman Lobby into an interactive museum and added the Sports Performance Center, Communications Center and the Women of Troy student-athlete lounge, among other new facilities.
Creating the Uytengsu Aquatics Center to house the men's and women's swimming, diving and water polo teams, a $20 million effort that attracted the largest gift — $9 million — received to date from a student-athlete alumnus, former swim team captain Wilfred "Fred" Uytengsu '83.
Building Merle Norman Stadium, sand volleyball courts for USC's top-rated women's sand volleyball team.
Completing suites at the Galen Center.
Upgrading Marks Tennis Stadium, a project costing more than $10 million that broke ground in February and is anticipated to open in early 2016.
Supporting student-athletes
The initiative added $50 million to the department's endowment, which now stands at $180 million, primarily supporting scholarships for student-athletes.
Some of the support stretches beyond athletics and academics. The Otis Booth Foundation provided a $5 million gift to endow USC Athletics' community service program, through which student-athletes collectively provide some 4,000 hours of volunteer service each year.
"This gift was transformational," said Ron Orr, senior associate athletic director. "We now have the only endowed community service program in the country."
The funding also includes support for the Matt Barkley Community Service Coordinator position — honoring the former Trojan quarterback's history of philanthropic service — to manage, implement and grow the program for maximum impact.
In addition to growing the department's endowment, USC Athletics raised about $100 million in annual support during the initiative.
"Our operations are entirely funded on this essential annual giving," Orr said.
Of the success of the Heritage Initiative, Haden added: "This is a significant milestone, but we have a lot of work ahead of us. Our ambitions are nothing short of ensuring USC Athletics' excellence in perpetuity. This means increasing our endowment to $300 million to cover all of our scholarships and continuously upgrading our facilities and support for our student-athletes."
Counting on the Trojan Family
Haden and his USC Athletics colleagues said they know they can depend on the philanthropy of Trojan fans and alumni — including the ones who competed for USC.
We now have the only endowed community service program in the country.

Ron Orr
"We're particularly proud of all the first-time gifts we received from former student-athletes," Orr said.
The initiative secured record-setting donations from a student athlete, female athlete and Trojan football player and saw the launch of the new Heritage Association for former student-athletes who donate to USC Athletics. The 800 members who have joined disprove an old stereotype.
"People tend to think athletes are not philanthropic," Orr said. "The Trojan Family proved that belief wrong. They do give back."
Uytengsu echoed the sentiments of other student-athlete alumni who made the Heritage Initiative a success.
"I think it was appropriate to give back so that the next generation will have the same opportunities, if not better," he said. "It's just a wonderful feeling to be able to give back to USC."