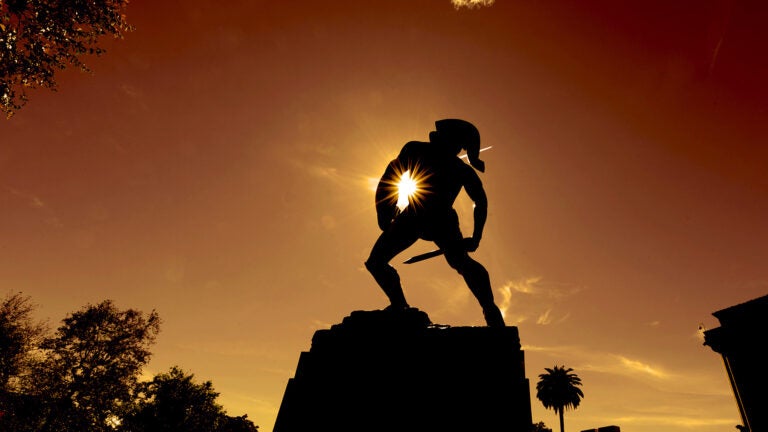 USC Athletics to transition student-athlete health care to Keck Medicine of USC
The updated athletic medicine program will allow USC's student-athletes to benefit from Keck Medicine's world-renowned experts and resources.
Through a collaboration that will enhance the unparalleled medical care provided to USC student-athletes, USC Athletics announced Friday the full integration of its athletic medicine services with Keck Medicine of USC, through USC Student Health.
The announcement was made jointly by Charles F. Zukoski, provost and senior vice president for academic affairs; Rod Hanners, interim chief executive officer, Keck Medicine of USC; and Mike Bohn, director of USC Athletics. The new model for athletic medicine will launch in July.
The enhanced athletic medicine program will allow USC Athletics and its student-athletes to benefit from Keck Medicine's world-renowned medical experts and resources, combined with USC Student Health's expertise in college health to provide exceptional care for student-athletes.
"Successfully navigating the COVID-19 pandemic helped us facilitate an even stronger relationship with our medical partners at USC Student Health and Keck Medicine of USC," Bohn said. "We are so grateful to university and Keck Medicine leadership for delivering this partnership.
"Our vision is to be the most student-athlete-centered program in the country, and providing world-class health care to our student-athletes is the very foundation of that mission. The opportunity to leverage the incredible talent, technology and innovation of Keck Medicine — a top-20 U.S. News & World Report-ranked academic medical center — will further enhance the USC student-athlete experience."
Updates to athletic health care team at USC
Moving forward, athletic medicine services will be overseen by USC Student Health under the leadership of Sarah Van Orman, chief health officer for USC Student Health. Van Orman provides leadership on campus public health responses to the COVID-19 pandemic and oversees comprehensive medical, mental health, prevention and education initiatives that enhance student wellness, increase access to health services and address critical issues impacting the student population.
As part of the new program, Seth Gamradt, an orthopaedic surgeon with Keck Medicine and director of orthopaedic athletic medicine for USC Athletics, will transition into the role of director of athletic medicine. Gamradt specializes in the treatment of sports medicine injuries and has extensive experience working with and treating collegiate and professional athletes.
John Brodhead, former associate chief medical officer for medical services at Keck Hospital of USC, will transition from his role as director of athletic medicine following his appointment as associate chair in the Department of Medicine for the Keck School of Medicine of USC.
"Words cannot express our gratitude to Dr. Brodhead for his selfless dedication to our athletics program and student-athletes as director of athletic medicine for the past decade," Bohn said. "Dr. Brodhead has been a trusted Keck Medicine physician for more than 30 years, and we are especially thankful for his compassionate leadership during the COVID-19 pandemic."
Russ Romano, associate athletic director for athletic medicine and head athletic trainer, will continue to manage USC Athletics' full roster of athletic trainers and physical therapists and will report directly to USC Student Health and Van Orman and Gamradt, who will direct the care administered to USC student-athletes and oversee the clinical operations of athletic medicine.