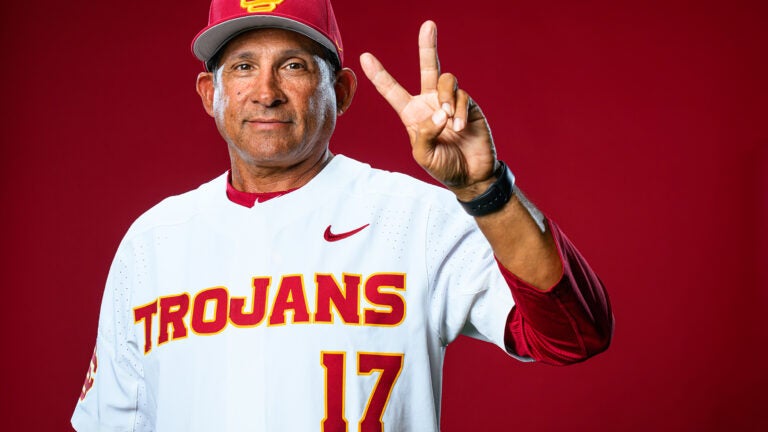 Southern California native Andy Stankiewicz is on a mission to restore the USC baseball dynasty
The team's new coach remembers the glory days when USC tallied up 11 national championships. He's ready to get the squad there again.
When Andy Stankiewicz was hired as USC head baseball coach last summer, he understood that he was inheriting arguably the greatest baseball program in NCAA history.
Stankiewicz, born in Inglewood and raised in nearby Sante Fe Springs, watched the Men of Troy dominate college baseball. Under legendary head coach Rod Dedeaux, USC won 11 national titles — five of those in a row from 1970 to 1974 — and 28 conference titles.
Stankiewicz grew up at the height of the greatest dynasty in college baseball — but his players didn't.
The Trojans won their last national championship in 1998 — before anyone on the current roster was born — and last conference title in 2002. Since then, three other Pac-12 teams have won national titles: Arizona and crosstown rival UCLA with one title each and Oregon State with three.
For the better part of 20 years, people have overlooked USC baseball. It's a position Stankiewicz revels in.
"I want the kid that, when asked why he would ever choose a down program like USC, just says, 'We weren't good, but now we are because I'm here,'" Stankiewicz said. "We need to drive home the point that these kids are about to be a part of something great, and that despite what others say, we're going to prove the doubters wrong — that's the edge we have to build."
Building USC baseball from the ground up
Though always a USC fan, Stankiewicz played baseball at Pepperdine University. He remembers making the trip south from Malibu to play the Trojans.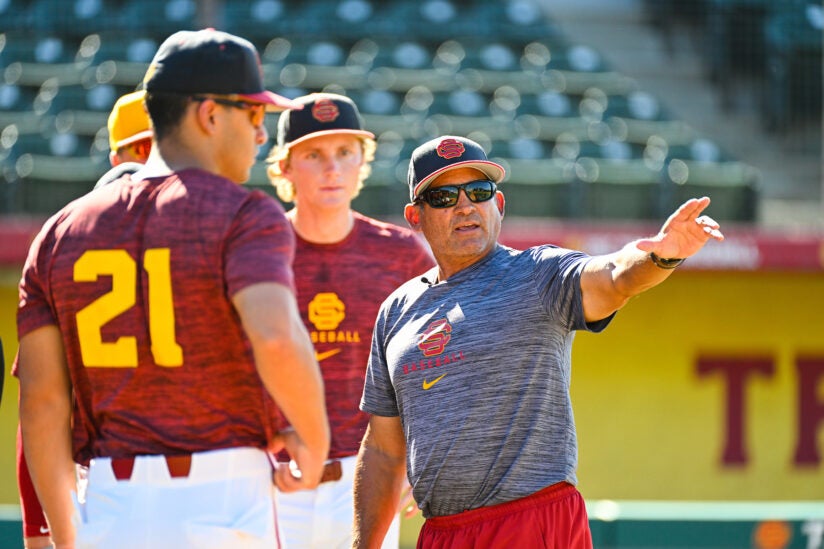 "When you played here, it was just different," he said. "You knew the tradition and what had been built, so even competing as an outsider you knew that this place was special."
He was an all-conference player with the Pepperdine Waves before being selected by the New York Yankees in the 12th round of the 1986 MLB draft. After spending six years in the minor leagues, he made his MLB debut in 1992 and went on to play for seven seasons as a middle infielder with the Yankees, Houston Astros, Montreal Expos and Arizona Diamondbacks.
For the past 11 seasons, Stankiewicz has been the head coach of Grand Canyon University in Phoenix. When he arrived at GCU, the Antelopes — commonly shortened to the Lopes — were a sub-.500 team competing at the NCAA Division II level. During Stankiewicz's first season, he guided the Lopes to a 27-23 record. By year 2, they won 40 games. In 2014, the Lopes transitioned to NCAA Division I, and the next year the team won the Western Athletic Conference regular season title, which they would do again in 2017 and 2018. By the end of his tenure at GCU, the Lopes were ranked in the top 25 and playing in the NCAA tournament.
"It's a similar feeling here to when I started at GCU," Stankiewicz said. "It's a rebuild mentality of playing championship baseball and understanding the commitment and sacrifice it's going to take to get there."
To build up GCU, especially in a state with two powerhouse programs in Arizona and Arizona State, Stankiewicz said he had to recruit players who those two schools weren't interested in, which gave them that "edge" he was looking for.
"I cultivated that mentality to where they played a little ticked off, and it worked," Stankiewicz said.
The making of the USC baseball dynasty
Any baseball fan walking down McGwire Way — named for former Trojan and 12-time MLB all-star Mark McGwire — on the way to Dedeaux Field is greeted by a wall of legends. Names like Tom Seaver and Fred Lynn adorn the walkway into the stadium, leading to a bronze statue of Dedeaux.
"I come to work every day and I walk up that ramp and I see Dedeaux Field and I'm like, 'Man, this is the greatest place in the world,'" Stankiewicz said from his office overlooking the field.
Dedeaux put USC baseball on the map, coaching the Trojans in some capacity for 45 years and as head coach for almost 40. He retired in 1986 as the winningest coach in college baseball with an overall record of 1,332-571-11. Though his wins record has since been broken, his 11 NCAA championships have yet to be challenged.
Few understand the legacy of USC baseball quite like Trojans assistant coach Seth Etherton. A star at USC in the mid-to-late '90s and a three-time All-American and two-time Pac-10 Pitcher of the Year, Etherton was also on the 1998 national championship team.
He played under coach Mike Gillespie, the second-winningest coach in USC baseball history. Gillespie — who himself played on Dedeaux's 1961 national championship team — guided the Trojans to four College World Series appearances and one championship. He left in 2006 with a record of 763-471-2. During his 20 years with the Trojans, he sent 30 players to the major leagues, Etherton included.
"I'm very fortunate to have been a part of Coach Gillespie's teams, and I'm grateful for what he did for me during my four years here," Etherton said. "I just want to bring that tradition back and really educate players about what USC baseball is all about."
Etherton was drafted by the Anaheim Angels in the first round of the 1998 draft and made his MLB debut in 2000. He spent the next six seasons in MLB organizations before playing in Korea and China. His coaching career began in 2013 at the University of San Francisco before he took a job with the Cincinnati Reds. Then, last summer, he got the call from Stankiewicz to return to L.A. and help revive his alma mater.
"All along, I thought he was the best fit of the names I was hearing," Etherton said. "He has high standards … he knows what USC baseball is about, what's expected, and he's expressed that again and again to our coaching staff and to these players."
USC baseball: Waking the sleeping giant
While competing for recruits against the likes of Arizona and ASU was no easy task, trying to win the Southern California recruiting battle presents an even bigger challenge. Not only is it a hotbed for talent, but there are more schools to compete with. Aside from UCLA, programs like Cal State Fullerton, UC Irvine and Long Beach State all have deep-rooted baseball traditions and are within a 40-mile radius. Up north, Stanford is a consistent top-10 team, and other conference bluebloods such as Oregon State, Arizona and ASU all recruit from Southern California.
"I know it's not going to be easy — there's great competition here in SoCal and across the country," Stankiewicz said.
Etherton grew up in Orange County, so he knows the level of talent that comes from Southern California and what it's going to take to refurbish the USC reputation.
People need to understand and see what USC baseball is all about.

Seth Etherton, assistant coach
who played on 1998 national championship team
"USC baseball has been lost for the last 15 years," Etherton said. "People need to understand and see what USC baseball is all about, and that's probably going to be our biggest job moving forward."
It's no easy task to revive a sleeping giant, but Stankiewicz seems poised to do just that. Though he admits he is not a patient person, he understands that building a program takes time. It's an attitude that's best described as a balance of "let's get to work" and "trust the process."
When Lincoln Riley was hired as the USC football head coach and eventual Heisman Award winner Caleb Williams transferred to USC, the Trojans were front and center in sports media. ESPN even broadcast USC's spring intersquad game — bumping reigning national champion Georgia to ESPN2.
College baseball is not as popular as college football, so the media hype surrounding Stankiewicz and USC baseball was quiet in comparison.
That's fine with Stankiewicz, because the only hype he cares about is from the guys in the locker room.
"We're going to get this thing moving, and I believe that with all my heart and soul," Stankiewicz said. "The one thing I want more than anything that I've ever done is to make USC baseball what it was before."