The leaf blowers go quiet at USC, home of the country's first campus green zone
Complaints sparked a change from noisy landscaping equipment to clean technologies on the University Park Campus, part of a major investment that's earned the university green accolades.
The campus is dark and sleepy at 3:30 a.m. when groundskeeper Scott Viramontez starts his workday in the landscapers' shop at the northwest corner of USC's University Park Campus. His three-man crew hoists backpacks with 21-pound batteries to power trimmers and weed eaters. Their work begins as it ends — silently.
There are no stubborn gas motors to start, no snagged cords and no noxious fumes. By the time the Trojan community arrives on campus, the grounds are groomed clean, same as ever.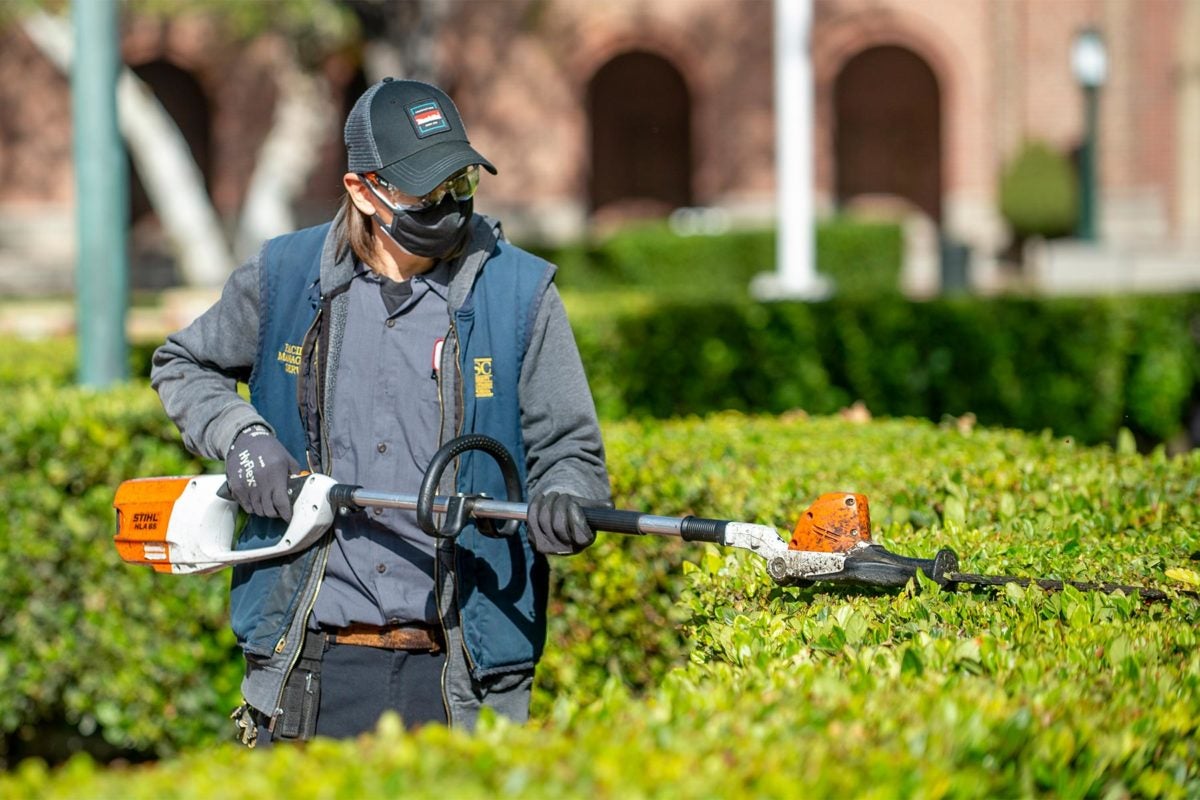 Viramontez is one of 36 longtime landscapers at the university. They've seen an evolution of clean-powered equipment replace gear powered by fossil fuel. The switch represented a long-term investment by the university with a remarkable result: USC's University Park Campus has become the first campus to be certified as a "green zone" by the American Green Zone Alliance, an independent education, training and certification agency.
'Everybody hates leaf blowers'
Erik Diaz remembers a pivotal day 12 years ago when a letter from a professor to USC President Steven B. Sample put an end to gas-powered leaf blowers at USC. The letter called the devices "vile, awful, disruptive, polluting machines." The blowers were expelled.
Noise has been shown to disrupt learning and cognition. Gas-powered leaf blowers emit low-frequency noise that carries through walls and windows. In addition, the pollution from small motors — like the ones that power leaf blowers — can be easy to underestimate. In 2016, the California Air Resources Board released data showing a top-selling leaf blower running for one hour released the same smog-forming contamination as a popular sedan driven 1,100 miles.
The USC groundskeeping crew pioneered the switch to alternative technologies.
"Everybody hates leaf blowers, with the noise and fumes, but they're an essential tool for a groundskeeper and they were taken away overnight," said Diaz, a landscape supervisor at USC. "Replacing those with an eco-friendly, sustainable tool wasn't easy, and it was much harder a decade ago when we started. We didn't have many choices or the infrastructure to support the alternatives, so we had to improvise."
Replacing [leaf blowers] with an eco-friendly, sustainable tool wasn't easy.

Erik Diaz
A small fleet of generators mounted on carts powered the first wave of electric leaf blowers. The unreliable generators produced noise and emissions of their own, and the electric blowers needed frequent replacement. As power outlets were added around campus, the generators were retired.
Still, landscapers struggled to get the job done. It took twice as long to do a job with the anemic electric blowers that had just one speed. Cords caught on branches, unplugging tools and forcing landscapers to stop what they were doing. Nothing could be plugged in around water, which can pool after early morning irrigation.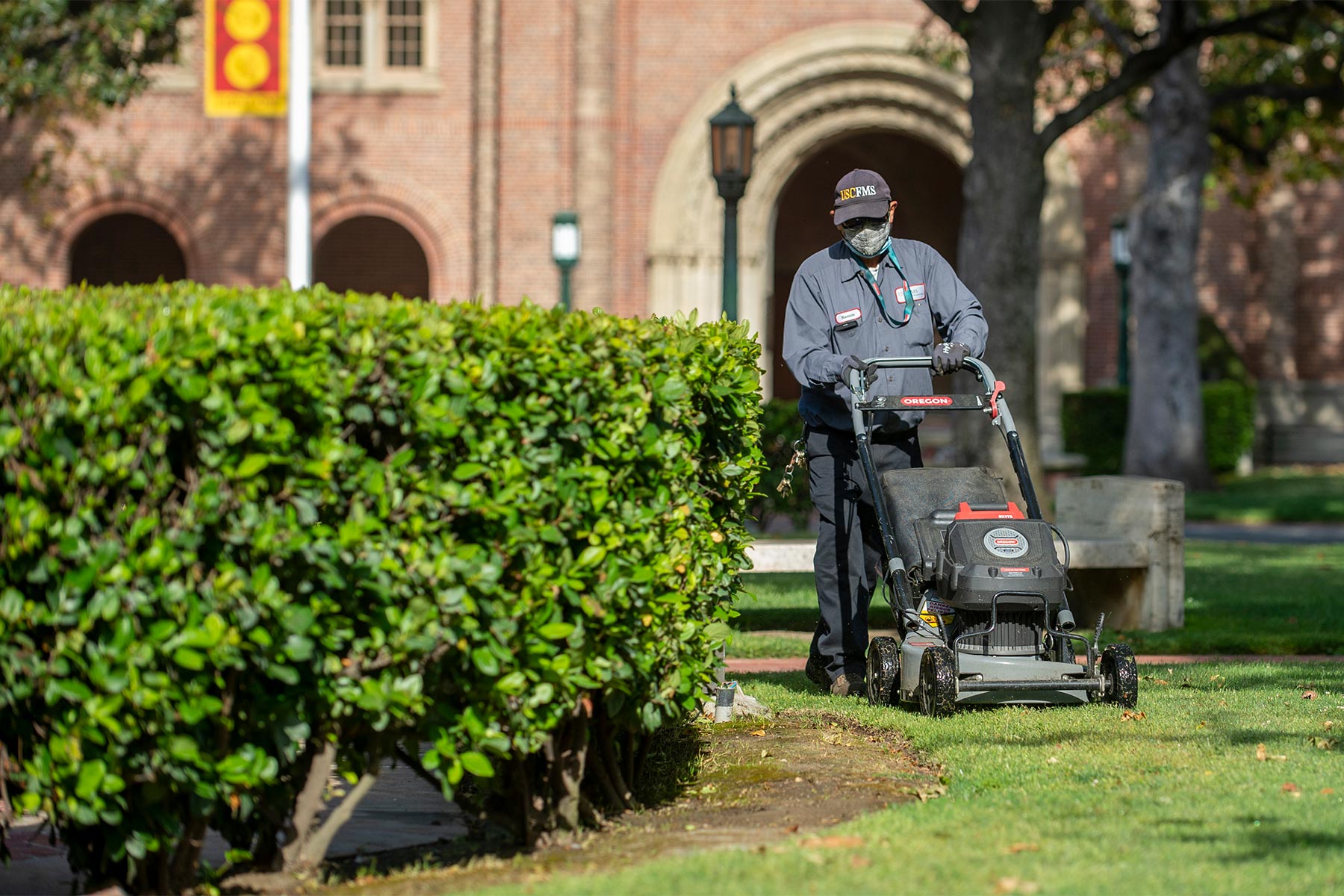 Over time, Diaz and his colleagues got creative. For example, they employed gas-powered vacuums, which are electric blowers designed to inflate playground bounce houses, and installed electric outlets on scooters.
The earlier rechargeable, battery-powered blowers could last as little as 15 minutes between charges, but battery life, power and longevity have all increased over the years. A major milestone was crossed during the past half-decade when the performance of second- and third-generation rechargeables powered with lithium batteries became comparable to gas-powered models.
An investment in sustainability turned USC's campus into a green zone
Today at the landscape headquarters shop, the clean groundskeeping fleet consists of battery-powered leaf blowers, riding mowers, push mowers, hedge trimmers and chain saws. Some tools cost twice as much as a gas-powered version, but they use no gasoline or oil and are virtually maintenance-free.
In all, the university has spent $120,000 switching rechargeable electric equipment. Along the way, the landscape team received guidance and ideas from the American Green Zone Alliance, which just certified USC's University Park Campus a green zone, the first U.S. college campus to earn that certification. A green zone is a defined area of land routinely maintained using battery-electric equipment and manual tools.
USC became a real-world landscape lab.

Erik Diaz
The alliance estimates USC's investment will result in annual reductions of 89 tons of greenhouse gases and 15 tons of smog-forming exhaust annually. The transition also received support from the South Coast Air Quality Management District.
Battery-electric equipment is lighter. There are no fuel spills to worry about. No gas is burning while machines are idle. Toxic and non-recyclable waste is also reduced.
"USC became a real-world landscape lab," Diaz said. "All those stops and starts were research. The zero-emissions equipment we have now is better for everybody, especially our groundskeepers. Ultimately, they're the ones who made this happen and they deserve the gratitude for that."