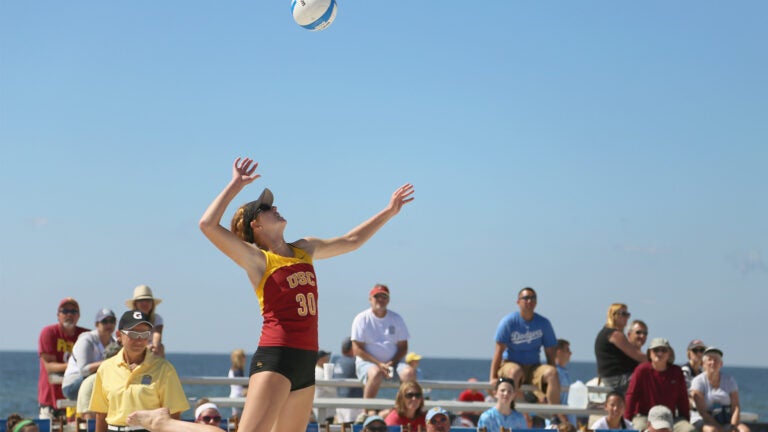 USC beach volleyball star primed for Olympics breakout
Kelly Claes and her partner, Sarah Sponcil, have already made history as the youngest duo to represent the U.S. in beach volleyball. Now, they're ready to show the world why they deserve their spot.
From an outside perspective, this year's Olympic Games might not be ideal as an athlete's first. Due to COVID-19, the games are happening a year later than scheduled, no spectators are allowed — including athletes' families — and the Olympic Village is set up to reduce interaction among athletes.
But for U.S. beach volleyball player and former Trojan standout Kelly Claes, the unconventional setup might be an advantage.
"I love the phrase 'ignorance is bliss,'" she said. "It's not like we've been to an Olympics before and have been able to experience that enormous, packed stadium with family being there. It feels just the same as what we've been doing."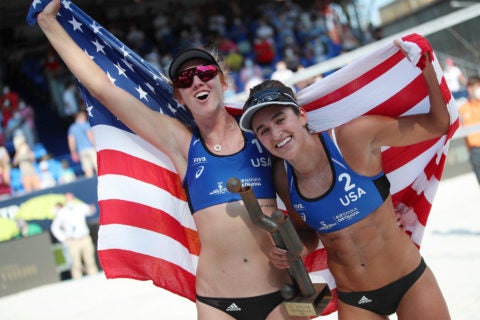 As the youngest duo to ever represent the U.S. in beach volleyball at the Olympics, Claes, 25, and her partner Sarah Sponcil, 24, won gold at the FIVB Beach World Tour in Sochi, Russia, earlier this summer and earned a trip to Tokyo. The following week, the duo took gold at another event at Ostrava, Czech Republic, where American beach volleyball legend Kerri Walsh Jennings and her partner Brooke Sweat were upset in the qualifying rounds by a team from the Netherlands.
"When it came down to that last tournament, I had this super romanticized idea of how it would end," she said. "It was such a tight race, and we were so close on points in the tournament, that I imagined both of us in this final battle, blood, sweat and tears, whoever's left standing is going to the Olympics."
Though earning a spot as the youngest duo ever and watching a living legend of the sport lose may seem like surreal moments, Claes has done her best to block out the noise. Despite her age, she displays an unwavering level of professionalism and confidence.
"I have so much respect for [Walsh Jennings and Sweat], and Kerri's done so much for the sport," she said. "Yes, it is crazy that she's not in this Olympics, but we earned our spot after a long and grueling process."
USC beach volleyball star channeled skill and swagger to reach the Olympics
Claes' competitive side has been with her for as long as she can remember. Growing up in Fullerton, Calif., Claes played basketball, softball and volleyball. Though she might not have known at the time which sport would get her there, she knew from a young age that she wanted to be a professional athlete and an Olympian. Even as she was being recruited in high school, she said there was never a "dream school" beyond whichever one could best prepare her for the professional level.
Ultimately, she chose volleyball as her sport and verbally committed to play indoors at California State University, Long Beach. Midway through high school, she decided to give beach volleyball a try and "fell in love with that more," eventually becoming the No. 1 beach volleyball recruit in the nation and decommiting from Cal State Long Beach to play volleyball at USC.
"It was just an unreal opportunity that was presented to me," she said, "and after doing research it was the obvious choice."
That choice seemed to pay off as Claes starred for the Trojans over her four years, being a part of four national championships and earning two Pac-12 Player of the Year awards. However, it was another, often overlooked, quality at USC that Claes said really prepared her for where she is today.
In professional beach volleyball, athletes enter tournaments themselves and earn points to enter higher-tier tournaments. Claes and her college partner entered these smaller tournaments over their summers to earn points; by the time they graduated, they already had earned enough to get into the larger tournaments.
"It takes a few years to collect points so you can start entering these bigger tournaments but because we had done the work during our summers, we were able to just kind of rock and roll when we graduated," she said. "I'm super thankful for the staff at USC for guiding us in that direction."
Kelly Claes and Sarah Sponcil click on and off the court
It's yet another example of professionalism beyond her years, and it's also an example of that confidence — or "swagger" — that has helped get Claes to this point.
"I'm just kind of a bulldog," she said with a laugh. "Just that pissed off, 'I'm going to beat you, I'm better than you,' kind of attitude."
She admits that her attitude only grew sharper once she turned pro, which is around the time she began looking for a new partner that shared her drive. Enter Sarah Sponcil.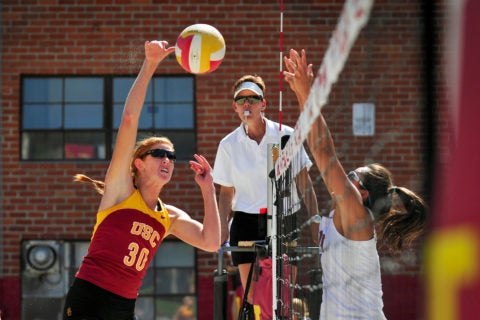 A two-time national champion at UCLA, Sponcil actually played against Claes prior to her days as a Bruin. She spent her first three years at Loyola Marymount University before transferring to UCLA, a key detail in what Claes said makes their partnership work.
"I graduated in 2017 and that's when she transferred to UCLA, which I think is the only way this relationship really works," Claes joked. "I don't associate her with that UCLA team that I played at school."
Perhaps the biggest key to their partnership is off the court. Claes didn't want this to be a typical business relationship. She wanted someone that she could ideally play with for a long time, so getting along off the court was a must. Luckily, that came naturally for the two.
"There's a lot of downtime on the road, and I was really looking for someone that I could click with on the court as well as off the court," Claes said. "When I sat down with Sarah, I just felt it in my gut right away."
Despite an abnormal Olympics, beach volleyball star knows she'll find her rhythm
Speaking of downtime, a story about Kelly Claes would be remiss without mentioning her biggest passion outside of volleyball: video games. As competitive as she is on the court, one would assume Claes is the same as a gamer, but you'd be wrong. The self-proclaimed "geek" — which is a term she literally uses on her official website — said she primarily plays single-player games and uses those as her escape from volleyball and the world in general.
"My whole family plays Animal Crossing and their islands are stunning. Meanwhile, mine is atrocious. It's so hard for me to see theirs because my competitive nature will come on and be like, 'gosh darn it, mine needs to be better,'" she said. "I have to take a deep breath and think, 'Everything doesn't have to be a competition.'"
I'm just kind of a bulldog.

Kelly Claes
She made sure to bring her PlayStation 4 and Nintendo Switch to Tokyo, though she admittedly hasn't had time to play either. Claes is also a huge anime fan, so when she first visited Tokyo in 2019 — a city that has arguably had the most influence on anime and video games — she admits being a tad overwhelmed, going on quite the sightseeing and shopping spree.
This time, though, there won't be any sightseeing or shopping trips. With COVID cases on the rise in Tokyo, much like in the rest of the world, the packed stadiums and arenas everyone hoped for when the games were delayed last year won't be happening. Events will go on as planned, but the energy of the fans will be missing. Claes said athletes aren't even allowed to stay in Tokyo past the games, so she'll be headed right back home like everyone else on Team USA, though hopefully as a gold medalist.
"It's hard, but I'm trying to find that silver lining," she said. "This is our first one, and we don't really know any different, so it just feels like a normal tournament that we've competed in for the last few years, with no fans and bubbles where we can't really go explore anything. We've kind of found our rhythm in that."