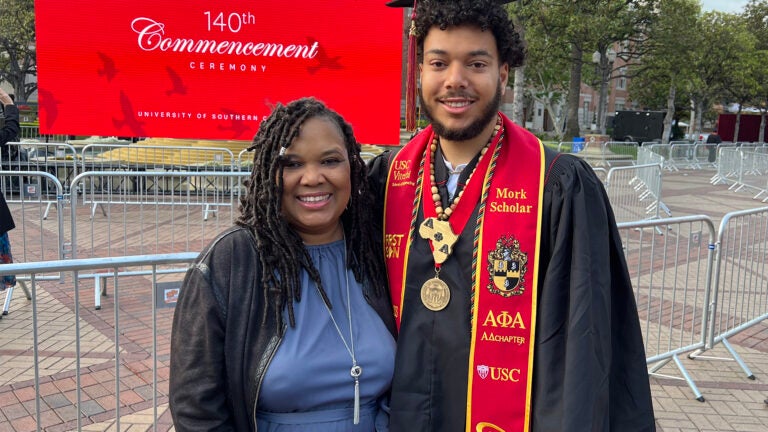 USC bestows degrees upon more than 4,000 first-generation students
COMMENCEMENT: New Trojans provide proud day for parents who didn't have the same opportunities. Read their moving stories.
Less than 40 minutes before USC's main commencement ceremony began on Friday morning, Cameron Cole stood in Hahn Plaza huddling with his mom, who had flown in from Chicago for the occasion. Cole was about to join his fellow grads at the head of the line carrying the banner for the USC Viterbi School of Engineering.
"I'm feeling very excited and a little nervous," he said. "But I'm glad four years of hard work are culminating today."
Cole was one of the more than 4,000 first-generation college students who received their degrees at commencement this year. At USC, first-generation students are defined as those whose parents do not have four-year degrees.
'I couldn't be here without her'
Chantal Cole might not have gone to college, but she was very involved in her son's journey. They traveled to USC during his junior year in high school to tour the campus, and she supported the future Trojan as he went through the university's application process and successfully applied for and received The Gates Scholarship and the Ron Brown Scholarship.
"I have been so proud of him," she said, calling her son someone willing to work hard and stay up late for his goals. "He has always been a person who wanted to be at the top. He made sure he did what he needed to do to get the job done."
Looking at his mom, Cole said: "It really means a lot because she poured so much into me, and I couldn't be here without her. This is my day, but it's hers too."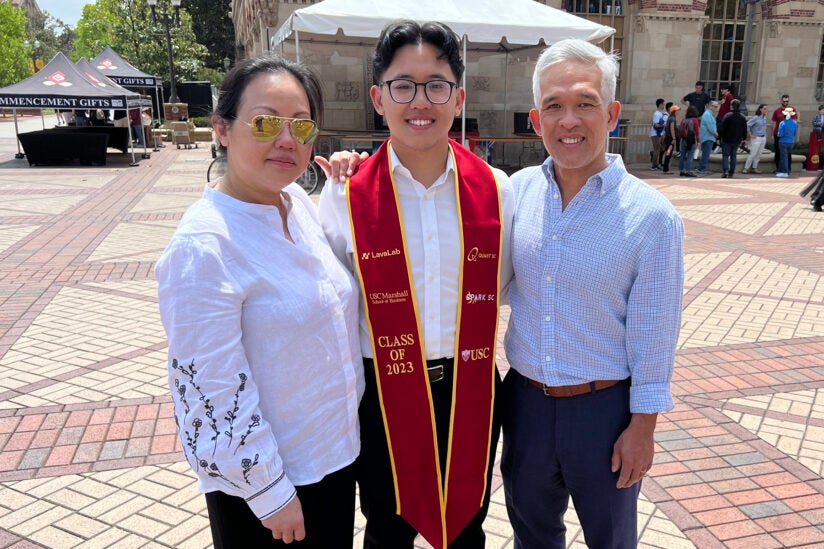 Emotions run deep at USC 2023 commencement
USC Marshall School of Business graduate Steve Nguyen's parents, who flew in from Boston for commencement, were so emotional they could barely speak.
"I'm beyond proud," his mother, Thai Nguyen, said before the tears came. His father, Lam Nguyen, could only manage to say, "We are feeling really proud of him."
Nguyen's parents are hard-working immigrants from Vietnam who have run a successful dry-cleaning business in Boston for several decades. His father had the chance to play soccer for a four-year college but he gave it up so he could go to a trade school, earn money and send it home to his family in Vietnam. His mother didn't have the chance to go to college.
"My parents motivated me a lot," Nguyen said. "They worked really hard to just put me in the position where I could graduate. I owe a lot to them in terms of inspiration and teaching me the value of hard work."
Nguyen's older brother, Scott, stepped in to explain why their parents were so emotional.
"It means kind of everything," he said of his brother's graduation from USC. "The entire reason why they worked so hard — those long days and long nights at work — was for me and my brother to have a chance to do things like this. To finally cap it off, it's the realization of all that work."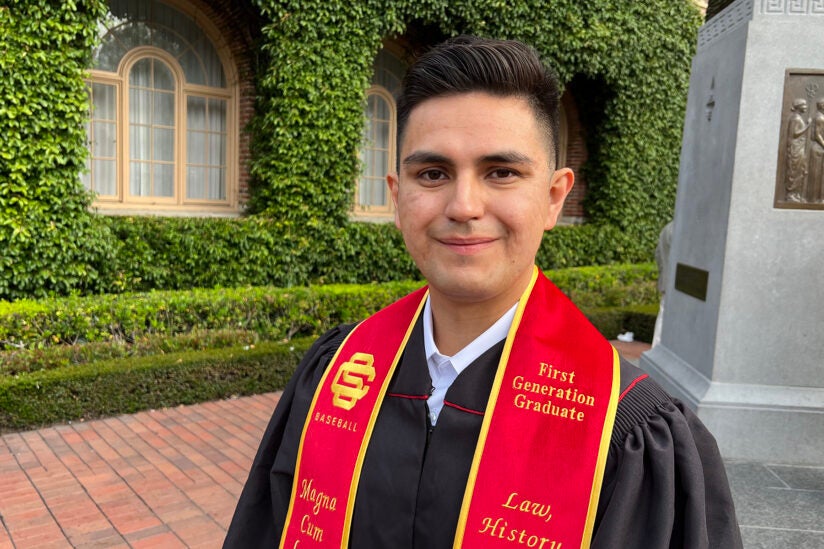 Not doing it alone
Pedro Robles, who received his bachelor's degree on Friday from the USC Gould School of Law, was grateful to be sharing commencement day with his family and said he felt fortunate to have them living in the same area as he did throughout his studies.
"They were always there for emotional support and a home-cooked meal, and that really helped," he said. "I didn't feel like I was doing this alone."
Robles, who is headed to law school next, said he set his sights on attending USC after seeing Matt Leinart and Reggie Bush "tearing it up on the football field." He said no one in his family had ever thought becoming a Trojan would be something any of them could do.
"I had determination and was never going to call it quits," he said. "I'm hopeful the next generations in my family will be inspired and take their shot. I don't want them to limit themselves when it comes to what they can achieve."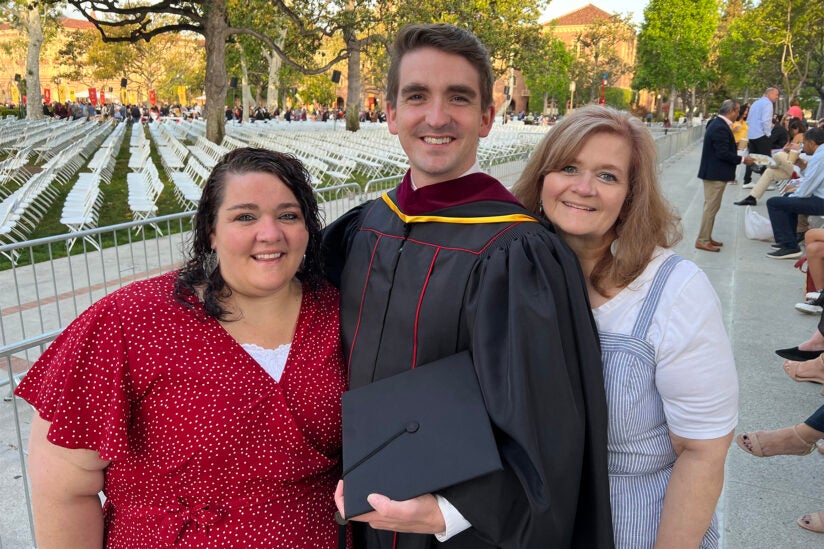 At USC 2023 commencement: Mom 'always knew'
Graduate Chad Wilson of the USC Annenberg School for Communication and Journalism arrived on campus early and had coffee with his mother and sister who traveled from Utah to witness his graduate school commencement. He described himself as being from a "blue-collar family," but his parents instilled the importance of higher education.
"Dad is a truck driver and mom's a school secretary, and they wanted more for me," he said. "They knew that education was a way for me to propel myself above what they had. They would always say, 'Take it seriously.'"
Lori Wilson said she always knew her son was destined to graduate from a major university.
"It's a feather in my cap for someone who never did it," she said. "He's inspired me to go back to college — and I'm a grandmother."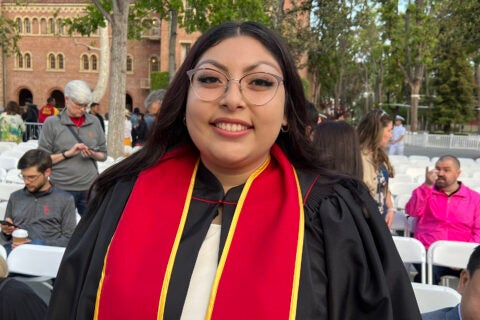 USC 2023 commencement: Starting new legacies
Master's degree graduate Jennifer Duarte of the USC Dornsife College of Letters, Arts and Sciences was accompanied to commencement by her parents, her grandmother and a younger sister. Duarte figured out the college application and financial aid process on her own and started her academic journey at a community college.
"Although I didn't really have any other people among my family or friends that were going through the same college process as me, I did have supportive family members," she said. "They supported me emotionally and allowed me that space to have those achievements that no one else has so far been able to have."
Her father, Luis Duarte, described how happy he was to witness his daughter's graduation: "I'm so proud of her. She made it happen. She set her goals, and it wasn't that easy, but we're here."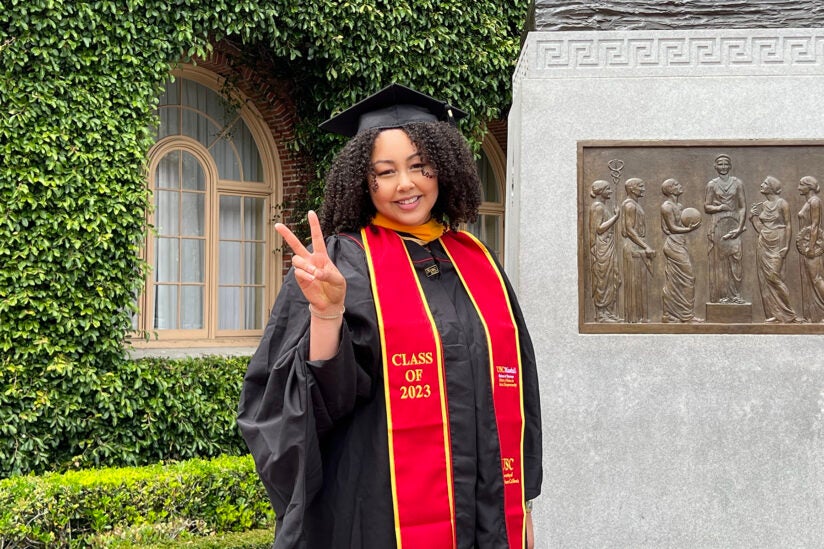 Welela Makonnen, who received her master's degree from USC Marshall, gives the credit for her academic accomplishments to her mother, Martha, a refugee from Ethiopia who raised her as a single parent.
"My degrees are her degrees," Makonnen said. "My mom stressed the significance of education at a very early age. She didn't get the opportunities that I got being born here as a first-generation American. With that came a lot of firsts, including being able to graduate."
Her mother worked multiple jobs as they moved from Washington, D.C., back to Ethiopia, then finally to Los Angeles.
"She knows how much this is going to allow me to have greater success," Makonnen said of her mother. "Being able to start a new legacy for my family is very important to her and myself."