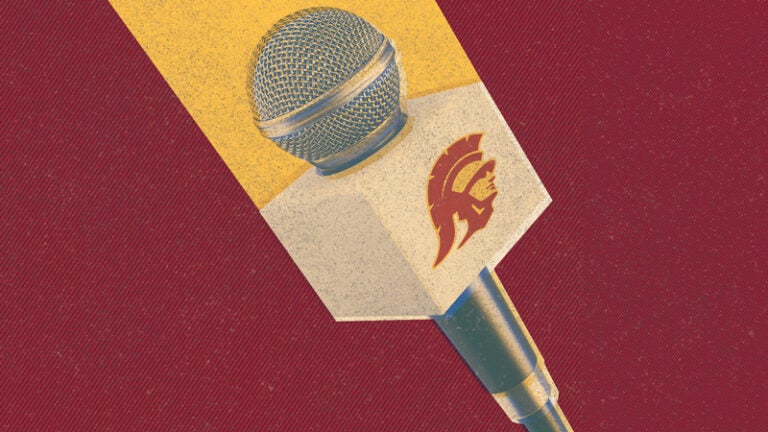 Veteran USC Alumni News Broadcasters Find Stories that Matter
You'll find them in small towns and on the big networks. Reporters and anchors from USC keep TV news alive.
Michelle Tuzee '88 one of the most recognizable broadcast anchors in Los Angeles, remembers the day local television news changed.
It was Sept. 11, 2001, when many Americans woke up to news about four coordinated acts of terrorism.
"I remember driving to work and seeing all the American flags draped across the overpasses," Tuzee says. "That was emotional."
After joining KABC's Eyewitness News desk four years earlier, the USC Annenberg School for Communications and Journalism graduate remembers working 24/7 in those first few days. "It made local news nimbler. We were suddenly responding to a national story but on a local level: How were the terror attacks impacting people in Los Angeles?" she says.
"It was a horrible day, but looking back, it took broadcast journalism a step forward."
Tuzee is just one of the many USC broadcast journalism alumni who have witnessed — and played a part in — the growth and transformation of news on television. Meet three veteran broadcasters dedicated to telling the stories that matter in their communities, who all share a passion for journalism, storytelling and the Trojan Family.
Paying it forward
When Tuzee isn't anchoring the nightly news at 5 p.m. and 11 p.m., the Emmy-nominated journalist loves mentoring students. Though it's been a long journey since she got her start at a news station in Grand Junction, Colorado, she remembers how hard it can be to break into the business.
Tuzee still has a thick, three-ring binder filled with the rejection letters she received during her career. It reminds her of the most important quality required in her profession: persistence. She also advises aspiring journalists to be willing to start small and take on different responsibilities, from reporting to producing.
"I also believe in the Trojan network, and when a USC student contacts me for advice, I'm here for them," she says.
Sophomore Zoe Ginsberg, for one, recently shadowed Tuzee for an afternoon. "It was great to show her what I do, and it was great for me," Tuzee says, "because now I know the state of TV news will be in good hands."
News broadcasters with a local lens
While Tuzee was focusing on local news in the weeks after 9/11, Frank Buckley '87 was reporting for CNN's national audience from the Pentagon and warships in the Arabian Sea. In 2003, the correspondent was embedded on a U.S. aircraft carrier during the invasion of Iraq.
In 2005 Buckley joined KTLA in Los Angeles, where he anchors the popular KTLA Morning News. The shift to a local audience has been meaningful. "It was a joy and pleasure to work at CNN, but with local news, you're working in the community," he says. "People really care about our newscast because the news we give them affects them directly."
Buckley, who has won several broadcasting awards, was drawn to journalism as a student but couldn't afford USC. His path changed thanks to a scholarship from the Radio and Television News Association and a USC journalism professor named Murray Fromson. "Murray assured me that [people at USC Annenberg] would find a way for me to go to USC, and they did."
Buckley never lost touch with Fromson, and was a pallbearer at the former CBS correspondent's funeral in June 2018.
"It had come full circle," says Buckley, who stays active in the Trojan network and USC's Asian Pacific Alumni Association. His advice for the next generation of journalists? Be a consumer of the news, be a good writer because you're telling stories, be a good reader of both fiction and nonfiction, and keep current on technology.
"My major was broadcast journalism, but I was a double major, the other being history," he says. "I've always felt that journalists cover the first draft of history."
USC alumni on the scene
Manuel Bojorquez '00 is a CBS News national correspondent based in Miami, where he covers a huge region that includes Central America. It means he is on an airplane — a lot. That's OK with him. "I love the travel," he says, "although there is wear and tear."
Born in El Salvador, Bojorquez can still remember how he and his family had to flee that country's civil war. They migrated to Los Angeles, settling near USC. It wasn't long before he was recruited to Foshay Learning Center.
Bojorquez is proud of being part of the first graduating class of USC's acclaimed Neighborhood Academic Initiative (NAI) and winning full tuition to the university. He already knew what he wanted to do: After witnessing the 1992 L.A. riots, he was determined to be a TV news reporter.
He will never forget the story he produced as a student that first made people take notice of his storytelling ability.
"I saw this old man selling oranges on the freeway offramp near USC. He was there every day," Bojorquez recalls. The man made $25 a day, enough to send some money to family in his homeland, but he told Bojorquez he was thinking about going back. "He said, 'If you're so poor that you have to eat dirt, I'd rather have to eat dirt where my family is.'"
Bojorquez remains a gifted storyteller. Last year, over a five-week period, he reported on three disasters: Hurricane Harvey in Texas, Hurricane Irma in Florida and the 7.1 magnitude earthquake in central Mexico.
One week this past August, he covered a mass shooting in Jacksonville, Florida, before moving on to the state's gubernatorial primary election.
Looking back, Bojorquez credits much of his success to USC, beginning in middle school with NAI. "From my first job to my current job, there has been a USC connection," he says. "They're the family you choose."