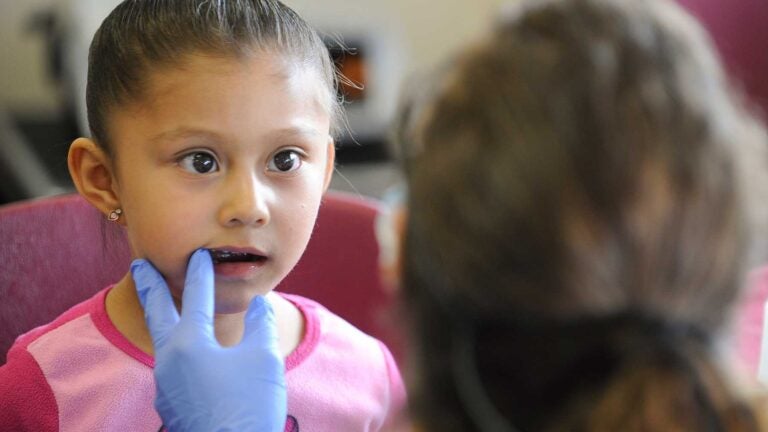 USC-Cal State L.A. pact provides dental care for kids and teens
The partnership includes help from the university's dental school and the USC Suzanne Dworak-Peck School of Social Work
The Herman Ostrow School of Dentistry of USC has partnered with California State University, Los Angeles on a $16.6 million grant to provide dental health care and education for underserved children and teens throughout Los Angeles.
"Providing treatment to underserved populations has long been one of Ostrow's top priorities," said Roseann Mulligan MS '87, the school's associate dean of community health programs and hospital affairs.
The grant — called the Local Dental Pilot Project — comes out of the Medi-Cal 2020 Dental Transformation Initiative, a statewide effort to improve the dental health of the more than 5 million children enrolled in the Denti-Cal program.
"This collaboration, which pairs our dental expertise with the knowledge from several disciplines at Cal State L.A., has the potential to make quite an impact on communities that are often overlooked," Mulligan said.
The grant money — $7.1 million of which is specifically earmarked for USC dentistry — comes at a unique time for the Ostrow School as its $19.4 million Children's Health and Maintenance Program (CHAMP) grants begin to wind down.
All hands on deck
The multidisciplinary endeavor brings together students from the Ostrow School and the USC Suzanne Dworak-Peck School of Social Work with students from Cal State L.A.'s Rongxiang Xu College of Health and Human Services to create mobile teams that will provide underserved communities with dental health care support.
Ostrow students and faculty members will provide dental screenings and dental education. Cal State L.A. does not have a dental education program.
USC's social work students and students from Cal State L.A.'s programs in child and family studies, communications disorders, public health, nursing and nutrition will help families to identify and overcome barriers to dental health. They will also connect underserved youth, aged up to 20 years old, with a regular dentist.
Throughout the course of the four-year grant, the team expects to work with more than 30,000 youth in the areas surrounding the USC and Cal State L.A. campuses and in the San Gabriel Valley, with a special focus on children with special needs as well as American Indian and Alaska Native populations.
Los Angeles is home to the second largest urban population of American Indians in the United States, according to the 2010 U.S. National Census. The American Indian Alaskan Native population suffers from the poorest oral health of any population in the United States, with staggering rates of untreated tooth decay among children, according to the Pew Charitable Trust.
Key partnerships
The CHAMP grants were first awarded to Ostrow in 2011 by First 5 LA, which allocated funds collected by California's 50-cent tobacco tax to health care, education and child development programs.
Ostrow and the USC Suzanne Dworak-Peck School of Social Work have been working together ever since to provide access to dental health care for children, aged up to 5 years old.
"We have made so many incredible partnerships and done such amazing work to improve dental health care for children across L.A.," Mulligan said of the CHAMP program. "And we're so very fortunate to have forged this alliance with Cal State L.A. to be able to continue doing this work and improving the lives of so many people along the way."