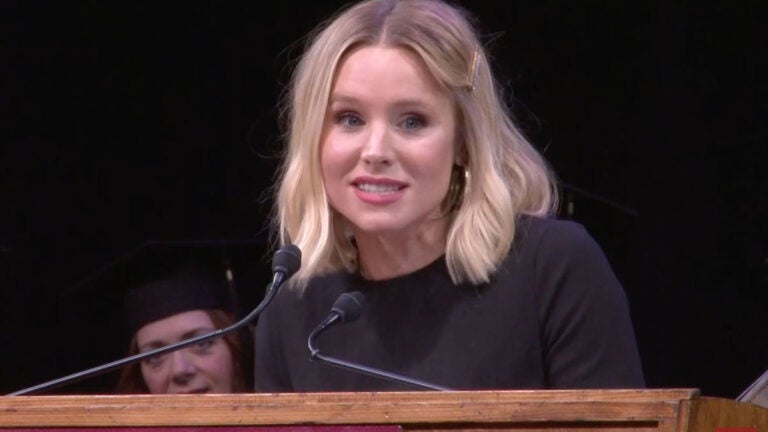 USC 2019 | Did you spot these celebs on campus?
? Year in review: USC never fails to draw the big names — it's one perk of being smack dab in the middle of La La Land. Check out the stars who captivated the Trojan Family this year.
USC's campuses buzzed with excitement all year long as actors, authors, business icons and entertainers stopped by to share pearls of wisdom with students, staff and faculty members, alumni and other visitors. Here are a few of the celebrities you might have seen charming, thrilling and inspiring Trojan audiences in 2019.
---
? Belinda Carlisle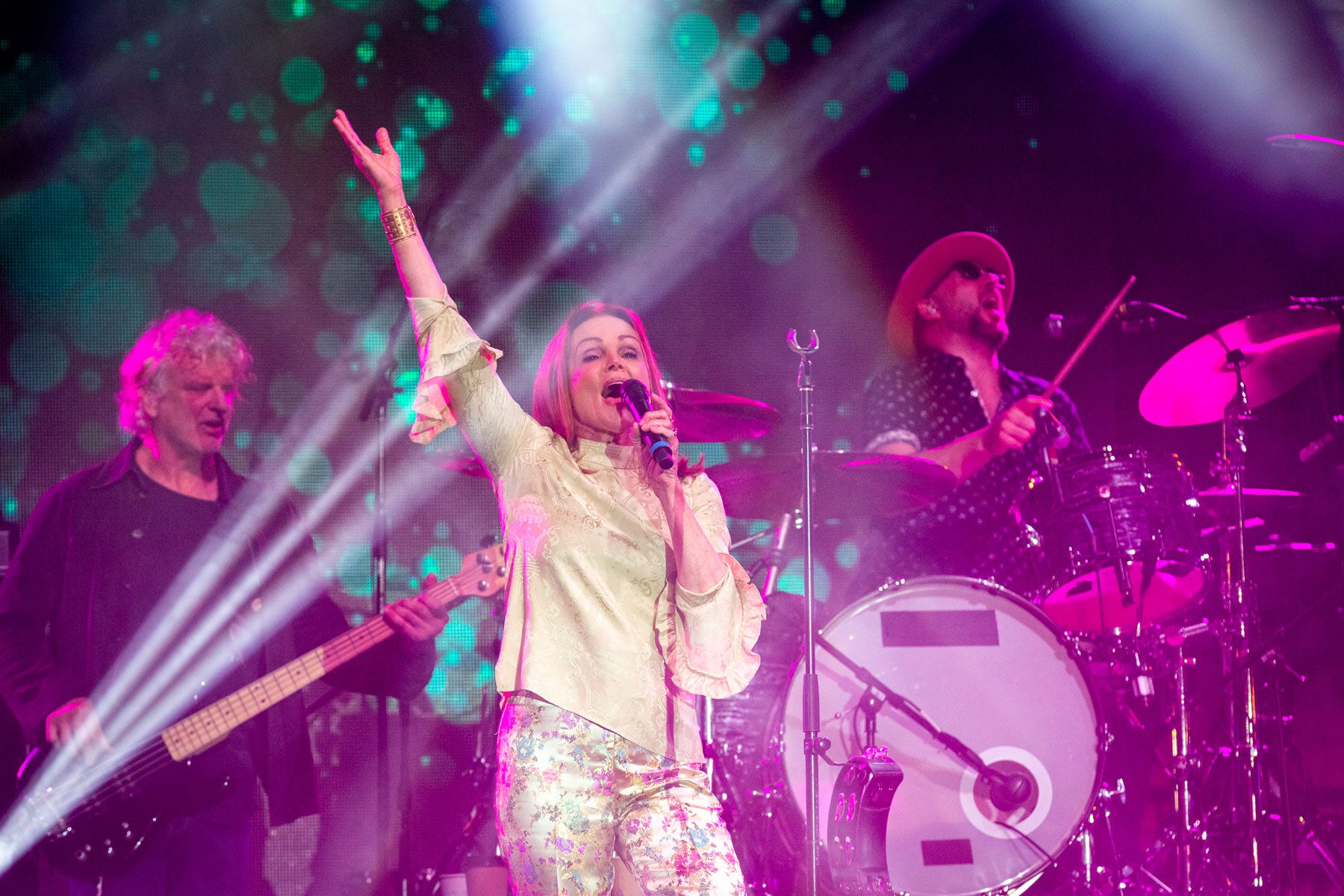 As USC students, staff and faculty members and alumni flocked to University Park Campus for Trojan Family Weekend, they enjoyed an exclusive concert by 1980s hitmaker Belinda Carlisle. The singer and musician performed singles from her time with The Go-Go's and hits from her solo career like "Heaven Is a Place on Earth" and "Mad About You."
---
? Chimamanda Ngozi Adichie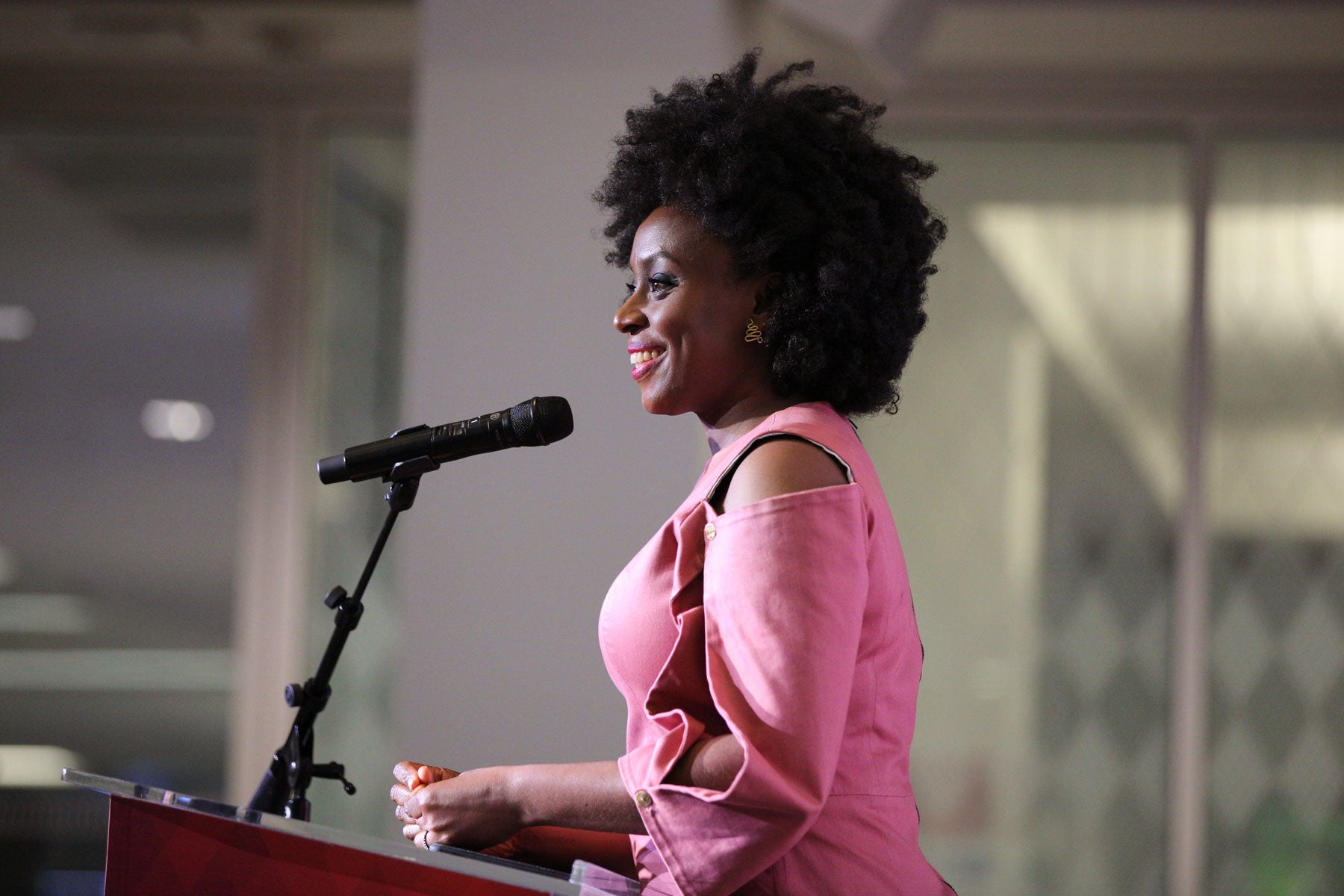 The Nigerian author, feminist and cultural critic dropped into Wallis Annenberg Hall to talk about her approach to truth, empathy and humanity in storytelling. She also collected the Everett M. Rogers Award from the USC Norman Lear Center, an honor that recognizes creativity in education-based entertainment aimed at improving quality of life around the world.
---
? Elizabeth Banks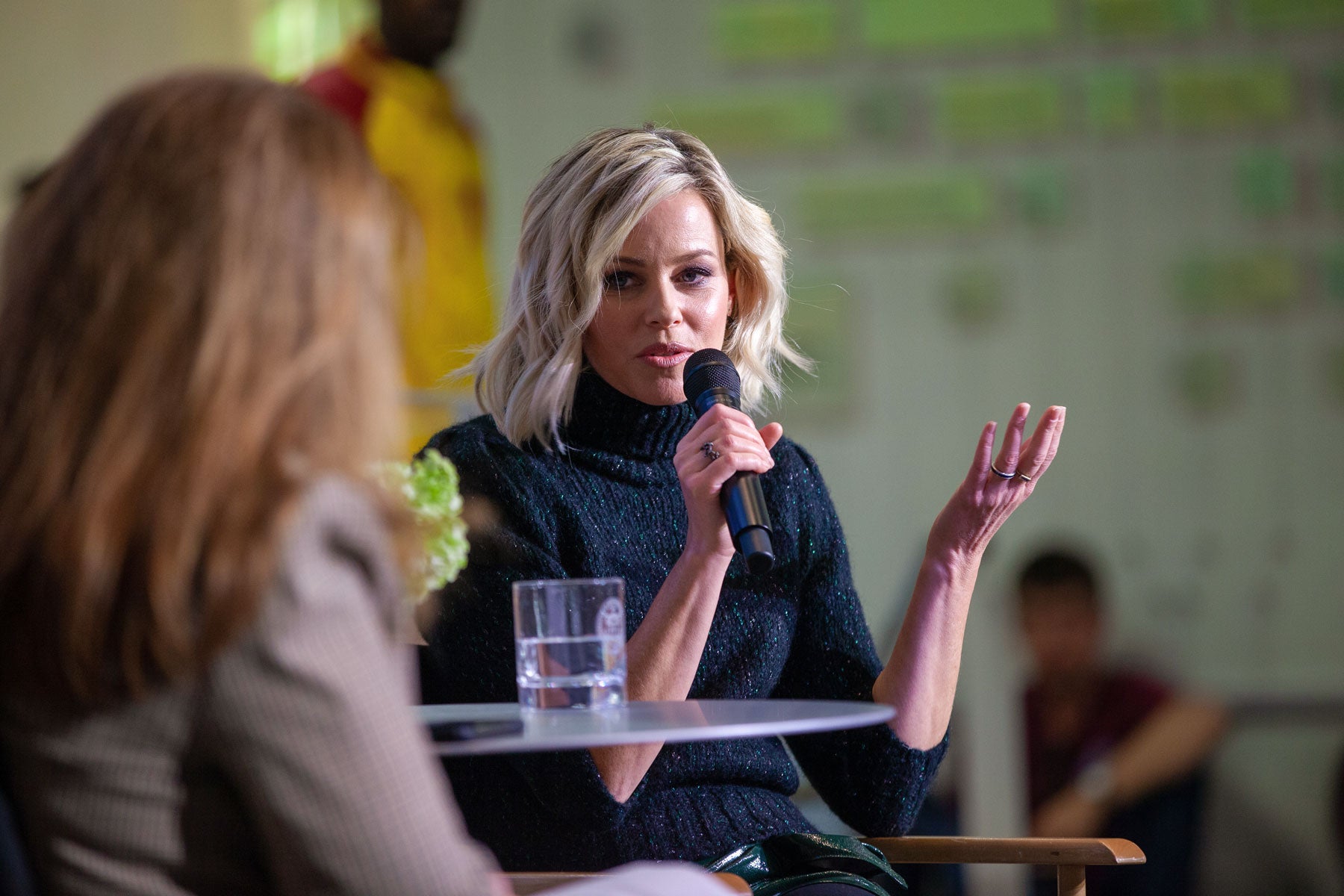 A powerful example of women achieving success in entertainment leadership roles, Elizabeth Banks spoke at Wallis Annenberg Hall about her experiences as an actress, director, producer and writer. The Hollywood star oversaw this year's reboot of Charlie's Angels and has directed and produced many other successful projects. Banks talked with USC Professor Stacy Smith, whose Annenberg Inclusion Initiative explores diversity and inclusion in entertainment.
---
? Jimmy Kimmel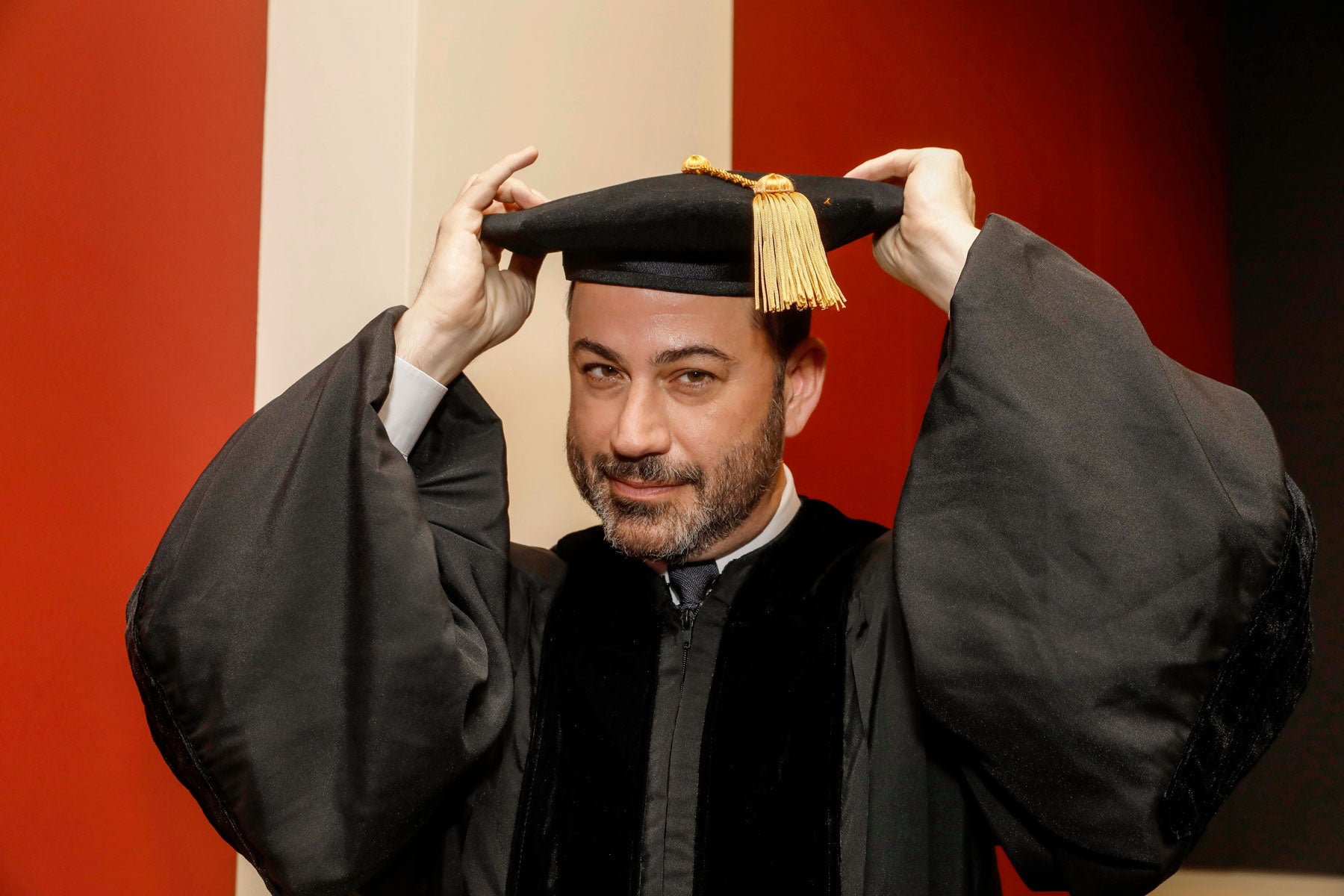 In a moving speech peppered with laugh lines, the late-night TV host lauded graduates of the Keck School of Medicine of USC for their years of dedication, hard work and sacrifice. He called on them to be caring, compassionate and kind as they moved into the next stage of their careers as health professionals. "I am in awe of what you've done," Kimmel said. "You've dedicated yourselves to helping others and making their lives better and healthier and longer, and sometimes saving them altogether. Every day, you'll be actively and specifically making this world a better place."
Last year Kimmel was honored by Children's Hospital Los Angeles — which is staffed by Keck School of Medicine faculty physicians — for his work in advocating for health care coverage for all children and families in the United States, following an emotional tribute to the facility after his newborn son was treated there.
---
? Kristen Bell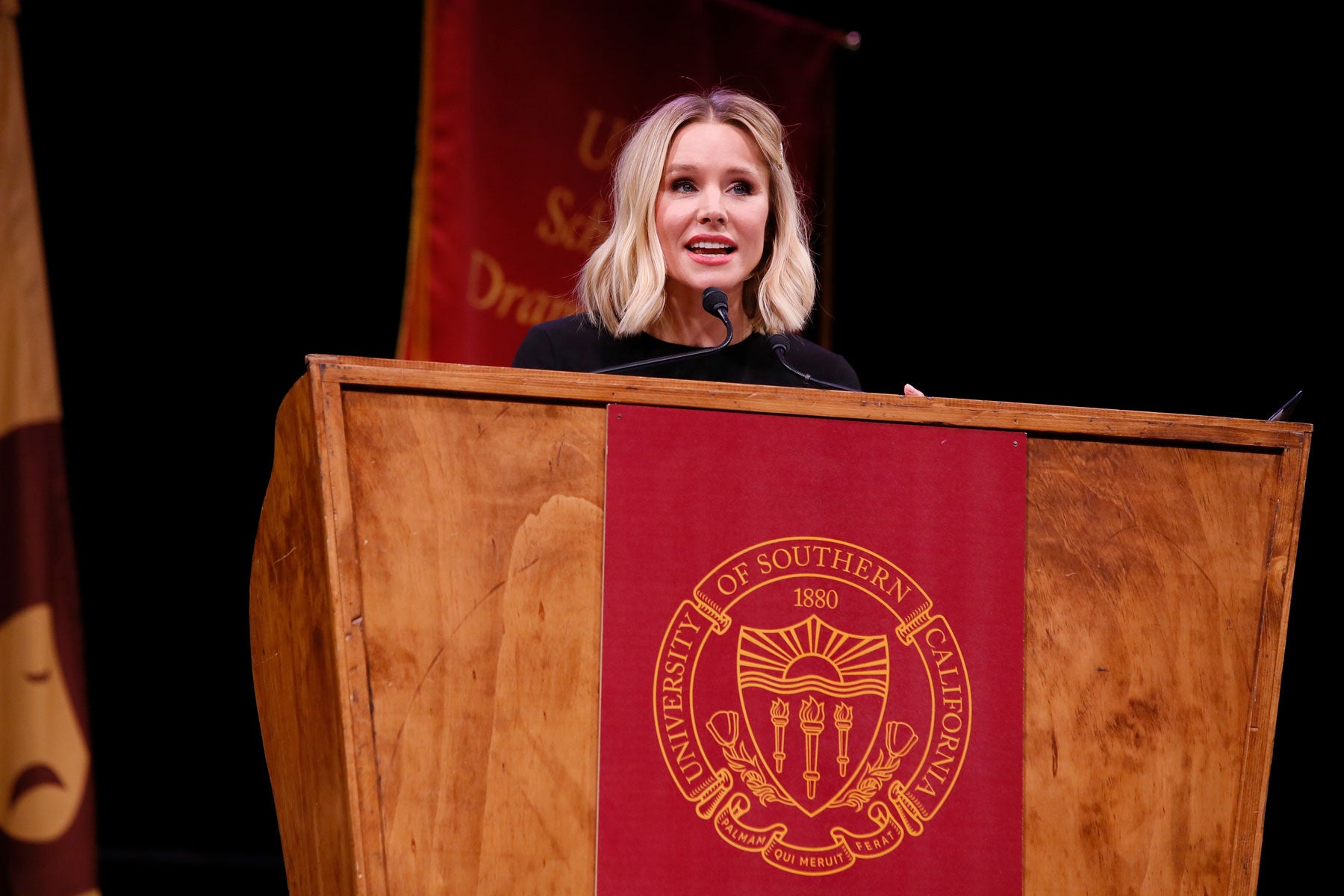 In her playful and rousing address to the graduating class of the USC School of Dramatic Arts, the actress, singer and director exhorted the audience to be nice and recognize the complexity of the world around them. "In my life, there is only one concept that I have determined," she said. "It's that everything is gray. Every person, every question, every tragedy, even every victory, they all have nuance. Pay attention to the nuance."
---
? Mahershala Ali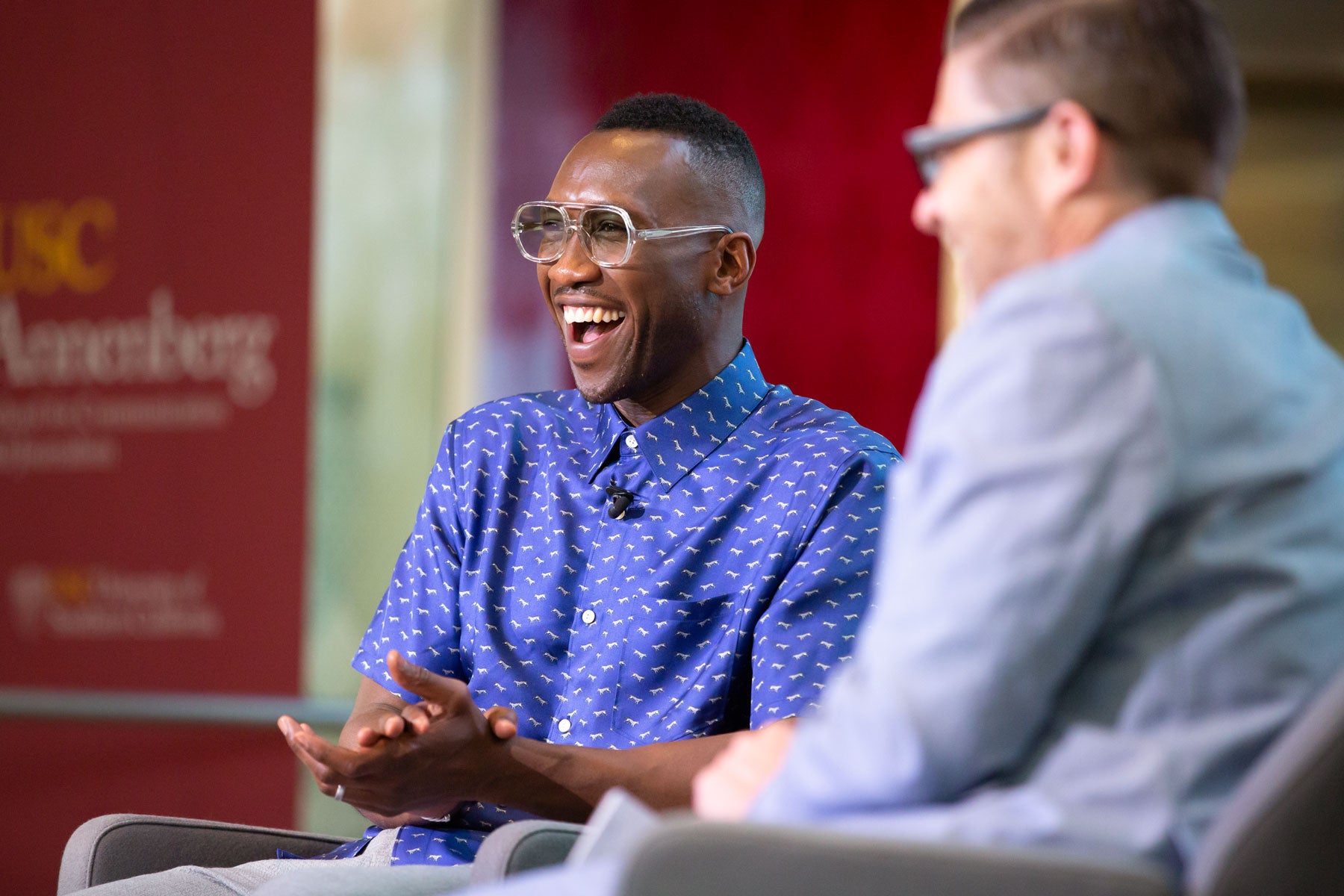 During a wide-ranging discussion at the USC Annenberg School for Communication and Journalism, the Oscar-winning actor gave his advice on creating an identity, staying motivated in the face of defeat and nurturing hope. Ali also called on the media industry to give more power to people of color to tell whatever kind of story brings them inspiration.
---
? Maverick Carter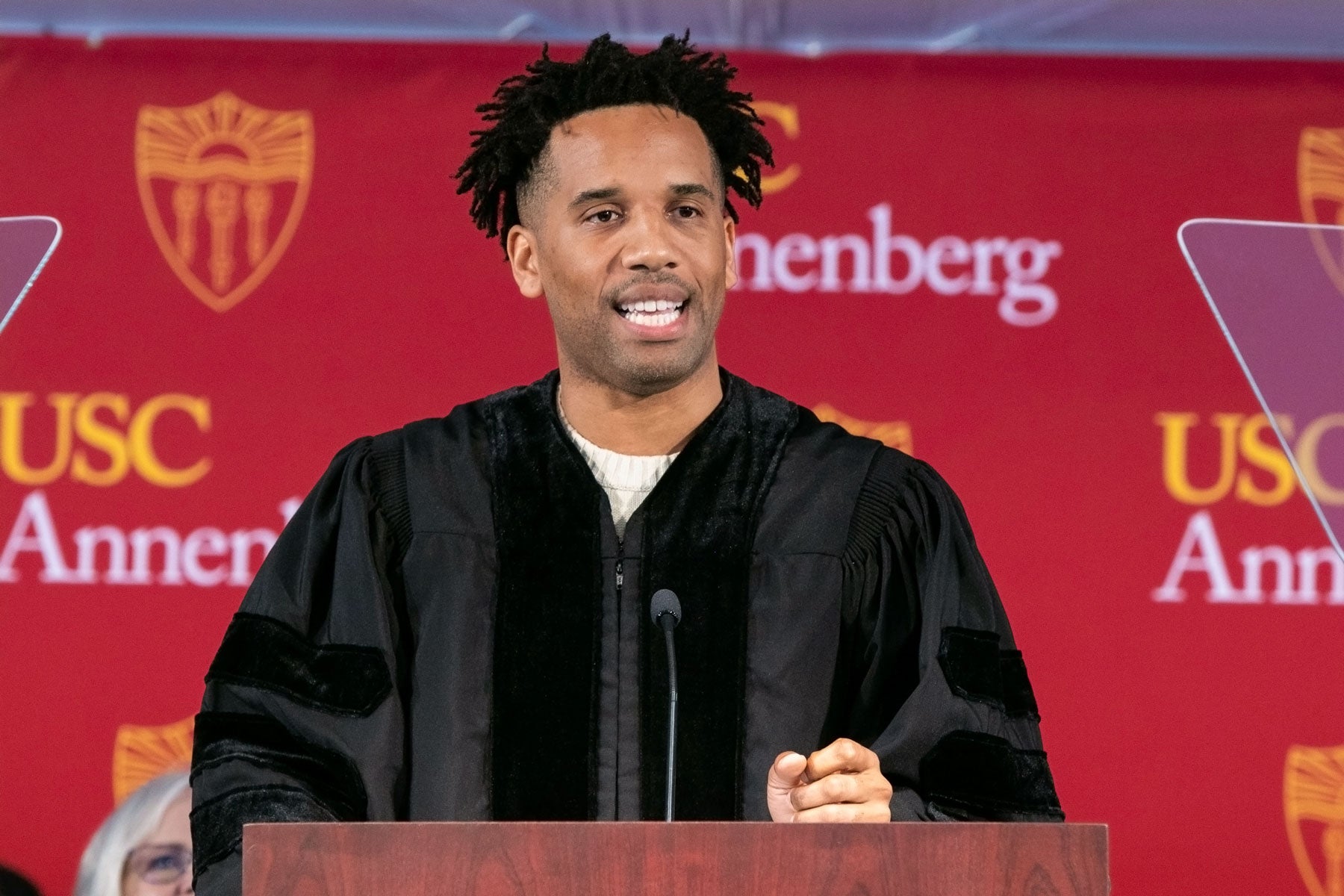 Media and entertainment mogul Maverick Carter offered life lessons, advice and encouragement to USC Annenberg graduates during the university's commencement ceremony. "You have to gamble, and you have to gamble big," he told the Class of 2019. "You have to make very big bets on yourself. You cannot play it safe." Carter is known for creating successful marketing, entertainment and content companies with his longtime business partner, NBA star LeBron James.
---
? Mikhail Baryshnikov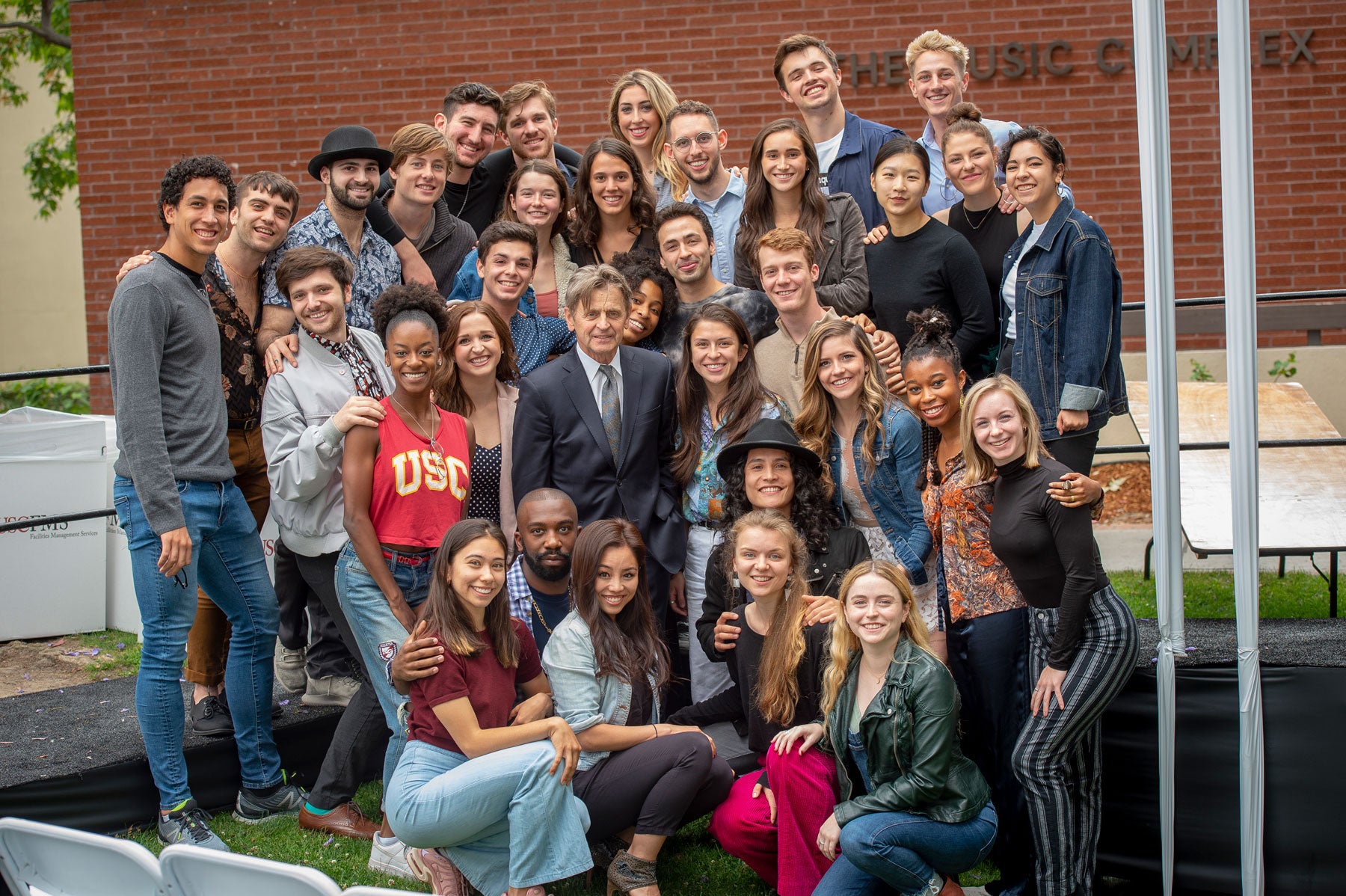 The inaugural graduates of the USC Kaufman School of Dance got a rousing sendoff from the famed ballet dancer during its commencement celebrations this spring. Baryshnikov encouraged the graduating class to take risks and embrace failure as a learning process: "As artists and as young people discovering what you care about, you must be generous with that spark inside yourself that made you love dance in the first place."
---
? Philip Bailey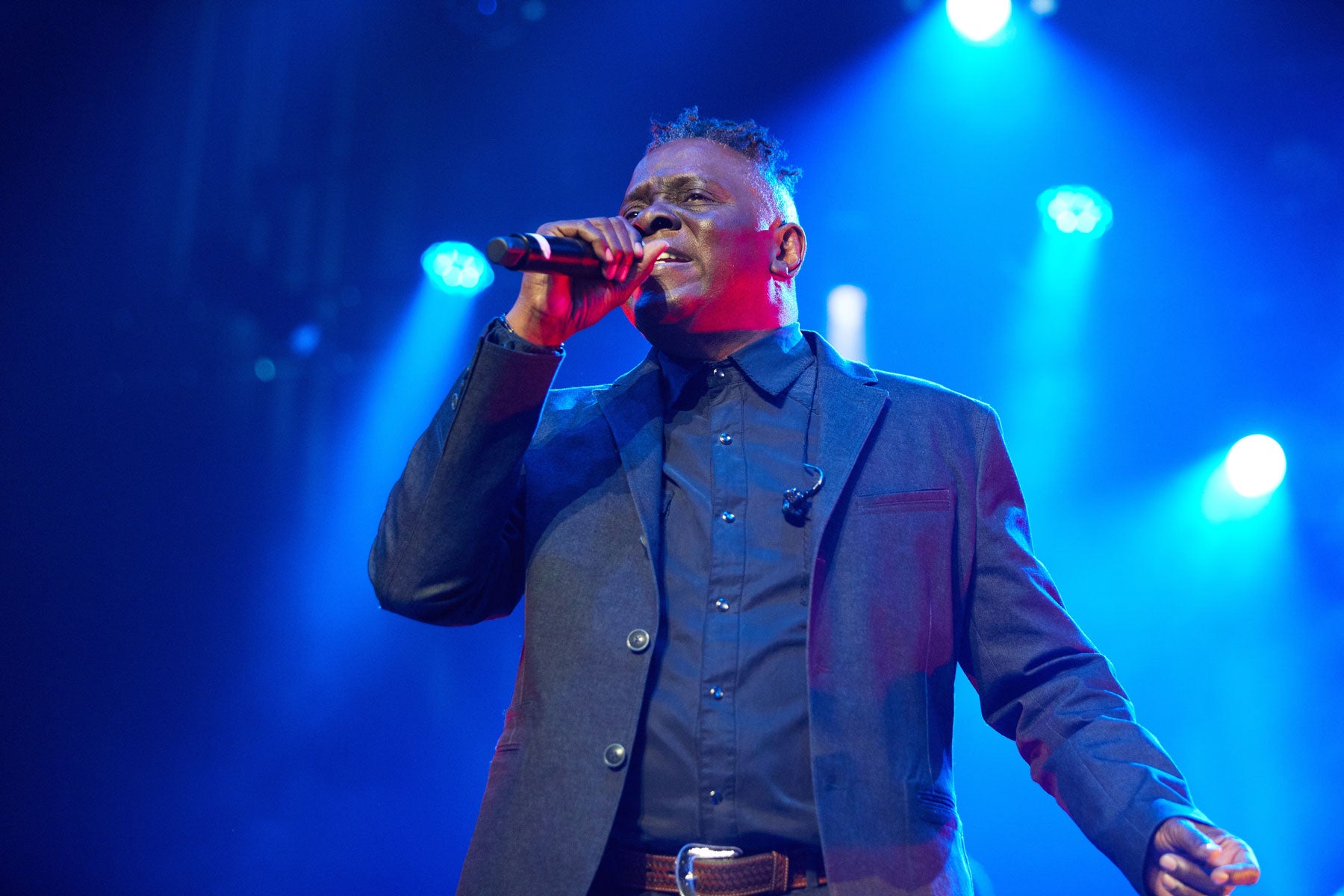 Along with a vibrant performance of classic Earth, Wind & Fire hits, the famed lead singer of the genre-defying group described his history as a musician and songwriter. A member of the band since the early 1970s, Bailey helped sell more than 100 million albums and net 17 Grammy nominations. The Bovard Auditorium show closed strong with a surprise encore that featured the Trojan Marching Band.
---
? Sara Blakely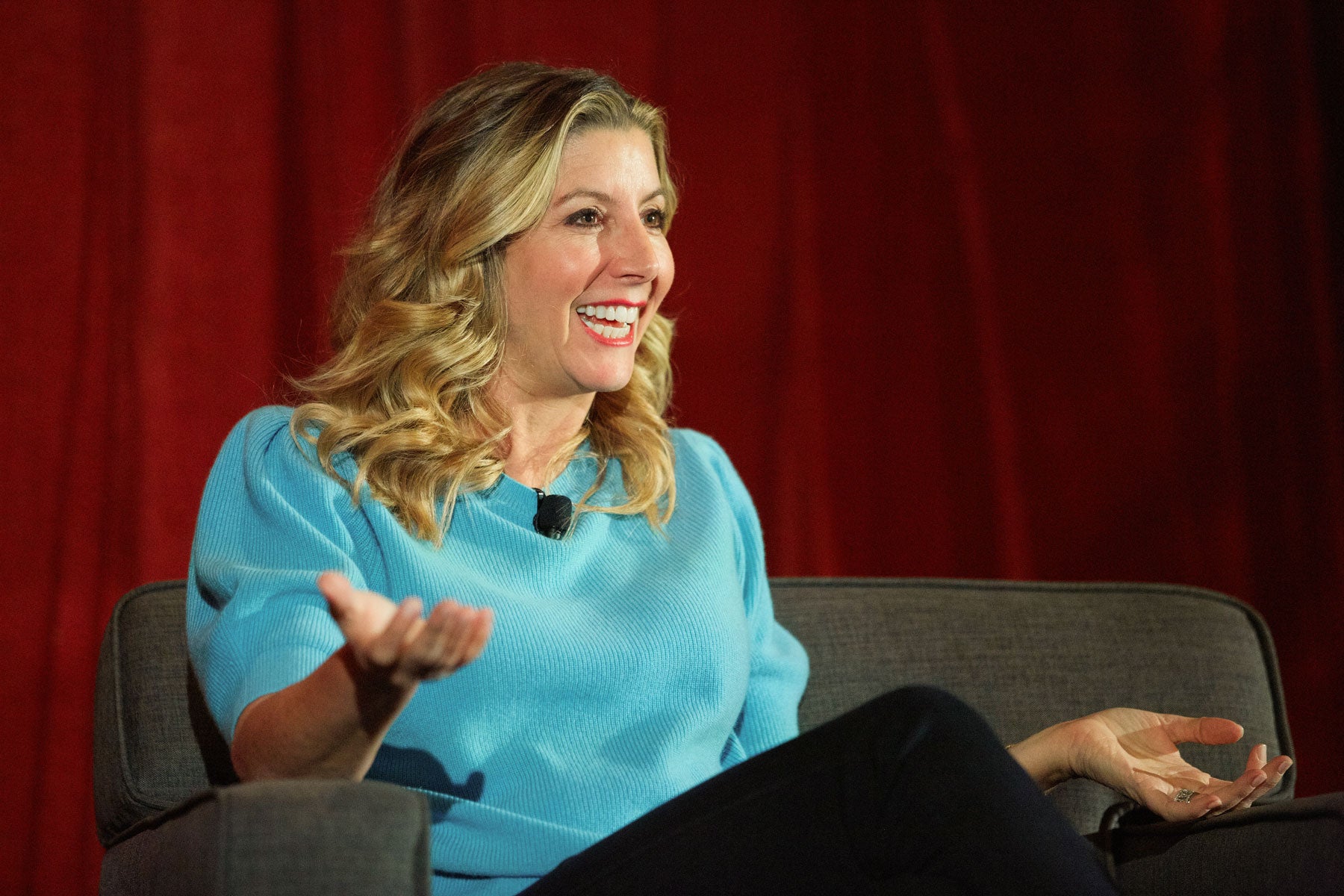 The inventor, founder and owner of shapewear company Spanx shared her business-related wisdom with students and alumni during a special event held by the USC Lloyd Greif Center for Entrepreneurial Studies at the USC Marshall School of Business. Before accepting the center's 2019 Entrepreneur of the Year award, the self-made billionaire described the steps she took to build her company into a worldwide brand with no outside investment.
---
USC 2019 | A LOOK BACK — See more of our year-end package: