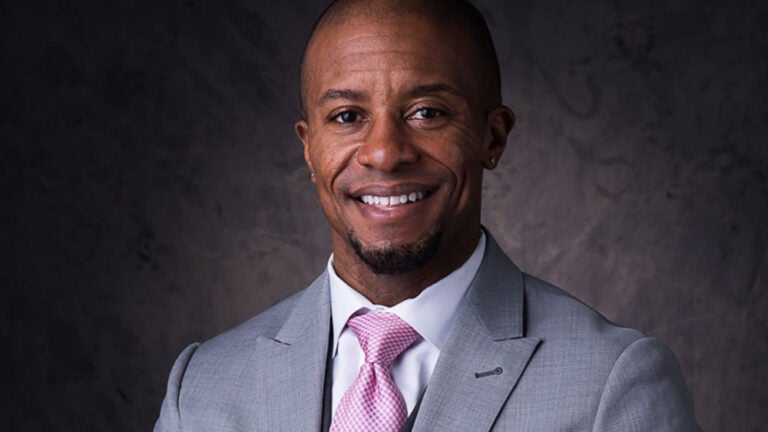 USC announces first chief inclusion and diversity officer
As part of President Carol L. Folt's senior leadership team, Christopher Manning will reinforce the university's commitment to inclusion, diversity, equity and belonging.
Christopher Manning, an experienced leader and advocate for diversity in higher education, has been named USC's first chief inclusion and diversity officer, President Carol L. Folt announced Monday. He will report directly to the president and begin his new role on March 1.
Manning joins USC after serving as both an assistant and an associate provost for academic diversity for nearly five years at Loyola University Chicago. During his tenure at Loyola, he also spent many years teaching and conducting research on the histories of marginalized populations.
"Chris has a strong track record of collaborating with administration, faculty and student leaders to effectively create practices that promote inclusion," Folt said. "He brings the passion of a former student activist along with decades of scholarship to bear on the issues of campus diversity, and we are delighted he will be leading our efforts."
As part of Folt's senior leadership team, the chief inclusion and diversity officer will have the support and the resources to build a framework for strategies, programs and initiatives that reinforce USC's commitment to inclusion, diversity, equity and belonging and to address ongoing challenges of discrimination and bias. Manning also will lead the university's Diversity and Inclusion Council and work collaboratively with faculty, staff and student leaders across USC to deliver sustained, measurable improvements in educational and organizational environments.
In addition, he will take an active role in several of the Diversity, Equity and Inclusion initiatives spearheaded by Folt already underway at the university, including the President and Provost's Taskforce on Racial Equity, Diversity and Inclusion and the Department of Public Safety Community Advisory Board.
Manning chosen as USC's chief inclusion and diversity officer after extensive search
Manning's appointment comes after a search committee headed by Provost Charles Zukoski and Senior Vice President for Human Resources Felicia Washington sought extensive feedback from the USC community, which helped both to define the role and guide the four-month national search process.
"The empowerment of underrepresented people has motivated my entire career, and I want to be part of a mission-driven, social justice-oriented environment. That is why I am excited to join USC," Manning said. "The experience of transforming protest into policy will inform how I approach this new role, which requires building trust and credibility.
"My philosophy — that the future of higher education lies at the intersection of diversity, student success and innovation — is in perfect alignment with President Folt's strategic vision."
I want to be part of a mission-driven, social justice-oriented environment.

Christopher Manning
Manning spent much of last year in San Diego, where he completed a yearlong leadership fellowship with the American Council on Education at San Diego State University, gaining a broader understanding of university leadership, operations and culture.
At Loyola, Manning became the first assistant provost for academic diversity in 2016. He evaluated the campus climate and created practices to promote inclusion as he sought input from students, faculty and staff. Identifying barriers to student success and the retention of diverse faculty were among his top priorities.
He recruited and developed 13 faculty diversity liaisons and provided equity and inclusion training across the university. He organized 10 workshops a year on topics such as avoiding implicit bias in hiring, navigating difficult conversations about race in the classroom, microaggressions and diversifying new hires. He created identity-based networking and professional development events focused on faculty who were people of color, women and LGBTQ. His initiatives built a foundation for faculty support and success that contributed to a 14% increase in diverse faculty hires.
Manning also helped create a course for the core curriculum to teach students how to reflect on their biases and interactions with others.
Christopher Manning brings scholarship, love of the arts to USC
Manning also has a strong connection to the arts. He was a professional Latin dancer and the executive director and founder of the nonprofit dance company Inspiration Dance Chicago, which offered free youth and adult Latin dance training in Chicago.
In addition to administrative experience, Manning brings significant scholarship to the position. Manning has been an associate professor of history at Loyola since 2008, teaching subjects such as Black history, the civil rights movement, Black politics and 20th-century American history.
He earned his PhD in history from Northwestern University, where he also earned his master's in history. Manning earned his undergraduate degree in history at the University of Alabama in Huntsville. There, as he completed his honors thesis titled: "Cajuns, Catholics and Klansmen: An Analysis of the Rise and Fall of the Ku Klux Klan in Louisiana, 1917-1926," Manning also organized a march of the city's three universities to honor Martin Luther King Jr.