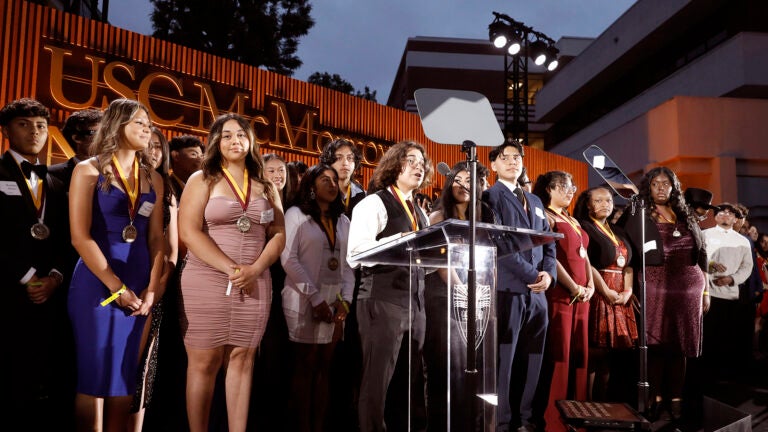 Neighborhood Academic Initiative gala celebrates graduating class of seniors
This year's gala honors a class of scholars who bonded during trying times to help one another succeed as they progressed through the USC Leslie and William McMorrow Neighborhood Academic Initiative.
May gray skies lifted as the USC Leslie and William McMorrow Neighborhood Academic Initiative honored another stellar graduating class of high school seniors. The change in weather seemed more than appropriate.
"The sun always shines bright on NAI," USC Senior Vice President for University Relations Sam Garrison said at the group's annual gala Wednesday evening in Alumni Memorial Park on the University Park Campus.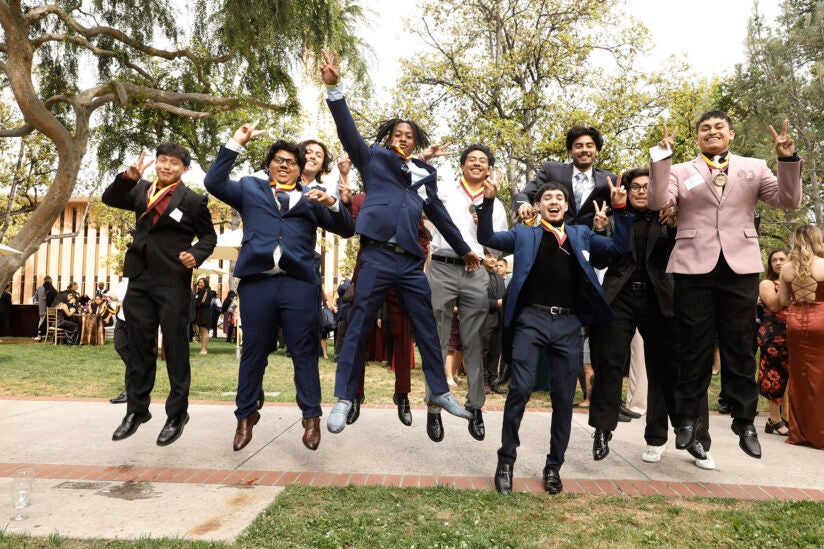 The Class of 2023 brings the number of South Los Angeles and Eastside students who have completed the program to 1,501. But this group is special for reasons beyond that milestone.
USC NAI Class of 2023: A special group
"What makes this class special is how they came together through adversity, they bonded and pushed each other," said Kim Thomas-Barrios, USC associate senior vice president for educational partnerships. "Their mindset went from 'Am I going to college?' or 'Can I go to college?' when they started the program, to 'Where am I going to college?' It is a game-changer, and it is beautiful to watch."
The goal for many NAI scholars is to attend USC on a full-tuition scholarship. This year, more than half of the 96 NAI seniors received letters of acceptance to USC and 44 will attend the university in the fall. But Thomas-Barrios notes that scholars receive acceptance letters from colleges and universities across the country.
The Class of 2023 includes an early action admit to Stanford University as well as graduates heading to Northwestern University, the University of Oregon and Vanderbilt University, among other schools.
"One thing I know is, whether NAI graduates come to USC or attend another school, they are going to succeed," USC President Carol L. Folt said. "They are ready to take on the academic challenges of college. They are curious and creative, and thanks to NAI they are just beginning a lifelong journey full of learning, connection and possibility."
Inspiring students to achieve their dreams
Christopher Lopez is one of the seniors who will be leaving the comforts of home; he is the early action admit to Stanford.
"I still can't wrap my head around the fact that I will be going to college," Lopez said. "It's a dream I have been trying to accomplish ever since I joined NAI in sixth grade, a dream that NAI was instrumental in helping me achieve."
Lopez credits NAI and the Saturday Academy classes at USC with making him feel part of the academic community and that he belongs in college.
"They showed me over the years that I am worthy of going to college and excelling in that environment," said Lopez, a recipient of a QuestBridge Match Scholarship and a Gates Scholarship. He will be majoring in either psychology or human biology and wants to become a neurologist. His goal is to further research and studies into finding a cure for Alzheimer's disease and to make medical treatments accessible to everyone.
NAI's seven-year program offers academic support and resources to prepare students for the academic rigors of college.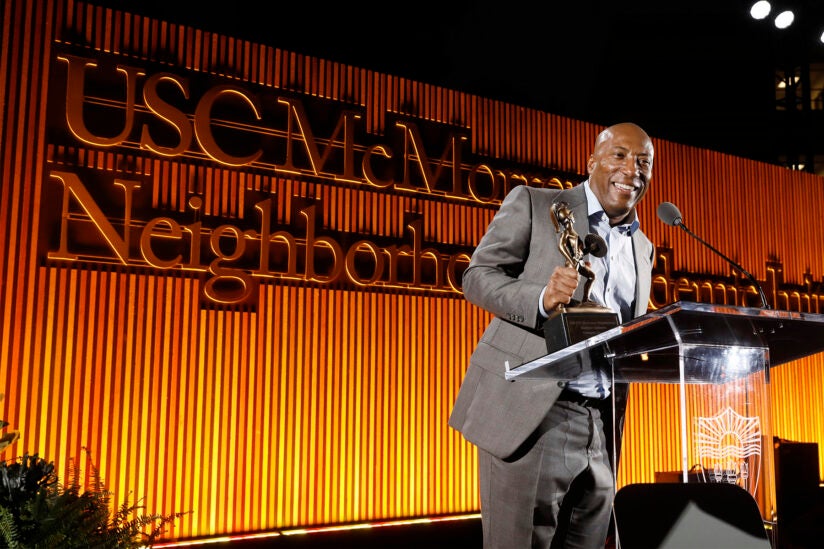 It has a remarkable 100% high school graduation and college acceptance rate. After high school, NAI continues supporting its scholars by providing mental health resources and identifying scholarships to fill gaps in financial aid packages.
Celebrating notable alumni at USC NAI Class of 2023 gala
In addition to honoring each of the 96 graduates, the evening's festivities included presentations of the NAI Community Impact Award to program alumna Lizette Zarate — now USC's program director for K-12 educational partnerships — and the NAI Champion Award to Byron Allen, chief executive officer of Allen Media Group.
Allen, an alumnus of USC, a former stand-up comedian and now a media and entertainment mogul, remarked how a college education changed his and his mother's lives by introducing them to the arts and the "business of shows." The opportunity altered his career trajectory and led him to create a media empire offering global content production and distribution.