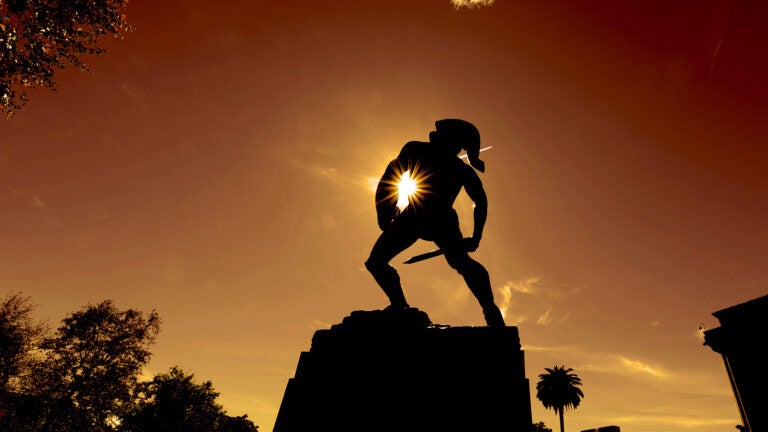 USC commencement 2021: What you need to know
Graduates and guests must have preregistered to attend the in-person ceremonies, which will be livestreamed from the Coliseum on May 14-20.
Get ready to celebrate the classes of 2020 and 2021, as USC's 137th and 138th commencements will get underway beginning Friday. Here are some things you need to know about a commencement full of firsts:
• Ceremonies will be held at 8 a.m. and 3:30 p.m. May 14-20 in the Los Angeles Memorial Coliseum. The schedule is available online. Students whose schools are having multiple ceremonies will have been informed as to which ceremony to attend.
• Because of COVID-19 restrictions, preregistration is required of graduates and guests (maximum of two guests per graduate). Preregistered graduates and guests will have received information with attendance requirements, which include social distancing and wearing face coverings.
• Anyone who has not preregistered will not be permitted inside the Los Angeles Memorial Coliseum. Gatherings are not allowed outside the stadium.
• Ceremonies will combine elements of USC's traditional main graduation ceremony with those of individual school and college ceremonies. Graduates will have the opportunity to process across the stage, hear their name announced, receive their diploma covers and have photos taken while projected on the screens at the stadium. Due to distancing requirements, it will not be possible to hood doctoral candidates; hooding ceremonies will take place in the future when restrictions are lifted.
• All ceremonies will be livestreamed online.
• Individual schools will hold virtual celebrations of their own on Thursday, May 13. The schedule is available online.
For complete information, visit the USC commencement 2021 website.