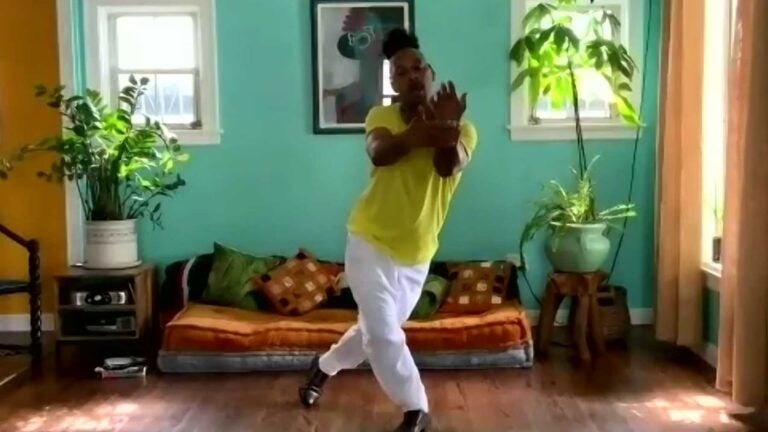 USC community commemorates Juneteenth with virtual celebration
Professors, administrators and students all shared words of remembrance and personal stories at the university's inaugural Juneteenth event.
Prior to Friday, LaVonna B. Lewis had never spoken publicly about the atrocities suffered by her family. But as the USC community gathered online to celebrate Juneteenth, Lewis felt compelled to share what life was like for many Black Americans following emancipation.
"I share these facts today because this is a time for listening and lifting up my truth," she said. "I share these facts with you today because the struggle to live free in America continues."
Music licensed via Accidental Records: "Breathe" by Matthew Herbert Big Band
Lewis, associate dean of diversity, equity and inclusion at the USC Price School of Public Policy, reflected on her great-grandfather's death at the hands of deputies in Oklahoma. She spoke of the lynching of her great uncle by residents of that same county and its Sheriff's Department, and the fact that his lynching had been forever memorialized in a "lynching postcard" that ultimately was auctioned off to a collector.
I share these facts with you today because the struggle to live free in America continues.

LaVonna B. Lewis
"I share these facts today because, almost 100 years later, anti-Black racism still exists and Black bodies still aren't being protected," Lewis said. "I share these facts publicly because we as a people are still the victims of violence, physically, mentally, emotionally, instead of postcards."
Lewis was one of several speakers during the USC Intercampus Juneteenth Celebration. The online event also featured readings, a dance performance, shared experiences and student perspectives, all meant to reflect and celebrate Black heritage. Juneteenth marks 155 years to the day since word of emancipation finally reached slaves in Galveston, Texas — the far boundary of the former Confederacy — over two years after President Abraham Lincoln's Emancipation Proclamation.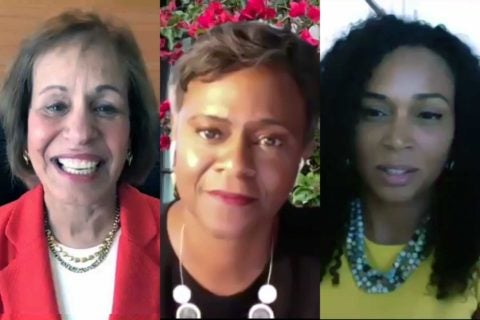 Other featured speakers Friday included Joyce Richey, associate dean for diversity and inclusion at the Keck School of Medicine of USC, who provided a personal reflection on Juneteenth. She opened Friday's celebration by showing a photo of her great-grandmother — who was born a slave in Georgia — from around the time she was interviewed by a local paper at age 110. She said her great-grandmother told the paper that her master "did not tell his slaves they were free until the Yankees came in and made him."
Richey said the northerners also instructed the plantation owners to give each family of freed slaves 10 acres of land and a whole ham. Neither was received by her great-grandmother's family.
"I wanted to share this bit of my family history with you because again it's so appropriate in terms of what we are celebrating today, Juneteenth," she said.
USC leaders, professors use Juneteenth to push for change, understanding
Another personal story came from Jody David Armour, professor at USC Gould School of Law, who recalled his father's service in World War II and his treatment upon returning home.
"I couldn't fathom a Black man like my dad pledging allegiance to a flag, and the nation for which it stands, after that very same nation showed its gratitude for military service by falsely incarcerating him for 22 to 55 years in the state penitentiary for the alleged sale and possession of marijuana," Armour said.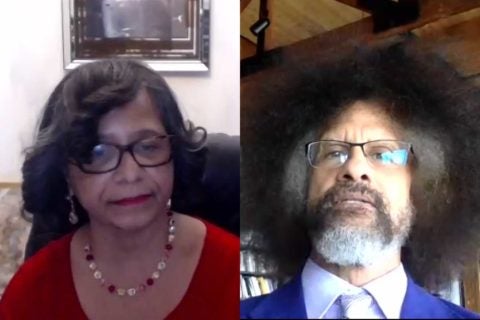 His father studied law and was eventually able to vindicate himself five years after he was incarcerated. Though Armour said he could not understand why his father would remain loyal to the flag of a country that would repay him in such a way, he eventually understood the true meaning behind his loyalty.
"I came to see his patriotic devotion to the American flag not as a mental illness but as a profoundly political one intimately wedded to Juneteenth, the occasion for which we are gathered here today," Armour said.
President Carol L. Folt said she wants to see Friday's event become an annual celebration and believes it's up to "all of us, right now, to bring about real change."
"We have to confront and eliminate systemic and structural racism, and it's a moment for us right here at USC to end a collective silence about anti-Black racism," Folt said.
The ceremony also featured an artistic presentation by Associate Professor d. Sabela grimes of the USC Kaufman School of Dance and a dramatic reading by Anita Dashiell-Sparks, associate dean of equity, diversity and inclusion at the USC School of Dramatic Arts.
USC students reflect on having a greater grasp of history
Closing out the ceremony were reflections from current and former USC students. One of the former students, Morgan Summer, said she had really only learned about Juneteenth within the last several years.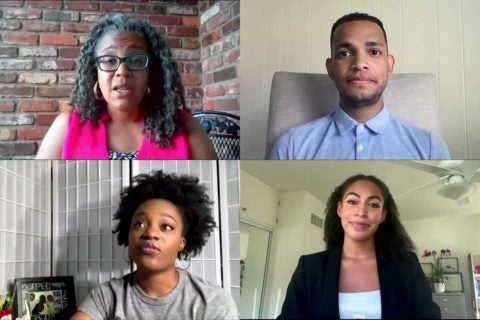 "Even despite all of my education, which partially has focused on Black and African American experience, it's still surprising to hear just how long the slaves had to wait to truly be free, which is why it's such a prideful independence day for me," she said.
She went on to say that this event — USC's first universitywide Juneteenth celebration — can do more than simply remember what was and hopefully move people to change how things are.
"I think this day really provides a great opening and a great space for us to have discussions on truth and freedom, especially on what that looks like here in the United States," Summer said.
"I think it's critical to our history, as the United States and as Americans, that we acknowledge this day and we acknowledge what it is," she added. "And that we don't continue to sidestep this part of American history because that is what it is; it's not just Black history, it's American history."