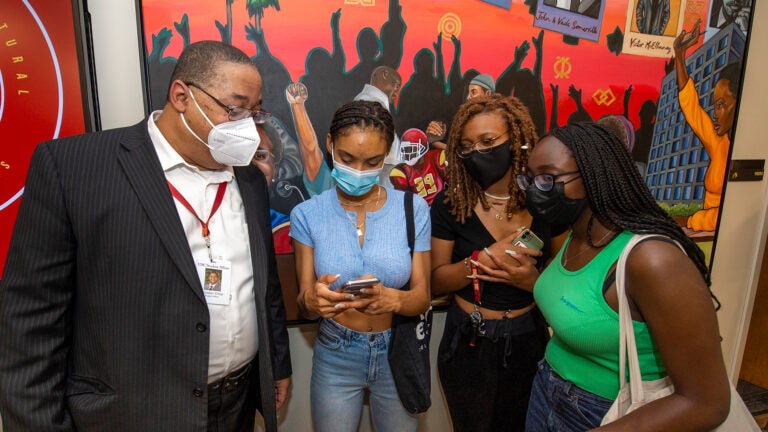 USC has made it easier than ever to celebrate all of your unique identities
The university offers more resources to students who identify as Black, Latinx, Asian, LGBTQ+, undocumented, first generation and transfer, as well as their allies.
The decorative monarch butterflies at the new First Generation Plus Success Center made at least one student cry.
Monarchs live in a state of perpetual migration, fluttering back and forth from the U.S. to Mexico in search of a mild climate. That trait has made them a symbol to undocumented immigrants living in the United States.
At the First Generation Plus Success Center, the butterfly images surround artwork that reads, "No Human Being is Illegal." The words prompted the student to tear up, said Alejandra Hong, manager for Trojan success initiatives within USC Student Equity and Inclusion Programs, or SEIP.
The student said she had never felt so honored by USC, Hong said. "Another student said, 'That's my mom's story, my parents immigrated here; came here illegally to give us a better life.'"
The First Gen Plus Success Center, located on the second floor of the Ronald Tutor Campus Center, is just one of several newly opened or renovated spaces for USC students with diverse backgrounds and their allies.
Other cultural centers in SEIP include the Veterans Resource Center, Asian Pacific American Student Services (APASS), LGBTQ+ Student Center, La CASA, the Center for Black Cultural and Student Affairs (CBCSA), and Student Basic Needs. There are also two lounges that opened for the first time this semester: the Native American and Pasifika Student Lounge and the Middle Eastern and North African Student Lounge.
Naddia Palacios, USC's first senior director of SEIP, brought all the centers together under one umbrella. The move allows the cultural centers to combine resources, expand services and offer more events and shared programming.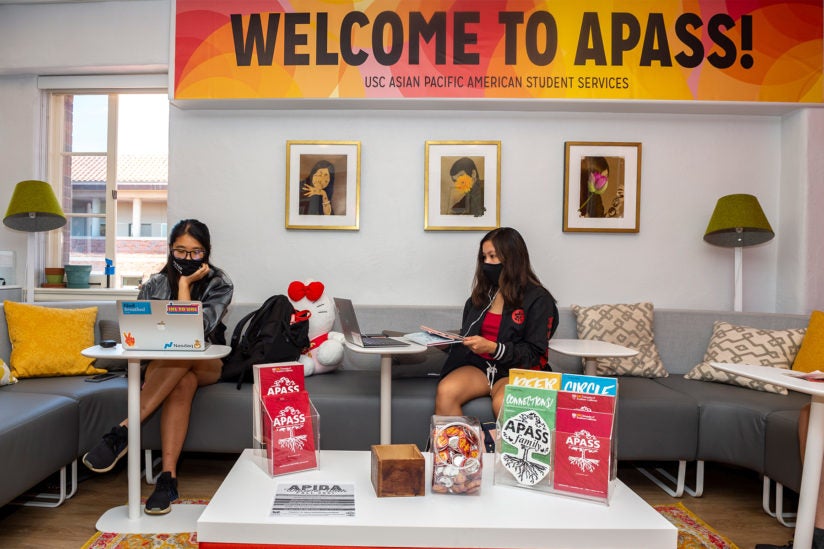 The shift reflects the intersectionality of USC's population: Students often have more than one or two identities. For example, it isn't rare for a veteran visiting the Veterans Resource Center to also be a transfer student, or for a queer student to also want to learn more about their Latinx culture.
"We are not monoliths; we are not just one identity," said Megan van der Toorn, SEIP manager for signature programs. "When our centers work together, when we co-program, when we model showing up for each other in each other's spaces, it sets an example for what student life can be."
Each cultural center at USC has its own location, programming, events, resources and embedded counselors. Their goal is to make students feel welcome by giving them a judgment-free space to be themselves.
"When students walk into a space like APASS, it's almost like some kind of burden has been lifted off their shoulders," said Jonathan Wang, SEIP manager for leadership and education. "They can just feel like themselves."
USC cultural centers welcome students, encourage them to embrace their identities
During the first few weeks of classes each center held its own open house to welcome students.
At APASS's event, K-pop played in the background as volunteers handed out facemasks that read, "Stop Asian Hate."
Maria Tsiao, a junior at the USC Dornsife College of Letters, Arts, and Sciences, welcomed shy first-year students into the space. Three years ago, she was the shy one.
She grew up in a Seattle suburb and went to a mostly white high school. She didn't really think about her Asian identity until she got to USC.
"I was lost," Tsiao recalls. "Immediately, someone at the front desk asked, 'Are you here for APASS?' We have snacks, coffee, tea — people were just relaxing. Even though I didn't know anyone there, the environment was super friendly."
At the new CBCSA space, students were greeted with artwork that celebrates Black history and culture and the African diaspora.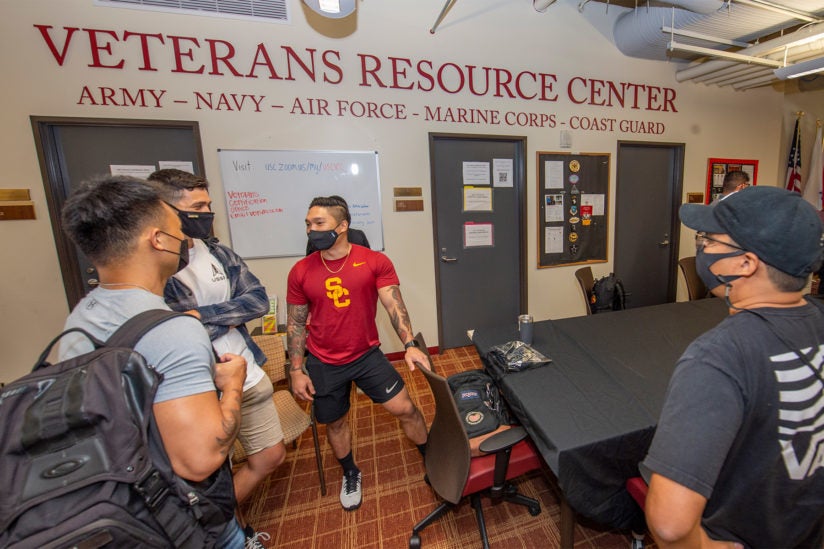 The new furniture was so nice that students initially were unsure if they could sit on it — kind of like the really nice couch that's off-limits at grandma's house, joked Greedley Harris III, SEIP manager for strategic partnerships.
"The students have been elated and so excited about the new space," he said.
During SEIP's realignment, Harris has worked to build partnerships with other campus groups. For example, an added benefit is the new THRIVE pilot class "Black Identity and Well-Being," which is taught at CBCSA by a professor from the USC Mrs. T.H. Chan Division of Occupational Science and Occupational Therapy. The class is open to every major and is meant to be an "exploration of the theme of thriving, including well-being, self-care and connection as they relate to and intersect with Black identity," according to a course description.
If the pilot is successful, Harris added, the class could be offered to explore other identities.
Other new partnerships include developing identity-themed floors for sophomores with Residential Education and building connections with USC Athletics, as well as regular collaboration with cultural student assemblies. Earlier this month, Harris said, the Black Student Assembly held one of its meetings in CBCSA's new space and had a big turnout.
Trojans explain why cultural centers of all types help build community across identities
Josue Rodriguez, who served in the Marines and is a senior at the USC Annenberg School for Communication and Journalism, works at the Veterans Resource Center. He said it's important for veterans to have a strong community to join once they leave the military.
"The instant you leave service, you lose about 80% of your friends," he said. "But being able to jump into another community, like the Trojan community here at USC, is pretty awesome."
The Veterans Resource Center, one floor above the First Generation Plus Success Center, recently offered group therapy sessions for people who served or knew people who served in Afghanistan in case they wanted to talk about the U.S. withdrawal from the nation and subsequent unrest and deaths.
At the LGBTQ+ Student Center, graduate student Rachel Freeman-Cohen welcomed new students. She had been involved in the LGBTQ+ center during her undergraduate years at the University of California, Santa Cruz, and she wanted to be part of USC's community.
She knows firsthand how important these centers can be, especially for USC students who are questioning their identity or have never been able to explore it.
Being able to jump into another community, like the Trojan community here at USC, is pretty awesome.

Josue Rodriguez
"I come from Temecula, which is a small conservative town in Southern California. I didn't know that language was gendered, I didn't know that there were genders that exist outside of the binary until coming to college, and that was because of our queer center," she said.
When young people don't have the words to express what they are feeling and how they identify, it can be very confusing and isolating, she added. As such, the center provides a lot of educational resources for students, as well as hosting events to build community.
As students return to campus, SEIP wants to make it clear that these centers and spaces are for all students and that anyone can come and feel welcome.
Their collective goal is to make students feel like they belong, Hong said. "We're here to celebrate them and highlight who they are. I think being celebrated makes students feel like this is going to be a little easier because people understand them and people want them here."
That was evident during SEIP's welcome event last week, a collaboration across all the centers. It was the first time they held a welcome event together.
The organizers expected 600 people, but more than 1,500 attended — a welcome surprise to SEIP staff. Students also hung out and mingled with each other rather than staying in their own groups.
"That tells us that students are craving community," Palacios said. "It was so powerful to see such large groups of students congregating and having fun together. They weren't in silos; they were all interacting with everybody."