Signaling a cultural shift, President Folt dedicates landmark building to alum Joseph Medicine Crow
The president honors the Native American author, historian and war hero, whose legacy of fostering connections among cultures aligns with the purpose of the Center for International and Public Affairs.
USC alum. World War II hero and war chief of the Apsáalooke (Crow) Nation. Author and historian. Dr. Joseph Medicine Crow on Monday added another entry to a lengthy list of honors: USC's Center for International and Public Affairs now bears his name, becoming an inspiration for students of today and generations to come.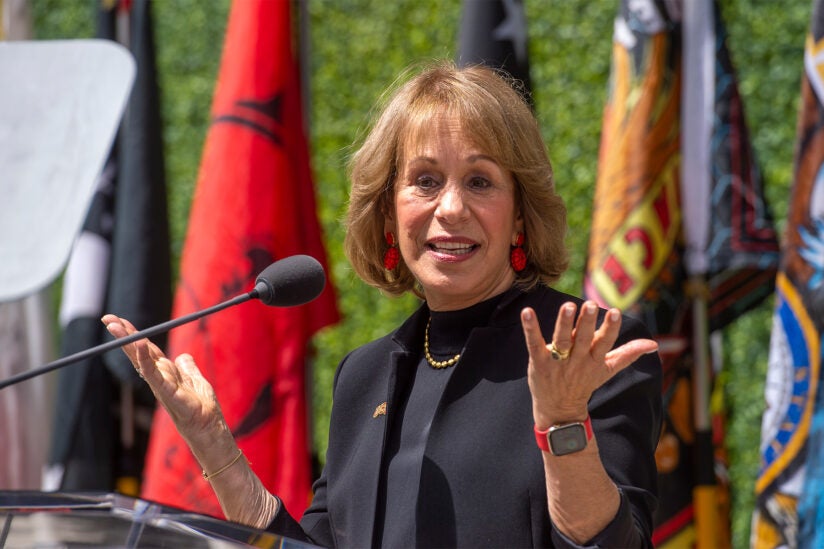 The change, celebrated by members of Medicine Crow's family, USC administrators, faculty, staff and students, also represents USC President Carol L. Folt's drive to align the university with its core values and shape what USC wants to be as a community.
"From this morning on, this building, with that beautiful globe top tower that is visible all across Los Angeles, telegraphs a new symbol of USC, a new name — I'd say a proper name — to carry tomorrow's dream," Folt told the crowd gathered near the building, whose lean, minimalist arches, classical brick lines and white trim draw the eye upward.
Honoring a legacy
The day began with drizzle, but the sun appeared just as the celebration began and lasted through the unveiling of the building's newest name: the Dr. Joseph Medicine Crow Center for International and Public Affairs.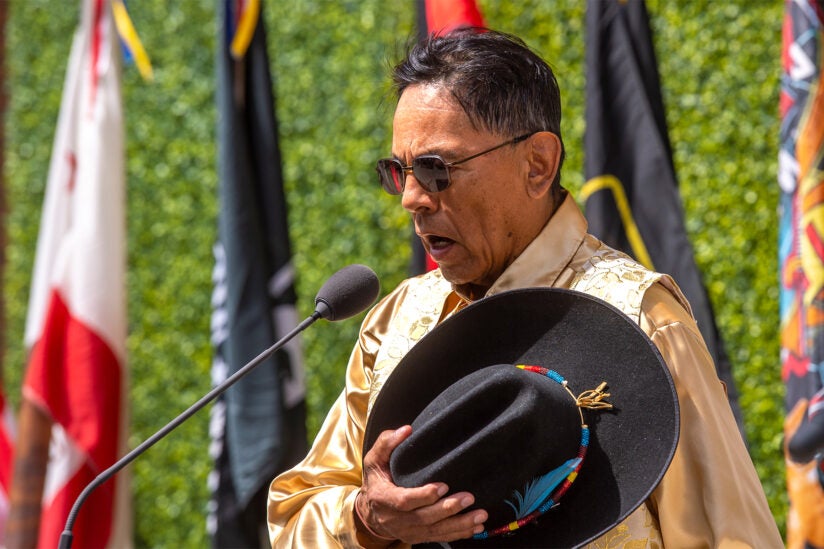 "Dr. Joseph Medicine Crow's name on this building and his life that's so dedicated to peace, to unity, education and global understanding, will be a very visible sign of hope and of honor," Folt told the crowds of guests and onlookers gathered at Alumni Park.
The Indigenous Warriors Flag Group of Central California marched through a sea of Trojans to present the colors. As Medicine Crow's son Ronald looked at the flags behind him and the number of supporters at the University Park Campus, he shared two songs that were important to not only his father but also to the Crow people.
"Dad would say, 'A famous chief once said that today is a good day to die, but I say unto you, today is a good day to live,'" Ronald Medicine Crow said. "And we're living a good day today."
Maracea "Mesa" Chase, president of USC's Native American Student Assembly, also spoke to the crowd about the significance of the name.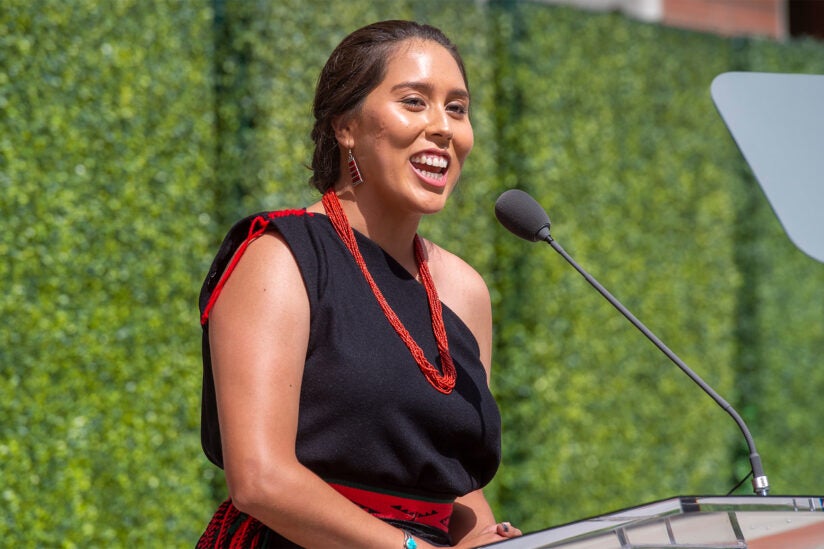 "The renaming of this building not only exemplifies the amazing accomplishments and character of Dr. Joseph Medicine Crow, but it also serves as a basis for recognition and representation of our Native American students, staff, faculty and alumni," said Chase, a member of the Navajo, Hopi and Lakota Sioux tribes. "For when there is recognition and representation, there's understanding."
Folt announced that in the fall two students will receive the Dr. Joseph Medicine Crow scholarship, another honor dedicated to a man whose life so enriched his alma mater and his country. (Story continues below video.)
"He said, and I quote, 'Education is a way of life. I want to help people get a good education and lead them out of the world of ignorance,'" Folt said. "That is an age-old, contemporary and a perfect mission for the people who work here today."
A journey that reflects USC's values
It is no simple task to rename a building. Policy and procedure govern the process; the administration and the Board of Trustees must agree. Folt's journey began when she took the podium at her inauguration in September 2019. Student demonstrators watching the ceremony from the steps of the public affairs building began shouting.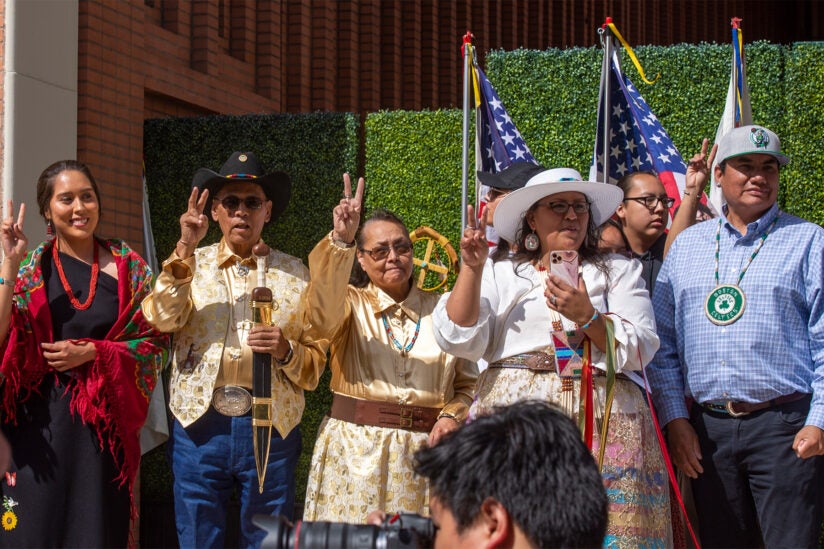 Folt paused to listen. The students were protesting the structure's original namesake: former USC President Rufus Von KleinSmid.
A supporter of eugenicist theory, Von KleinSmid derailed the educations of Japanese American students at the outset of World War II. As members of the Nisei generation, those born to parents who immigrated from Japan, the students were forced into detention centers across the West.
When the Nisei were released and sought to return to USC, Von KleinSmid denied their readmission. He also refused to give them their transcripts. Consequently, some Nisei students who did transfer to other schools were forced to repeat courses, delaying their education by two years or longer.
For years, descendants and friends of the Nisei fought for their recognition as Trojans, combating a USC policy against awarding degrees posthumously.
Folt heard them and pressed for their cause.
After winning support from the Board of Trustees, the president conferred posthumous honorary degrees on Nisei students at a ceremony 10 days ago.
Folt knew the degrees were but one step toward justice. While pushing to ensure the Nisei were welcomed as members of the Trojan Family, she also sought to rename the Von KleinSmid Center building — known to many as just "VKC" — for the late university president.
"President Von KleinSmid took a number of truly appalling and unjust actions, and he wrote about these beliefs not only antithetical to our current dreams and our mission, but they were actually at odds with USC's founding mission," Folt said at Monday's event. "The founders were an ecumenical group that believed that Los Angeles needed a great university, USC, that would embody and would enable the incredible diversity of the people of the region."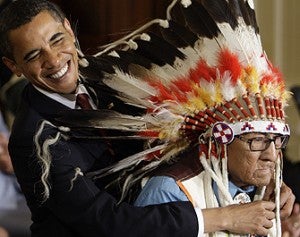 In searching for a more fitting person for whom to name the building, Folt formed a naming committee of faculty, students and alumni. Paula Cannon, associate professor of microbiology at the Keck School of Medicine of USC, was part of that committee. Cannon, a former president of the Academic Senate, and her committee members considered hundreds of names, but one stood out.
"The more I read about Joseph Medicine Crow, I just couldn't believe how amazing he was," Cannon said in an earlier interview. "At committee meetings we would find ourselves saying, 'How could we never have heard of this?'"
Cannon and other members of the committee pored over historical materials, including the master's thesis Medicine Crow wrote in 1939: "The Effects of European Culture Contacts Upon the Economic, Social and Religious Life of the Crow Indians." Medicine Crow's books were also considered, including From the Heart of the Crow Country: The Crow Indians' Own Stories and his autobiographical Counting Coup: Becoming a Crow Chief on the Reservation and Beyond.
Medicine Crow received an honorary doctorate from USC in 2003, one of four honorary doctorates he received in his lifetime.
"He is our USC warrior for peace," Folt said at the ceremony. "Dr. Joseph Medicine Crow's dreams, his life of honor — proudly, humbly on our Center for International and Public Affairs — will truly inspire USC Trojans for generations to come."
Ron Mackovich-Rodriguez of USC University Communications contributed to this report.