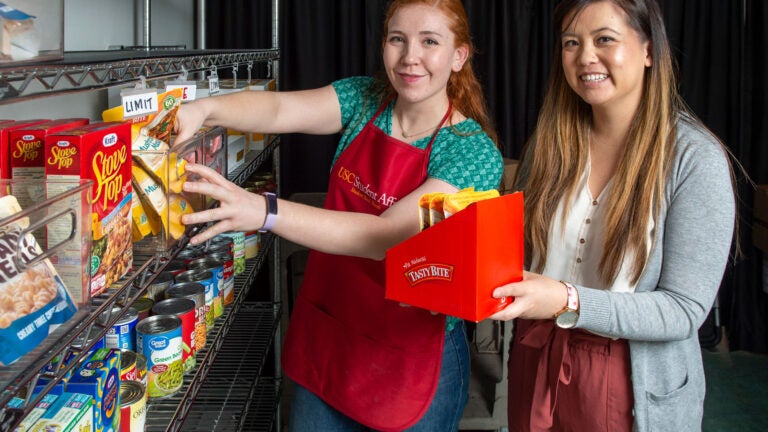 New department is devoted to students' basic needs
Student Affairs' Department of Student Basic Needs includes the Trojan Food Pantry, a program that helps USC students who struggle to consistently get the food they need.
Once a week, Naomi Rodgers takes a break from her studies as an Earth sciences doctoral student to organize canned goods and sort through produce in Parkside Apartments before the Trojan Food Pantry opens. She's one of 30 student volunteers who keep things running at the pantry — a vital lifeline for students who may be experiencing food insecurity.
"It's such a small thing I can do, so I'm glad to be a cog in the wheel of this program," Rodgers said.
"Trojan Food Pantry is doing great things, and its staff are devoted to making sure our students don't go hungry."
The Trojan Food Pantry, which has had a physical location on campus since 2018, is now part of a larger strategy to address the fundamental needs of students at the university.
USC Student Affairs established and staffed a new Department of Student Basic Needs in the fall, in light of national data in recent years that indicate many U.S. college students are food and housing insecure. A 2019 survey by The Hope Center, for example, revealed that 39% of college students across the country said they had experienced food insecurity in the past 30 days.
It was a national trend USC could not ignore, said Winston Crisp, vice president for student affairs.
"We are committed to the success of every student here at USC, but it is inarguably difficult to thrive if you're focused on trying to survive," Crisp said.
"USC wants to ensure that every Trojan has their basic needs covered, so they can focus on what they're here for — getting a top-tier university education and an unparalleled student experience."
Department of Student Basic Needs: focused on equity
Ally Hong, who manages the new department, says the food pantry had 700 unique visitors last semester, with an unexpected spike in visitors during winter break.
"We have this idea that students go home to their parents, but it's not always the case," Hong said. "We have a huge international population, students who may be estranged from their families, students with jobs. During breaks, this is the only option for some of our students."
Any USC student without a meal plan or without meals on their plan is eligible to come in up to once a week, Hong said. And anyone can support the pantry by donating time, money or food items.
We have this idea that students go home to their parents, but it's not always the case.

Ally Hong
The department also provides emergency meal swipes and connects eligible students to CalFresh benefits. Hong says she anticipates expanding the department's services to include housing resources and emergency funding as well.
The university's commitment to increasing affordability and aiding students in need was recently bolstered by President Carol L. Folt's groundbreaking announcement that incoming freshmen and transfers from families with incomes below $80,000 will receive free tuition, beginning in the fall of 2020.
Prior to the new affordability initiative, USC was a recognized leader in the amount of financial aid awarded and the percentage of its student body who are first-generation and low-income with each year's incoming class. The new initiative further widens the pool of high-achieving, underserved students who can attend USC, which may increase demand for services like those in the Department of Student Basic Needs.
For student volunteers like Rodgers, the Trojan Food Pantry does more than provide food; it helps to advance equity.
"All of our students deserve to get the same level of education, and this helps to level the playing field so they can focus on school instead of where their next meal may be coming from," she said.