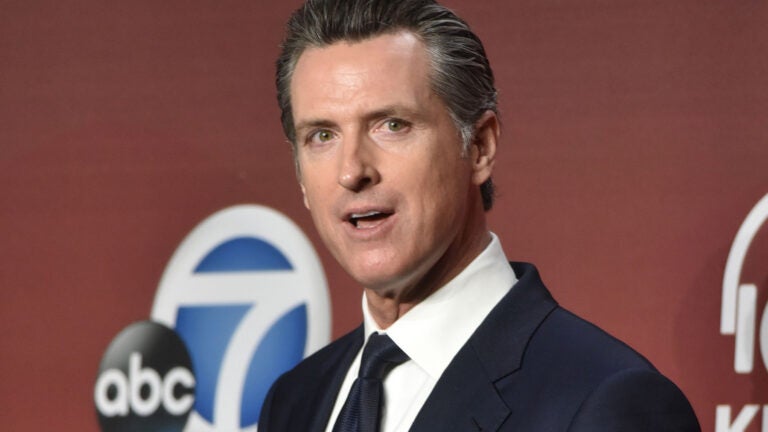 USC Dornsife/L.A. Times poll reveals large lead for Gavin Newsom in race for governor
A majority of all Californians think that things in California are going in the right direction
Lt. Gov. Gavin Newsom has a double-digit lead over other gubernatorial candidates less than two weeks before the June 5 primary, according to a new USC Dornsife/Los Angeles Times poll of California voters.
Newsom leads with 21 percent among those most likely to vote, while the race for second place is more volatile. Former Los Angeles Mayor Antonio Villaraigosa, a Democrat, and the leading GOP candidate, John Cox, are in a near tie for second at 11 percent and 10 percent, respectively.
Nearly 4 out of 10 California likely voters — including just over half of independents — are still on the fence about whom to support for governor.
Cox was recently endorsed by President Donald Trump, but after the poll had closed.
"Cox's best opportunity to make it to the top two is to consolidate GOP support by promoting his Trump endorsement," said Bob Shrum, director of the Jesse M. Unruh Institute of Politics at the USC Dornsife College of Letters, Arts and Sciences. "Though Trump is profoundly unpopular in California, he remains popular with Republicans here."
None of the remaining candidates broke double digits. Democratic state Treasurer John Chiang was backed by 6 percent and Republican Assemblyman Travis Allen had 5 percent.
The USC Dornsife/Los Angeles Times poll of 835 adult residents of California was conducted online April 18-May 18 in English and Spanish. It included 691 registered voters and 517 likely voters, all of whom are members of the Understanding America Study, a probability-based internet panel conducted by USC Dornsife's Center for Economic and Social Research. The overall margin of sampling error is plus or minus 4 percentage points for all registered and for likely primary voters.
The names and ballot descriptions of all 27 gubernatorial candidates and 32 Senate candidates were presented to poll respondents.
"We were able to closely mimic the actual experience of California voters who will pick their preferred candidate from a randomized listing of all of the names and ballot descriptions in the governor and Senate races," said Jill Darling, survey director of the Center for Economic and Social Research.
USC Dornsife/L.A. Times poll: Unpopular votes on tax bill
The federal tax legislation passed less than six months ago is unpopular among Californians. Forty-seven percent of registered voters opposed the changes to the tax code, compared to 27 percent who supported them. By contrast, 6 out of 10 registered voters approve of the Affordable Care Act (ACA), known in the state as Covered California. That's twice as many as those who oppose it.
How members of Congress voted on both issues could determine whether some incumbents are re-elected.
"In tightly contested congressional districts, independent voters are going to be critical to determining who wins," Shrum said. "They could prove decisive by voting against an incumbent who voted to get rid of the ACA or who voted for the Trump tax bill that takes away state and local tax deductions."
A slight majority of all voters, and specifically independents, said they're less likely to re-elect their member of Congress if he or she voted for the new tax law. Democrats were even more compelled: More than two-thirds said they would be less likely to re-elect a representative who supported the tax legislation.
Opinions regarding congressional votes to end the ACA were just as strong.
Fifty-four percent of registered voters said that if their member of Congress voted to kill the health care legislation, they're less likely to re-elect that member. Even in the region of Southern California that includes San Diego, the Inland Empire and Orange County — home to some of the most competitive races for Congress — more voters were more likely to oppose a candidate who voted to end the ACA than to back them.
Senate race: Wide lead for Feinstein
Thirty-two candidates are in the primary race for California's open U.S. Senate seat, but incumbent Dianne Feinstein has a commanding lead — 31 percent among likely voters. Fellow Democrat, state Sen. Kevin de León, is in second place with 7 percent support. The leading GOP candidate, James P. Bradley, garnered only 3 percent.
California right, Trump wrong
Slightly more than half of all registered voters, 51 percent, think that things in the state are going in the right direction. That's a 14 percentage point shift toward the "right direction" since November's USC Dornsife/L.A. Times poll.
While there's a huge gap between Democrats (61 percent) and Republicans (22 percent) who have such optimism, both groups — including Trump supporters — have shifted their opinions about California toward the "right direction" since November.
The president remains very unpopular. Nearly 7 in 10 registered voters disapprove of Donald Trump, an opinion that remains largely unchanged since the poll measured it last November.
View the results
The USC Dornsife/Los Angeles Times poll is a partnership of the Los Angeles Times and two institutions of the USC Dornsife College of Letters, Arts and Sciences: the Jesse M. Unruh Institute of Politics and the Center for Economic and Social Research.
The survey, results and methodology are available. And there is more information about the Center for Economic and Social Research Understanding America Study internet panel.