USC Dornsife/LA Times Poll: CA Voters Back Affordable Care Act But Have Concerns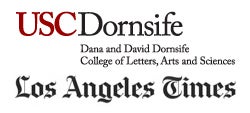 Californians believe the health care law has helped society, but few of them report improvements in the health care services for them and their families, the poll shows. They cite costs as a major concern.
Contact: Emily Gersema at (213) 361-6730 or gersema@usc.edu or Erika Maldonado at (213) 740-8964 or erikamal@usc.edu; or Dan Schnur at schnur@usc.edu or (213) 740-8964
June 10, 2016 — Six years after the passage of the Affordable Care Act, California voters remain strongly supportive of the law but are much more divided over whether it improved health care for them and their families, according to the latest USC Dornsife/Los Angeles Times poll.
Fifty-three percent of Californians said they favor the Affordable Care Act while 12 percent thought that it did not go far enough, according to the results of the statewide political survey. Twenty-seven percent of Californians said they opposed the law because they thought it went too far.
However, poll respondents were almost evenly split on the question of whether Obamacare had improved care for them and their families: 23 percent said it had but 22 percent said it worsened their health care. More than half (52 percent) of the respondents said that it had made no impact.
"On most domestic public policy issues, voters make their decisions on support and opposition based on the impact of that policy change on their own lives," said Dan Schnur, director of USC's Jesse M. Unruh Institute of Politics. "But on health care, Californians' ongoing support for the bill has not been affected by their own experience with the Affordable Care Act."
"It appears that most California voters who support Obamacare are doing so because they believe it has had a beneficial impact on society as a whole rather than on their personal interaction with their own health care providers," Schnur said.
The USC Dornsife/LA Times poll also showed that more than three-quarters of Californians believe that the law resulted in health care coverage for more people, and 59 percent agreed that people with pre-existing conditions could no longer be denied health insurance. However, more than half (55 percent) also believed that health care costs have gone up "a lot."
"Californians certainly don't like the fact that health costs have increased," said Schnur. "But their support for the Affordable Care Act seems to indicate that they believe that it is a reasonable tradeoff in order to reduce the number of uninsured in the state."
Asked about their concerns, 89 percent of the voters said they worry about rising health care costs, 76 percent worry about prescription drug costs, 73 percent worry about the quality of health care, and 70 percent worry that they'll lack health insurance.
The latest USC/Dornsife Los Angeles Times Poll, the largest statewide survey of registered voters, was conducted May 19-31. It includes a significant oversample of Latino voters, as well as one of the most robust cell phone samples in the state. The full sample of 1,500 voters has a margin of error of +/- 2.8 percentage points.
Additional poll results and methodology are available here.
About the USC Dornsife College of Letters, Arts and Sciences/Los Angeles Times Poll: The USC Dornsife/Los Angeles Times Poll is a series of statewide public opinion polls in California, designed to survey voter attitudes on a wide range of political, policy, social and cultural issues.
Conducted at regular intervals throughout the year, the USC Dornsife/Los Angeles Times Poll is the largest statewide poll of registered voters and has been widely cited, helping to inform the public and to encourage discourse on key political and policy issues.
About the Jesse M. Unruh Institute of Politics: The Jesse M. Unruh Institute of Politics is dedicated to bridging the academic study of politics with practical experience in the field. The Unruh Institute channels its efforts by offering courses in applied politics, a variety of speaker series, and an extensive political internship program. Its goals are to engage public officials with the USC community and to facilitate the discussion of relevant issues across campus.
About USC Dornsife College of Letters, Arts and Sciences: USC Dornsife College of Letters, Arts and Sciences is the heart of the university. The largest, oldest and most diverse of USC's 19 schools, USC Dornsife is composed of more than 30 academic departments and dozens of research centers and institutes. USC Dornsife is home to approximately 10,000 undergraduate and graduate students and more than 750 faculty members with expertise across the humanities, social sciences and sciences.
About the Los Angeles Times: The Los Angeles Times is the largest metropolitan daily newspaper in the country, with a daily readership of 2 million and 3 million on Sunday, and a combined print and interactive local weekly audience of 4.5 million. The fast-growing latimes.com draws over 10 million unique visitors monthly.
# # #