USC Dornsife/LA Times Poll: Californians Optimistic about the Economy but Worry about Trade Deals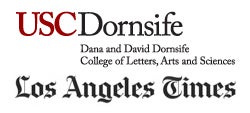 This is one of a series of news releases this week regarding results from the latest Dornsife/Los Angeles Times Poll, California's largest statewide poll of registered voters. To view all releases, click here.
Contact: Emily Gersema at (213) 361-6730 or gersema@usc.edu or Alexandra Bissonnette at (213) 740-3161 or bissonne@usc.edu
March 31, 2016 — Illegal immigration in California is far less of a problem to young voters than voters 50 and older, according to the latest USC Dornsife/LA Times Poll.
More than half — 53 percent — of respondents aged 18 to 29 said illegal immigration in California was a minor problem or not a problem at all, but 70 percent of voters aged 50 and older cited it as a major problem and even a crisis.
In two years, the overall response by California voters has cooled on the issue of illegal immigration: 62 percent in the latest poll deemed the issue a crisis or major problem, down from 72 percent in the September 2014 Dornsife/LA Times Poll.
"We know that Californians are much more supportive of providing assistance to undocumented immigrants than voters in many other parts of the country, but it's clear from our poll results that these attitudes are being driven by young Californians," said Dan Schnur, director of the USC Dornsife/Los Angeles Times Poll and director of the Unruh Institute of Politics of USC.
"Younger people are much more likely to have grown up in diverse communities and are much more likely to know someone who is undocumented," he said. "As a result, they tend to be much less restrictionist on these issues than their parents and grandparents."
Additionally, when asked whether undocumented immigrants should be allowed to stay, 78 percent of voters agreed, and 65 percent indicated that they should be allowed to both work and apply for citizenship. Fourteen percent noted that they should be allowed to stay and work, but not apply for citizenship.
Most Californians – 66 percent – oppose building a wall on the Mexican border to prevent immigrants from crossing illegally into the U.S., 60 percent of voters support increasing border security as a means of addressing illegal immigration.
Social services
Last year, California extended state-provided health care to undocumented children. Fifty-two percent of voters surveyed said they oppose extending the coverage beyond that, to entire families who are undocumented. Fifty percent also opposed the idea of allowing undocumented college students to qualify for financial aid, (versus 46 percent for it), but said they'd allow undocumented immigrants to obtain a driver's license if it had a special mark indicating their undocumented status.
Most Latino voters favored social services for undocumented immigrants. Sixty-three percent said they support the extension of Medi-Cal health care to all immigrants living here illegally, 64 percent believed undocumented immigrants should be able to obtain driver's licenses, and 69 percent supported allowing undocumented students to qualify for financial aid.
At the same time, 47 percent of Latinos said they would like an end to "sanctuary cities," which, under locally-adopted ordinances, refuse to turn over suspected undocumented immigrants to federal authorities for deportation after their arrest.
A similar number of white voters — 51 percent — also opposed sanctuary cities. And while 74 percent of white voters said they would let illegal immigrants remain in the state, they are less inclined to extend social services to them. Less than half — 48 percent — said the state should grant driver's licenses to undocumented immigrants, and only 36 percent supported extending Medi-Cal to adults. Compared with Latino voters, far fewer whites — 38 percent —supported student loan eligibility for undocumented immigrants.
A significant generational split emerged on the question of financial aid eligibility, with only 35 percent of voters aged 18 to 29 opposing, compared with 62 percent of voters aged 64 and older.
The latest USC/Dornsife Los Angeles Times Poll, the largest statewide survey of registered voters, was conducted March 16-23, and includes a significant oversample of Latino voters as well as one of the most robust cell phone samples in the state. The full sample of 1,500 voters has a margin of error of +/- 2.8 percentage points. Additional poll results and methodology are available here.
WEBSITE: https://dornsife.usc.edu/unruh/poll/
TWITTER: @usclatpoll @unruhinstitute
About the USC Dornsife College of Letters, Arts and Sciences/Los Angeles Times Poll: The USC Dornsife/Los Angeles Times Poll is a series of statewide public opinion polls in California, designed to survey voter attitudes on a wide range of political, policy, social and cultural issues. Conducted at regular intervals throughout the year, the USC Dornsife/Los Angeles Times Poll is the largest statewide poll of registered voters and has been widely cited, helping to inform the public and to encourage discourse on key political and policy issues.
About the Jesse M. Unruh Institute of Politics: The Jesse M. Unruh Institute of Politics is dedicated to bridging the academic study of politics with practical experience in the field. The Unruh Institute channels its efforts by offering courses in applied politics, a variety of speaker series, and an extensive political internship program. Its goals are to engage public officials with the USC community and to facilitate the discussion of relevant issues across campus.
About USC Dornsife College of Letters, Arts and Sciences: USC Dornsife College of Letters, Arts and Sciences is the heart of the university. The largest, oldest and most diverse of USC's 19 schools, USC Dornsife is composed of more than 30 academic departments and dozens of research centers and institutes. USC Dornsife is home to approximately 10,000 undergraduate and graduate students and more than 750 faculty members with expertise across the humanities, social sciences and sciences.
About the Los Angeles Times: The Los Angeles Times is the largest metropolitan daily newspaper in the country, with a daily readership of 2 million and 3 million on Sunday, and a combined print and interactive local weekly audience of 4.5 million. The fast-growing latimes.com draws over 10 million unique visitors monthly.