USC Dornsife/LA Times Poll: Californians Optimistic about the Economy but Worry about Trade Deals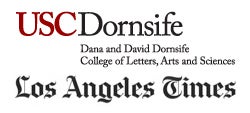 This is one of a series of news releases this week regarding results from the latest Dornsife/Los Angeles Times Poll, California's largest statewide poll of registered voters. USC will announce poll results on immigration questions Thurs., March 31, at 3 a.m. PT.
Contact: Emily Gersema at (213) 361-6730 or gersema@usc.edu or Alexandra Bissonnette at (213) 740-3161 or bissonne@usc.edu
March 30, 2016 — The California economy is heavily dependent on international trade, but voters statewide have concerns about its impact, according to the latest USC Dornsife/LA Times Poll.
When asked their thoughts about the benefits or drawbacks of it, most voters — 67 percent — said they believe trade with other countries leads to lower consumer prices.
At the same time, voters expressed skepticism about trade. Fifty-nine percent said trade with other countries means that American jobs are sent overseas. In addition, 58 percent disagreed that trade leads to higher wages for Americans.
"It's one thing for Rust Belt states like Ohio and Michigan to be less than enthusiastic about expanded trade, but seeing the ambivalence of Californians on this issue is striking," said Dan Schnur, director of the USC Dornsife/Los Angeles Times Poll and director of the Unruh Institute of Politics of USC. "Donald Trump and Bernie Sanders are not driving public opinion on this issue, but the same fears among working class voters that are fueling their campaigns are making California voters much more wary of expanded foreign trade."
Sixty-two percent of Trump supporters likely to vote in the Republican primary said trade sends jobs overseas. Also, slightly more Trump supporters — 67 percent — said they think trade hurts American wages. Meanwhile, 50 percent of Hillary Clinton supporters likely to vote in the primary said they believe trade sends jobs overseas and 51 percent said it hurts U.S. wages.
Sanders supporters were more pessimistic: 66 percent believed trade ends up sending jobs abroad, and nearly as many — 65 percent — said they think trade hurts American wages.
Voters were more supportive of imposing tariffs on Chinese goods than Mexican goods — both of which have been proposed by Trump. Forty-four percent of voters like the idea of a tariff on Chinese goods. Meanwhile, 53 percent oppose such tariffs on Mexican goods.
The Trans-Pacific Partnership trade agreement with a dozen countries — the United States, Japan, Malaysia, Vietnam, Singapore, Brunei, Australia, New Zealand, Canada, Mexico, Chile and Peru — has been the focus of several news stories in recent months. Most voters — 71 percent — said they don't know enough to say whether they support or oppose the deal.
After reading some information about the deal — both pro and con statements — 46 percent of the voters said they oppose the deal versus 25 percent who supported it.
Economy
California voters are optimistic about the economy, with most believing that the best years for jobs in this country are yet to come.
When asked about job prospects, 50 percent of all California voters thought our best years are ahead of us while 39 percent thought those years are behind us. Latinos appeared more hopeful than whites. Fifty-five percent of Latinos believed the best years are ahead, compared with 47 percent of whites.
The viewpoints on jobs also differ along party lines and preferred candidate. Fifty-seven percent of registered Democrats were hopeful for better jobs in the future, but 48 percent of Republicans believed the best years have come and gone.
Among voters likely to vote in the primary, 52 percent of Trump supporters believed the best years were behind us while 56 percent of Clinton supporters believed better times are ahead.
The latest USC/Dornsife Los Angeles Times Poll, the largest statewide survey of registered voters, was conducted March 16-23, and includes a significant oversample of Latino voters as well as one of the most robust cell phone samples in the state. The full sample of 1,500 voters has a margin of error of +/- 2.8 percentage points. Additional poll results and methodology are available here.
WEBSITE: https://dornsife.usc.edu/unruh/poll/
TWITTER: @usclatpoll @unruhinstitute
About the USC Dornsife College of Letters, Arts and Sciences/Los Angeles Times Poll: The USC Dornsife/Los Angeles Times Poll is a series of statewide public opinion polls in California, designed to survey voter attitudes on a wide range of political, policy, social and cultural issues. Conducted at regular intervals throughout the year, the USC Dornsife/Los Angeles Times Poll is the largest statewide poll of registered voters and has been widely cited, helping to inform the public and to encourage discourse on key political and policy issues.
About the Jesse M. Unruh Institute of Politics: The Jesse M. Unruh Institute of Politics is dedicated to bridging the academic study of politics with practical experience in the field. The Unruh Institute channels its efforts by offering courses in applied politics, a variety of speaker series, and an extensive political internship program. Its goals are to engage public officials with the USC community and to facilitate the discussion of relevant issues across campus.
About USC Dornsife College of Letters, Arts and Sciences: USC Dornsife College of Letters, Arts and Sciences is the heart of the university. The largest, oldest and most diverse of USC's 19 schools, USC Dornsife is composed of more than 30 academic departments and dozens of research centers and institutes. USC Dornsife is home to approximately 10,000 undergraduate and graduate students and more than 750 faculty members with expertise across the humanities, social sciences and sciences.
About the Los Angeles Times: The Los Angeles Times is the largest metropolitan daily newspaper in the country, with a daily readership of 2 million and 3 million on Sunday, and a combined print and interactive local weekly audience of 4.5 million. The fast-growing latimes.com draws over 10 million unique visitors monthly.