USC Dornsife/LA Times Poll: Clinton's lead over Sanders shrinks in California; Sanders supporters predict Clinton as nominee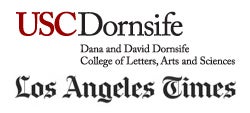 This is one of a series of news releases this week regarding the results from the latest Dornsife/Los Angeles Times Poll, California's largest statewide poll of registered voters. USC will announce additional poll results in this order:
• Wed., March 30, 3 a.m. PT: Trade and economic insecurity
• Thurs., March 31, 3 a.m. PT: Immigration
A press call discussing these results is MONDAY, March 28, at 10 a.m. PT. Call-in spots are limited. RSVP to gersema@usc.edu.
Contact: Emily Gersema at (213) 361-6730 or gersema@usc.edu or Alexandra Bissonnette at (213) 740-3161 or bissonne@usc.edu
March 28, 2016 — Hillary Clinton's lead against Bernie Sanders has narrowed in recent months among registered Democrats and likely Democratic voters in California, with 45 percent now backing Clinton and 37 percent supporting Sanders, according to a new USC Dornsife/LA Times poll.
Last September, the same poll showed Clinton with a more substantial lead, with 42 percent supporting her and 26 percent backing Sanders. The 16 percentage-point lead was similar in November when a USC Dornsife/LA Times Poll by Survey Monkey with different methodology showed that 48 percent supported Clinton and 32 percent were behind Sanders.
In the latest poll, 51 percent of Sanders' supporters say that they expect Clinton will ultimately prevail in November. Seventy-seven percent of them say they would vote for Clinton in a general election match-up against Donald Trump, though nearly half — 45 percent — would do so reluctantly, and 15 percent would refuse to vote for her at all.
"Hillary Clinton's biggest challenge won't be persuading Sanders supporters to support her in the general election, but to motivate them to turn out for her," said Dan Schnur, director of USC's Jesse M. Unruh Institute of Politics. "She doesn't have to get them to fall in love with her, but to make them fear the prospect of a Trump candidacy enough to vote."
Clinton has an advantage among Latino voters in California, with 52 percent of Democratic Latino voters saying they would vote for her, compared with 37 percent for Sanders. However, Sanders maintains a strong following of young voters, with 71 percent of those aged 18-29 stating their support for him in the primary.
While Clinton holds the lead among registered Democrats, with 49 percent of their support, Sanders draws much of his support — 44 percent — from voters with no party preference. Clinton also garnered support from 71 percent of those looking for a candidate with the "right experience" to be president, while Sanders won the support of 66 percent of Democratic voters who prefer a candidate "not beholden to special interests."
Both Clinton and Sanders have generally positive favorability ratings among Californians — 52 percent and 57 percent respectively. When broken down by candidate, 67 percent of Clinton supporters have a favorable impression of Sanders, while 58 percent of Sanders supporters have a positive impression of Clinton.
The latest USC/Dornsife Los Angeles Times Poll, the largest statewide survey of registered voters, was conducted March 16-23, and includes a significant oversample of Latino voters as well as one of the most robust cell phone samples in the state. The full sample of 1,500 voters has a margin of error of +/- 2.8 percentage points. Additional poll results and methodology are available here.
WEBSITE: https://dornsife.usc.edu/unruh/poll/
TWITTER: @usclatpoll @unruhinstitute
About the USC Dornsife College of Letters, Arts and Sciences/Los Angeles Times Poll: The USC Dornsife/Los Angeles Times Poll is a series of statewide public opinion polls in California, designed to survey voter attitudes on a wide range of political, policy, social and cultural issues. Conducted at regular intervals throughout the year, the USC Dornsife/Los Angeles Times Poll is the largest statewide poll of registered voters and has been widely cited, helping to inform the public and to encourage discourse on key political and policy issues.
About the Jesse M. Unruh Institute of Politics: The Jesse M. Unruh Institute of Politics is dedicated to bridging the academic study of politics with practical experience in the field. The Unruh Institute channels its efforts by offering courses in applied politics, a variety of speaker series, and an extensive political internship program. Its goals are to engage public officials with the USC community and to facilitate the discussion of relevant issues across campus.
About USC Dornsife College of Letters, Arts and Sciences: USC Dornsife College of Letters, Arts and Sciences is the heart of the university. The largest, oldest and most diverse of USC's 19 schools, USC Dornsife is composed of more than 30 academic departments and dozens of research centers and institutes. USC Dornsife is home to approximately 10,000 undergraduate and graduate students and more than 750 faculty members with expertise across the humanities, social sciences and sciences.
About the Los Angeles Times: The Los Angeles Times is the largest metropolitan daily newspaper in the country, with a daily readership of 2 million and 3 million on Sunday, and a combined print and interactive local weekly audience of 4.5 million. The fast-growing latimes.com draws over 10 million unique visitors monthly.