USC Dornsife/LA Times Poll: In A Big Shift, Voters Support CA Transgender Law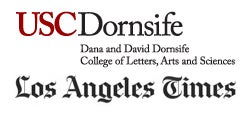 Voter opinion has shifted in favor of the state's landmark law for transgender students, the USC Dornsife/Los Angeles Times poll shows.
Contact: Emily Gersema at (213) 361-6730 or gersema@usc.edu or Erika Maldonado at (213) 740-8964 or erikamal@usc.edu; or Dan Schnur at schnur@usc.edu or (213) 740-8964
June 11, 2016 — A fast-growing number of Californians now support a state law that has allowed transgender students in public schools to access any bathrooms and participate on teams of their choosing, the latest USC Dornsife/Los Angeles poll shows.
The law went into effect on Jan. 1, 2014, and is believed to be the first of its kind in the nation.
In just three years, voter opinion for the legislation has shifted 14 percentage points in its favor. In 2013, Californians had opposed the measure by a 3 percentage-point margin, with 43 percent for it and 46 percent against. Now, state voters support the legislation by an 11 percentage-point margin, with 51 percent for it and 40 percent against.
"The shift of public opinion on this issue has happened with extraordinary speed," said Dan Schnur, director of USC's Jesse M. Unruh Institute of Politics. "It normally takes many years for attitudes on cultural matters such as this to change. But similar to the rapid movement that has occurred in recent years on the question of same-sex marriage, Californians have reexamined their beliefs on issues relating to the transgender community over an extremely short period of time."
More than 75 percent of the respondents said they believe transgender residents face discrimination.
Current opinions about the state's transgender law differ by age group: 46 percent of those aged 50 and older said they oppose the requirement, versus 61 percent of voters aged 18 to 49 in favor of it.
Opinions also differed according to education: 50 percent of those with a high school diploma or who didn't finish high school oppose the law. But 58 percent of respondents who have attended college said they support it.
The latest USC/Dornsife Los Angeles Times Poll, the largest statewide survey of registered voters, was conducted May 19-31. It includes a significant oversample of Latino voters, as well as one of the most robust cell phone samples in the state. The full sample of 1,500 voters has a margin of error of +/- 2.8 percentage points.
Additional poll results and methodology are available here.
About the USC Dornsife College of Letters, Arts and Sciences/Los Angeles Times Poll: The USC Dornsife/Los Angeles Times Poll is a series of statewide public opinion polls in California, designed to survey voter attitudes on a wide range of political, policy, social and cultural issues.
Conducted at regular intervals throughout the year, the USC Dornsife/Los Angeles Times Poll is the largest statewide poll of registered voters and has been widely cited, helping to inform the public and to encourage discourse on key political and policy issues.
About the Jesse M. Unruh Institute of Politics: The Jesse M. Unruh Institute of Politics is dedicated to bridging the academic study of politics with practical experience in the field. The Unruh Institute channels its efforts by offering courses in applied politics, a variety of speaker series, and an extensive political internship program. Its goals are to engage public officials with the USC community and to facilitate the discussion of relevant issues across campus.
About USC Dornsife College of Letters, Arts and Sciences: USC Dornsife College of Letters, Arts and Sciences is the heart of the university. The largest, oldest and most diverse of USC's 19 schools, USC Dornsife is composed of more than 30 academic departments and dozens of research centers and institutes. USC Dornsife is home to approximately 10,000 undergraduate and graduate students and more than 750 faculty members with expertise across the humanities, social sciences and sciences.
About the Los Angeles Times: The Los Angeles Times is the largest metropolitan daily newspaper in the country, with a daily readership of 2 million and 3 million on Sunday, and a combined print and interactive local weekly audience of 4.5 million. The fast-growing latimes.com draws over 10 million unique visitors monthly.
# # #