USC Dornsife/LA Times Poll: Sanders in Dead Heat with Clinton Before Calif. Primary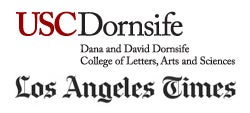 Sanders is favored by "no party preference" voters who may participate in Tuesday's Democratic primary, the USC Dornsife/Los Angeles Times poll shows.
The Senate Primary poll results will be released Friday. Results on issues such as health care, minimum wage and transgender bathrooms will be released next week. A press call discussing results is MONDAY, June 6, at 10 a.m. PT. Call-in spots are limited. RSVP to gersema@usc.edu.
Contact: Emily Gersema at (213) 361-6730 or gersema@usc.edu or Erika Maldonado at (213) 740-8964 or erikamal@usc.edu; or Dan Schnur at schnur@usc.edu or (213) 740-8964
June 2, 2016 — Only days before California's presidential primary on Tuesday, Democratic candidates Hillary Clinton and Bernie Sanders are in a statistical tie, according to the latest USC Dornsife/Los Angeles Times statewide political poll.
The race to Tuesday's Democratic primary has tightened among all registered voters. Sanders had trailed Clinton by eight percentage points in the poll's March results, but he has since moved ahead by a single percentage point to a 44 percent to 43 percent lead — well within the poll's 3.7 percent margin of error for the primary.
The race also narrowed among registered Democratic voters. Clinton now leads 46 percent to 42 percent among those voters, down from her 49 percent to 35 percent lead in March.
Sanders expanded his lead among "no party preference" voters who are eligible to vote in the Democratic presidential primary. In less than three months, Sanders nearly doubled his lead among those undeclared to 50 percent to 34 percent, up 16 percentage points from his 44 percent to 35 percent lead in March.
However, Clinton maintains a 10-point lead among likely voters, primarily as a result of her strong support from older Californians.
"Bernie Sanders has tapped into a wellspring of support in the Democratic primary over the last several weeks and he's closing with a rush," said Dan Schnur, director of USC's Jesse M. Unruh Institute of Politics. "If Clinton manages to hold him off and win the primary, it would be as a result of a low turnout that tilts the electorate in her direction."
Sanders' greatest challenge in the closing days will be a get-out-the-vote effort made more challenging by confusing state election laws that require "no party preference" voters to request a second ballot to vote in the Democratic presidential primary. Large numbers of those voters did not request the ballot before the May 31 deadline. This means they will have to vote in person rather than by mail in order to weigh in on the Clinton-Sanders contest.
"Sanders has been the most successful in states where independent voters are able to participate in the Democratic primary, but the added obstacle in California could sideline large numbers of his supporters," said Schnur, who also noted that voter turnout among Sanders' millennial supporters tends to be much lower than among older voters. "If he's going to win California, his campaign will have to pull off the most massive voter education project in California history between now and Tuesday morning."
If the election were held today, Clinton would defeat Republican nominee Donald Trump, 56 percent to 30 percent. Slightly more than 1 out of 5 registered Republicans said that they will not vote for Trump in November, opting to support either the Democratic nominee or an unnamed third-party candidate.
"It's almost impossible to see a scenario in which Trump carries California in the fall," said Schnur. "But if Sanders wins the primary here next week, he's going to head into the Democratic convention with a tremendous amount of momentum and an immense amount of leverage. That will mean a very long and unpleasant summer for Clinton."
The latest USC/Dornsife Los Angeles Times Poll, the largest statewide survey of registered voters, was conducted May 19-31. It includes a significant oversample of Latino voters, as well as one of the most robust cell phone samples in the state. The full sample of 1,500 voters has a margin of error of +/- 2.8 percentage points.
Additional poll results and methodology are available here.
About the USC Dornsife College of Letters, Arts and Sciences/Los Angeles Times Poll: The USC Dornsife/Los Angeles Times Poll is a series of statewide public opinion polls in California, designed to survey voter attitudes on a wide range of political, policy, social and cultural issues.
Conducted at regular intervals throughout the year, the USC Dornsife/Los Angeles Times Poll is the largest statewide poll of registered voters and has been widely cited, helping to inform the public and to encourage discourse on key political and policy issues.
About the Jesse M. Unruh Institute of Politics: The Jesse M. Unruh Institute of Politics is dedicated to bridging the academic study of politics with practical experience in the field. The Unruh Institute channels its efforts by offering courses in applied politics, a variety of speaker series, and an extensive political internship program. Its goals are to engage public officials with the USC community and to facilitate the discussion of relevant issues across campus.
About USC Dornsife College of Letters, Arts and Sciences: USC Dornsife College of Letters, Arts and Sciences is the heart of the university. The largest, oldest and most diverse of USC's 19 schools, USC Dornsife is composed of more than 30 academic departments and dozens of research centers and institutes. USC Dornsife is home to approximately 10,000 undergraduate and graduate students and more than 750 faculty members with expertise across the humanities, social sciences and sciences.
About the Los Angeles Times: The Los Angeles Times is the largest metropolitan daily newspaper in the country, with a daily readership of 2 million and 3 million on Sunday, and a combined print and interactive local weekly audience of 4.5 million. The fast-growing latimes.com draws over 10 million.
# # #