USC Dornsife/LA Times Poll: Turnout Among Older, Registered Dems Key for Clinton's Primary Win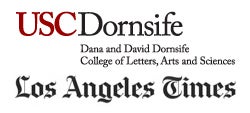 A quarter of Bernie Sanders supporters said they would not back Hillary Clinton as the Democratic nominee. Others said they will if she voices support for his political and economic agendas, a USC Dornsife/Los Angeles poll shows.
Contact: Emily Gersema at (213) 361-6730 or gersema@usc.edu or Erika Maldonado at (213) 740-8964 or erikamal@usc.edu; or Ali Bissonnette at (213) 740-8964 or bissonne@usc.edu
June 13, 2016 — Extremely low turnout among young voters and undeclared voters in last week's California presidential primary nixed what could have been a key victory for Bernie Sanders and instead allowed Hillary Clinton to win the primary by a sizable margin, according to a USC Dornsife/Los Angeles Times statewide political survey conducted immediately after the primary.
Sanders also narrowly won among Latino and Latina voters according to the survey, but Clinton's overwhelming margins among older voters, African-American voters and women — all of whom turned out in much larger numbers — allowed her to win the primary comfortably.
Clinton heads into the general election with almost a 2-1 lead over Republican nominee Donald Trump among California voters, leading 61 percent to 31 percent in a two-way race. She leads the race 54 percent to 28 percent when Green Party candidate Jill Stein (7 percent) and Libertarian nominee Gary Johnson (5 percent) are included.
"Our pre-election poll showed Sanders winning by one point among all eligible voters and Clinton with a 10-point lead among likely voters. Ultimately, Clinton turned out her voters and Sanders didn't," said Dan Schnur, director of USC's Jesse M. Unruh Institute of Politics.
In California, "no party preference" voters can participate in the presidential primaries only if they request a Democratic or Republican ballot.
"Despite all their other very commendable qualities, young people simply don't vote in as large percentages as their parents and grandparents," Schnur said. "Non-aligned voters generally turn out in much smaller numbers than registered party members, and the problems that many 'no party preference' voters had accessing a Democratic primary ballot made a difficult challenge even more problematic for Sanders."
Sanders had the support of 80 percent of 18-29 year old voters, but Clinton's margin among voters 50 and older was almost as formidable — 68 percent to his 30 percent. Similarly, while Sanders carried more than two-thirds support from the "no party preference voters" (68 percent to her 29 percent), Clinton's advantage among the much larger group of registered Democrats was almost as wide (62 percent to 37 percent).
Clinton's strongest demographic base of support was African-American voters, carrying this community by a whopping 78 percent versus Sanders at 21 percent. However, it appears that Sanders has largely erased her early advantages among Latino and Latina voters, winning this demographic vote 52 percent to 45 percent.
Sanders' supporters have begun to coalesce around Clinton's candidacy here, with strong majorities agreeing to support her in the fall, although 25 percent of Sanders' voters say that they will not vote for her under any circumstances. Clinton's best chances to win over the remainder of Sanders voters appears to be by emphasizing her support for his political reform and economic agendas, as approximately 20 percent of his backers identified one of these two issues as the key to winning their votes. Health care is not a key issue for her to win their vote. Only 7 percent of Sanders' supporters named that as a reason to back Clinton.
However, 19 percent of Sanders' voters said his endorsement of Clinton would be a key motivator to switch their support to her. Voters said endorsements from President Obama (3 percent) and U.S. Sen. Elizabeth Warren, D-Mass., (4 percent) would make little difference.
"The support of Sanders' voters here in California will matter less to Clinton than in more competitive states," said Schnur. "But it's clear that they want to see Clinton move in Sanders' direction on economic and political reform issues in exchange for their support."
He added: "Clinton will have a more difficult time adopting Sanders' very strong anti-Wall Street agenda, so it's reasonable to assume that her advocacy for political reform will be the key to consolidating the Democratic vote."
This USC Dornsife/LA Times Poll was conducted June 7-10, 2016, among 1,553 registered voters in California, including 1,264 who said they voted in the June 7 primary election. Respondents for this non-probability survey were selected using an algorithm from among the 3 million people who take surveys on the SurveyMonkey platform each day. Data for the survey have been weighted for gender, age, race, education, and region using the Census Bureau and Bureau of Labor Statistics' Current Population Survey to reflect the demographic compositions of California. For voters, data was also weighted to the results of the U.S. Senate and presidential primaries.
The Bootstrapped Confidence Intervals, or error estimates, for this survey are plus or minus 3 percentage points for California registered voters, and plus or minus 4 percentage points for voters in the election.
Additional poll results and methodology are available here.
About the USC Dornsife College of Letters, Arts and Sciences/Los Angeles Times Poll: The USC Dornsife/Los Angeles Times Poll is a series of statewide public opinion polls in California, designed to survey voter attitudes on a wide range of political, policy, social and cultural issues.
Conducted at regular intervals throughout the year, the USC Dornsife/Los Angeles Times Poll is the largest statewide poll of registered voters and has been widely cited, helping to inform the public and to encourage discourse on key political and policy issues.
About the Jesse M. Unruh Institute of Politics: The Jesse M. Unruh Institute of Politics is dedicated to bridging the academic study of politics with practical experience in the field. The Unruh Institute channels its efforts by offering courses in applied politics, a variety of speaker series, and an extensive political internship program. Its goals are to engage public officials with the USC community and to facilitate the discussion of relevant issues across campus.
About USC Dornsife College of Letters, Arts and Sciences: USC Dornsife College of Letters, Arts and Sciences is the heart of the university. The largest, oldest and most diverse of USC's 19 schools, USC Dornsife is composed of more than 30 academic departments and dozens of research centers and institutes. USC Dornsife is home to approximately 10,000 undergraduate and graduate students and more than 750 faculty members with expertise across the humanities, social sciences and sciences.
About the Los Angeles Times: The Los Angeles Times is the largest metropolitan daily newspaper in the country, with a daily readership of 2 million and 3 million on Sunday, and a combined print and interactive local weekly audience of 4.5 million. The fast-growing latimes.com draws over 10 million unique visitors monthly.
# # #