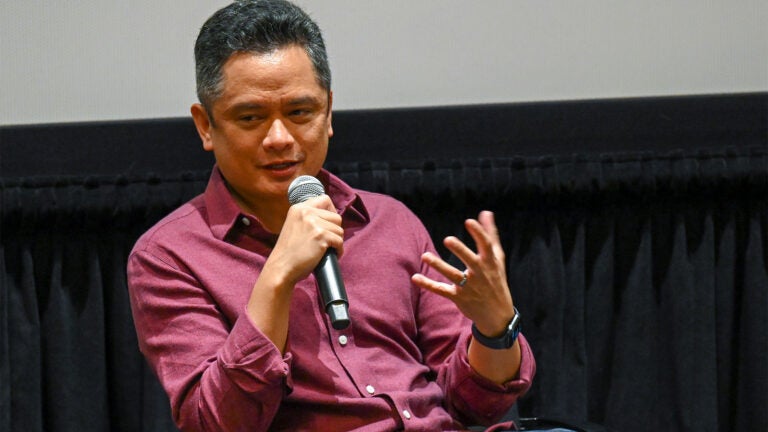 USC drama professor leads with diversity in class and on screen
Rodney To discusses the significance of the big screen comedy Easter Sunday, in which he co-stars with a cast of fellow Filipino Americans.
After a special screening of the recently released comedy Easter Sunday on Thursday, USC School of Dramatic Arts Assistant Professor Rodney To asked an audience of more than 200 students to raise their hand if they had ever seen a Filipino family at the center of a major studio-backed feature film before.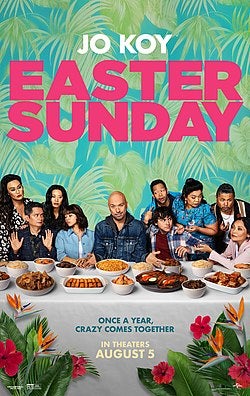 Not a single hand inside of the Ray Stark Family Theatre went up.
"This is why the movie was made," said To, who has a supporting role in the film starring comic Jo Koy. "The reason Jo pitched this is because of that. He could have pitched a buddy comedy, he could have pitched something that was a little more studio friendly. I think that was really pretty heroic."
To plays Tito Arthur in the Universal Pictures comedy set around a dysfunctional but loving Filipino family gathering to celebrate Easter. He moderated a post-screening panel that included fellow cast members Lydia Gaston and Melody Butiu, director Jay Chandrasekhar and writer Ken Cheng. (Koy made a brief appearance virtually when To called him on FaceTime.)
"This is the first time I ever got to play a Filipino in a Filipino American story," To said. "That's what was so beautiful about working on something like this. As an actor, I've played every ethnicity under the sun. I've played Eskimo, I've played Native, I've played everything, and I've even had cultural consultants telling me this is how you eat."
A breakthrough film for diversity in Hollywood
The screening, presented by the USC School of Dramatic Arts' Office of Equity, Diversity and Inclusion, was an opportunity to showcase the breakthrough film, which opened in theaters on Aug. 5 and grossed $5.5 million on opening weekend.
This is such an important film, such an important moment for the U.S. film industry.

Emily Roxworthy,
USC School of Dramatic Arts dean
"This is such an important film, such an important moment for the U.S. film industry in celebrating a Filipino American story," the school's dean, Emily Roxworthy, said as she introduced the movie. "And it is graced by the presence and the talent and glory of our wonderful professor Rodney To."
For To, it was a unique occasion where his two professional worlds came together on a single stage.
The assistant professor of theater practice in acting juggles his teaching responsibilities with a thriving acting career, which included working on the set of The Brothers Sun starring Michelle Yeoh on the day of the Easter Sundayscreening. To has a long list of stage and screen credits including recurring roles on Parks and Recreation and Good Girls and guest spots on The Conners, NCIS, The Shrink Next Door and The Goldbergs, among many other television shows.
He said working on Easter Sunday was especially satisfying because he was part of a lead cast that was mainly composed of Filipino American actors.
"For me, it was really about how relatable a family like this is to the masses," he said in a pre-screening interview. "I hope that the specificity of us being Filipino brings out the universality of a family like ours — we have the same values and problems and idiosyncrasies as any American family. It is a Filipino American family, but if we walked away and all people saw was a Filipino family then we did it wrong."
Diversity in Hollywood is common topic for Rodney To
Whether he's in the classroom or on the set, the topic of diversity is something that comes up often for To. A staunch advocate for the Asian American community, he often works with NBCUniversal's Talent Infusion Programs to foster emerging diverse talent in the entertainment industry.
I can't open my mouth and not talk about diversity. I mean, look at me.

Rodney To, USC School of Dramatic Arts
"I can't open my mouth and not talk about diversity. I mean, look at me," he said. "I'm incredibly proud to wear that badge — especially at a place like USC. It's known as an ostensibly sort of privileged, predominantly white university. I felt like it was a responsibility for me to go where my skills were most needed — and my face and everything I stand for, whether it be LGBTQIA, whether it be diversity or being middle-aged.
"I wish that it wasn't something that I have to wear on my sleeve every day, but I do," To added. "I take it as a big responsibility and my students respond to that. I think they know that I'm not going to wash it off of me — I'm going to lead with it."
He's gratified that his students — no matter their background — don't lose interest when the topic of diversity comes up in class.
"So far, I feel like it's embraced," To said. "A lot of the students are like, 'OK, we get it.'"