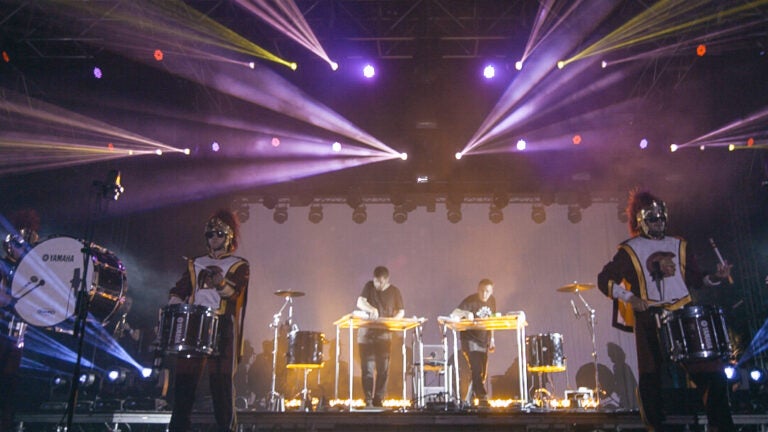 USC drumline plays Coachella with Odesza
Drummers perform with the electronic pop duo at the world's biggest music festival
When electronic pop duo Odesza needed some spectacle for their set at the biggest music festival in the world this past weekend, they turned to the USC Trojan Marching Band.
On April 12 at the Coachella Valley Music and Arts Festival in Indio, the band's drumline joined the up-and-coming EDM group for its nighttime performance in front of a packed, energetic crowd at the Gobi Tent.
Odesza's Harrison Mills and Clayton Knight had rehearsed with the drumline in Los Angeles and Palm Desert. The student musicians were excited to work with professional musicians, especially two who were so willing to listen to their young accompanists.
"It was great to work with them," said Micki Smith, a senior bass drum player. "They took our input a lot when we were rehearsing. It was surprising to me that we collaborated and wrote the piece together. They made us feel important."
After a pump-up session with Odezsa before the performance, the drumline opened the set with the song "IPlayYouListen" to the delight of the crowd. Then, at the end of the set, the drummers came back for a jam session to close the performance.
"Playing on stage was absolutely incredible," Smith said. "Looking out at all those people, there were a thousand out there. It's the best gig I've had in my four years in the USC drumline. The guys told us the show would have not been awesome without having us there."
The drumline will reprise its performance with Odesza for the second weekend of the festival on April 19 at 9:35 p.m. in the Gobi Tent. This is the Trojan Marching Band's second performance at Coachella. In 2010, the performers backed up rock band Coheed and Cambria on the festival's main stage.