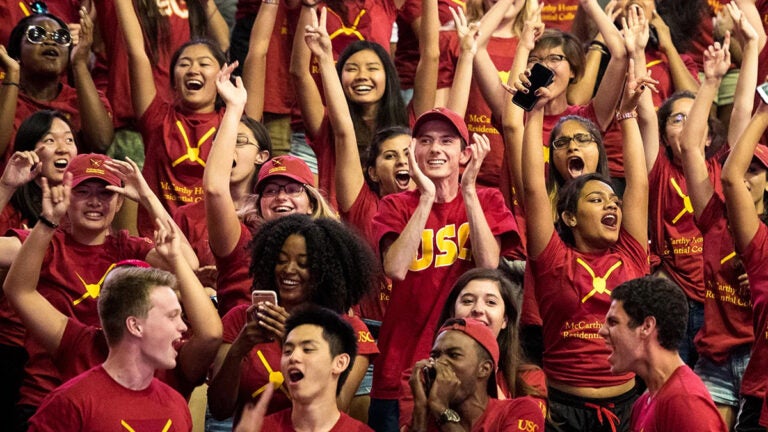 USC's first-year class is historically diverse
First-generation students make up a record 25% of this year's incoming class.
First-year student Victor Ceja of the USC Marshall School of Business smiled proudly last week when he found out that by enrolling at USC this fall, he was helping to make Trojan history.
Of the 3,633 first-year students enrolled in fall classes, Ceja, who hails from Salem, Ore., is part of a record 25% who are first-generation college students. USC defines first-generation college students as students whose parents do not have four-year degrees.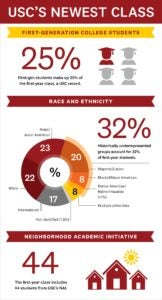 Ceja, whose parents are immigrants from Mexico, is also among the Latino students who make up 20% of the Class of 2027 — also a USC record.
"That's pretty exciting," Ceja said as he sat at the Ronald Tutor Campus Center during lunchtime. "Coming to a place where we are represented more is really comforting, and it feels like a family. I've had more of an opportunity to meet my people."
USC's Office of Admission also reports that 1,169 (32%) of the first-year class are from groups that have been historically underrepresented in higher education in the United States. This includes the 20% Latino as well as 8% Black and 8% who identify with two or more ethnic groups, some of which are underrepresented. In addition, Native American or Native Hawaiian students make up 0.5% of the first-year class.
The 2023 enrollment numbers are a positive sign of the effectiveness of President Carol L. Folt's USC Competes "moonshot," which is intended to make the university a national leader in accessibility and affordability. Of the first-year students, 18% of them were recipients of a Federal Pell Grant to be used for tuition, fees, books, housing, food or other educational expenses.
"As far as similar institutions — especially independent institutions — I think these numbers are quite remarkable," USC Dean of Admission Timothy Brunold said. "There aren't many other independent universities with these kinds of numbers. We continue to really lean into diversity, equity and inclusion."
An impressive 31% of the first-year enrollees were straight-A students during high school. As a group, the students had an overall average of 3.86 on a 4.0 scale and 94% of them had a grade point average above 3.5.
USC enrollment: Students from near and far
The first-year class includes students from more than 2,000 different high schools in all 50 states in the U.S. as well as Washington, D.C., Guam and Puerto Rico, and more than 60 countries. The five states most represented outside of California are New York (157 students), Texas (108), Illinois (105), New Jersey (94) and Washington state (93). Students from California make up 42% of the first-year class, with 29% being from Southern California.
The Los Angeles Unified School District sent 174 students from 67 different schools to USC. The three most-represented district schools are James A. Foshay Learning Center, Abraham Lincoln High School and Woodrow Wilson Senior High School, which are all participants in the USC Leslie and William McMorrow Neighborhood Academic Initiative.
The USC Leslie and William McMorrow Neighborhood Academic Initiative "is a model of how private universities can work with public school systems."

— Timothy Brunold, USC dean of admission
The enrollment numbers include 44 first-year students who participated in NAI, a seven-year program that prepares sixth-12th grade students from low-income households in neighborhoods closest to USC in South Los Angeles and the Eastside for admission and graduation from college.
"NAI is a scalable program worthy of emulation," Brunold said. "It is absolutely living up to its promise. We're selecting students from these schools; they're doing well, and they're coming to USC. The program is a model of how private universities can work with public school systems."
Not feeling alone
During his first few months at USC, Ceja has kept in close touch with his family but has not found it difficult to connect with other classmates.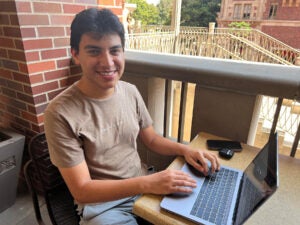 "I've found a lot of people who are also first-gen, and we bonded a lot," he said. "I feel like some of the other students might not be able to relate to some of the struggles that we face as first-generation students, such as not having prior experience because our parents have not gone through college."
For Kamber Puebla, a first-year student at the USC Dornsife College of Letters, Arts and Sciences, spending time at the First Generation Plus Success Center, where she studies regularly, has helped. The center aims to create a culture of belonging and inclusion for first-generation students as they transition into college life.
"It's been a hard move academically, but there's so much of a support system here," said Puebla, who hails from Gunter, Texas. "That has been nice to have."
Puebla, who has an on-campus job as a football recruiting intern, first saw the USC campus when she was a Youth Leadership Summit Scholar. She was determined to become a Trojan and went on to earn a Gates Scholarship and a Horatio Alger Scholarship, among others.
Her advice to future first-generation Trojans is simply this: "Ask for help and just keep working at it."