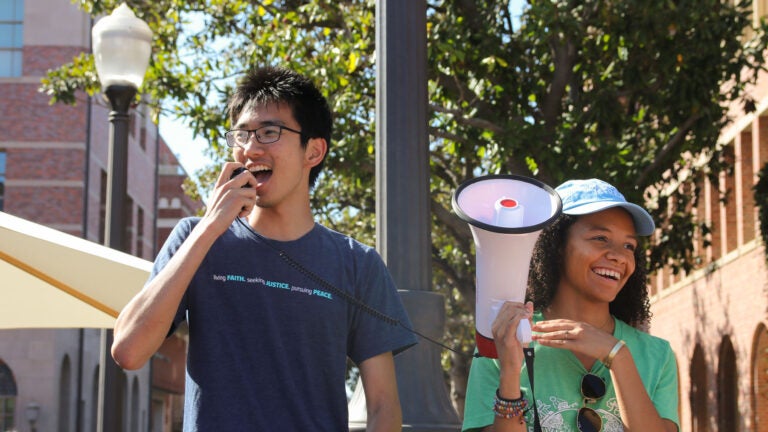 USC plans dramatic expansion of sustainability curriculum
The Sustainability Across the Curriculum program aims to educate the university's 20,000 undergraduate students in how sustainability intersects with their major field of study.
USC is planning a major expansion of its undergraduate curriculum focused on sustainability in the coming school year to help prepare future leaders to protect the planet.
A recent survey shows USC students are overwhelmingly interested in sustainability, including ways to slow climate change and promote social equity. Similarly, President Carol L. Folt has made environmental issues a top priority. A new sustainability plan that will guide university facilities, operations, research and education over the coming decade is due later this year.
In support, the Presidential Working Group on Sustainability, which was created by Folt, and the Office of the Provost launched the Sustainability Across the Curriculum program to teach certain basic concepts to USC undergrads. The long-term goal is to educate USC's 20,000 undergraduate students in how sustainability intersects with their major field of study before they receive a diploma.
"Every discipline will be affected. Students in art, engineering, dance, law, you name it; they are going to encounter some aspect of sustainability. Every discipline can add perspective and solutions to sustainability, which is one of the greatest challenges facing humanity," said Andrew McConnell Stott, vice provost for academic programs and dean of the USC Graduate School.
A faculty online symposium is scheduled for 11 a.m. June 9 to help professors learn from colleagues who are adding sustainability components to existing courses as well as to explain the Sustainability Across the Curriculum grant program.
USC's expanded sustainability curriculum builds upon existing courses
Dan Mazmanian, chairman of the working group and a professor at the USC Price School of Public Policy, says USC's vision for sustainability education will go beyond environmental topics, such as climate change, resource depletion, food production, waste generation and biodiversity loss. He said courses will show how those issues intersect with people and societies and include topics such as diversity, equity and inclusion.
"USC's mission is to cultivate engaged human beings who are empowered to have a positive impact on society," said Jill Sohm, professor of environmental studies at the USC Dornsife College of Letters, Arts and Sciences. "To this end, an understanding that sustainability presents one of society's greatest challenges is essential. We depend on healthy ecosystems for our survival, but a sustainable world will not be attainable unless benefits extend to all."
USC's mission is to cultivate engaged human beings who are empowered to have a positive impact on society.

Jill Sohm
Of course, USC has long offered courses in environmental science and engineering. USC Dornsife offers nine sustainability-related majors and eight minors and has been teaching the subject through entities like the USC Wrigley Institute for Environmental Studies and the Department of Earth Sciences for decades. The USC Viterbi School of Engineering offers more than two dozen courses in renewable energy, climate adaptation and sustainable building design and construction, among other topics.
Last semester, a pilot project launched at USC Dornsife included six courses, involving about 300 students, augmented to teach sustainability: "Black Social Movements" (AMST 252), "East Asian Ethical Thought" (EALC 130), "Advanced General Chemistry" (CHEM 115), "Introduction to Psychology" (PSYC 100), "Science, Technology and Social Conflict" (Sociology 210) and "Race and Class in Los Angeles" (AMST 101). USC Dornsife proved fertile ground because its sustainability-themed majors, minors and courses made it easy for environmental science faculty to partner with other professors teaching the six courses.
Faculty symposium will provide insight into sustainability program grants
At the June 9 symposium, three new types of grants available to support the program will be discussed:
Integrating sustainability into existing courses. This would focus on big classes as well as courses centered on diversity, equity and inclusion. Also, faculty with sustainability expertise could partner to create course materials. Instructors of any undergraduate class may apply. Grant amounts total up to $5,000.
New course proposals. These would be new courses that focus on sustainability or social justice or utilize experiential learning, such as research, travel or public service. Instructors from any school are eligible. Grant amounts up to $10,000 are available to develop new course materials.
New minors or certificates. This category would create new minors or certificates using existing and new courses with an emphasis on interdisciplinary studies. Practical, solution-focused sustainability proposals are preferred. Faculty and departments would have to launch the new programs within three years, and grant awards would vary.
Tempering expectations, Mazmanian cautioned it will take time before the Sustainability Across the Curriculum program is evident to most USC undergrads. He said achieving change for about 40% of classes — comparable to peer universities with top sustainability education programs — could occur by 2028.
"Scaling this up will be a heavy lift," he said. "We need new classes and additional faculty. This will involve coordination to achieve continuity in grading methods, assessing the competencies taught, managing the program and funding it."
A 2020 survey shows that nearly two-thirds of USC students are very interested in sustainability. Students said they wanted to be more involved in such efforts and wanted to see the university lead on issues like clean energy, recycling and climate change. Folt often praises USC students for pressing the administration and faculty to do more to protect the planet. For example, in February USC announced it would cease fossil fuel investments and liquidate existing investments, a policy long advocated by student leaders.
Said Stott: "USC prides itself in producing citizens who contribute proactively to the well-being of society. In the 21st century and beyond, we will need leadership that has a profound and nuanced understanding of what sustainability means and how it works in an interdisciplinary way."