After a historic jump in applications, USC offers admission to promising group of diverse students
More than 8,000 offers of admission have been extended to first-year students around the globe.
The number is large by any standard: 80,790 first-year applications. It's the most applications USC has ever received in a single year. It also represents a tremendous amount of work for USC's Office of Admission, which thoroughly reviews every application.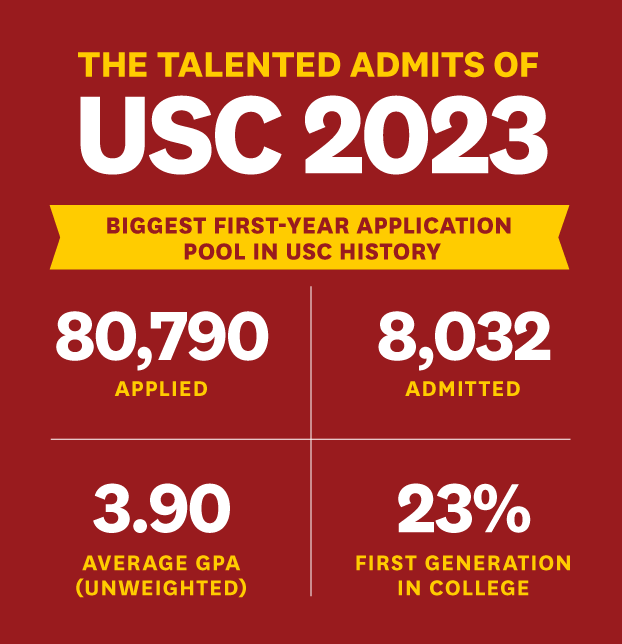 The number of applicants jumped 17% compared to last year, reaching an all-time high. The surge in applicants drove down USC's fall admission rate to 9.9%, the lowest it's ever been.
This year's cohort is highly diverse. A third are from a racial or ethnic group that is traditionally underrepresented in U.S. higher education. The percentage of Black students offered admission — 13% — has never been higher. Almost a quarter of admitted students are in the first generation of their families to attend college.
"USC is a school that people are interested in and curious about," said Timothy Brunold, USC dean of admission. "While we're not going for any particular number, we're glad our outreach efforts have brought more interest to the university, especially from first-generation students and those from diverse ethnic and economic backgrounds."
USC fall 2023 admissions: A robust mix and several firsts
This admission cycle is the first for USC's Early Action (E.A.) option, which gives applicants the opportunity to complete the process by Nov. 1. Of this year's admitted students, 55% chose the E.A. option.
"While it does not significantly improve an applicant's chance of admission, E.A. is clearly attractive for many students," Brunold said. "We know that it drove up some of the application volume, but not all of it. The applicant pool at USC has been increasing steadily over time."
Brunold also noted that new programs, like the USC Gould School of Law's undergraduate program in legal studies, attracted interest. About 60 students were admitted into the inaugural class of the USC Gould program.
Slightly more female students were admitted compared to males. This is the first year USC has recorded the number of applicants whose gender identity is nonbinary. They make up just over 1% of the admitted class.
Nearly evenly split were those applicants who chose to submit test scores. While admission staff review scores of those who voluntarily submit them, the decision brings with it no advantage or disadvantage.
High performers with an optimistic outlook
The average GPA is 3.9 on a 4-point scale.
"Academically, these are high achievers," Brunold said. "Academic strength is an element of the process. But we also note things like persistence, interest in community, an interest in other people's perspectives, other cultures and an openness to learning new things. Those characteristics, along with a strong work ethic and passion, are important to us, and they make us optimistic about this fall's class. These are students with great ideas who are motivated to solve the world's problems."
This year's incoming class has already demonstrated a high level of resilience. Brunold noted that the current admits spent nearly half of their high school years under pandemic restrictions.
Public schools make a strong showing in USC fall 2023 admissions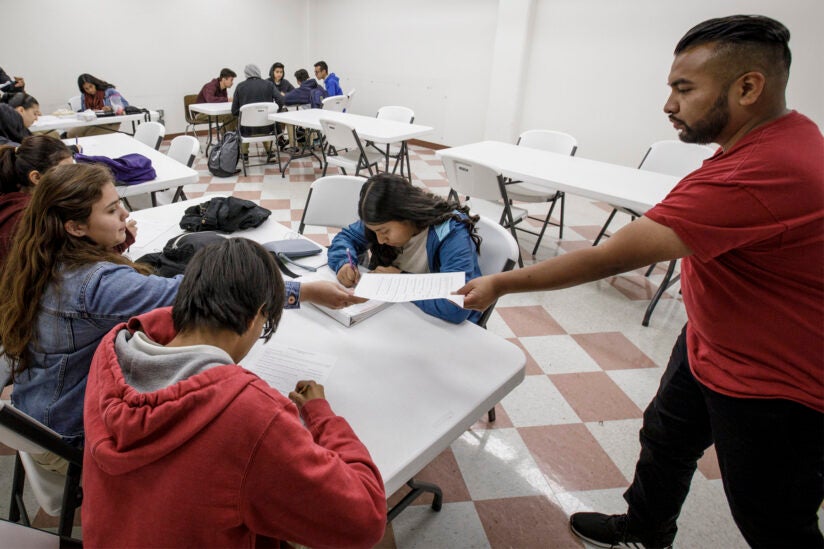 Students participating in the USC Leslie and William McMorrow Neighborhood Academic Initiative, USC's signature college prep program, number 52. The James A. Foshay Learning Center, which is operated cooperatively by USC and the Los Angeles Unified School District, sent 29 students to USC — the highest of any U.S. high school.
Four of the five leading feeder schools are public.
The USC Bovard Scholars program landed 34 students in the admitted pool.
Full scholarships will go to many of the 121 students planning to take part in ROTC programs.
Applicants from all over the world
International students composed 17% of this year's applicants and 19% of admits. Their numbers are up about 10% compared to last year, and up 40% compared to 2019, the last admission cycle prior to the COVID-19 pandemic.
After the United States, the countries most represented are China, India, Canada, South Korea and Singapore.
Thousands of admitted students live in California. This year's in-state contingent makes up 38% of the cohort. The most represented states outside California are New York, Texas, Illinois, Washington and New Jersey.
Offers of admission give a snapshot of the dimensions of incoming students, but the makeup of the class isn't determined until fall.
Students offered admission to USC have until May 1 to accept.