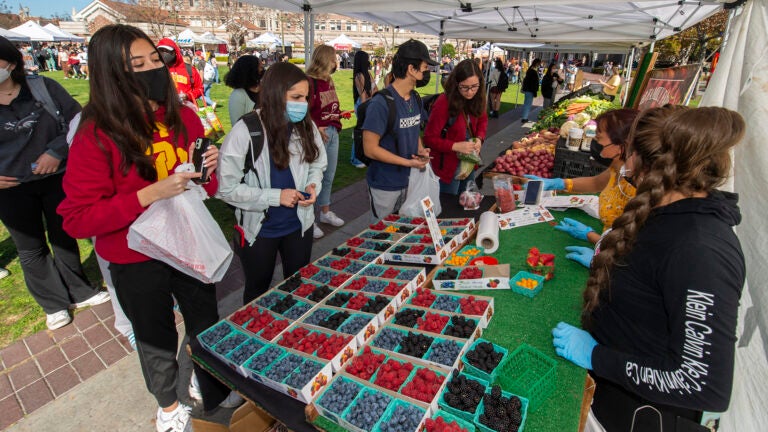 Farmers Market returns to McCarthy Quad, bringing Trojans fresh options
The familiar tents are back after nearly two years because of the pandemic. For hungry students and staff, they're a welcome sight.
For the first time in nearly two years, crowds of students and staff made their way through the vendor-lined walkways of McCarthy Quad as the weekly Trojan Farmers Market returned from hiatus.
And for some students, like juniors Shania Wang and Maia Dau, it was about time.
"I was so excited when my friend told me it was happening," Wang said.
"We basically dashed here," said Dau.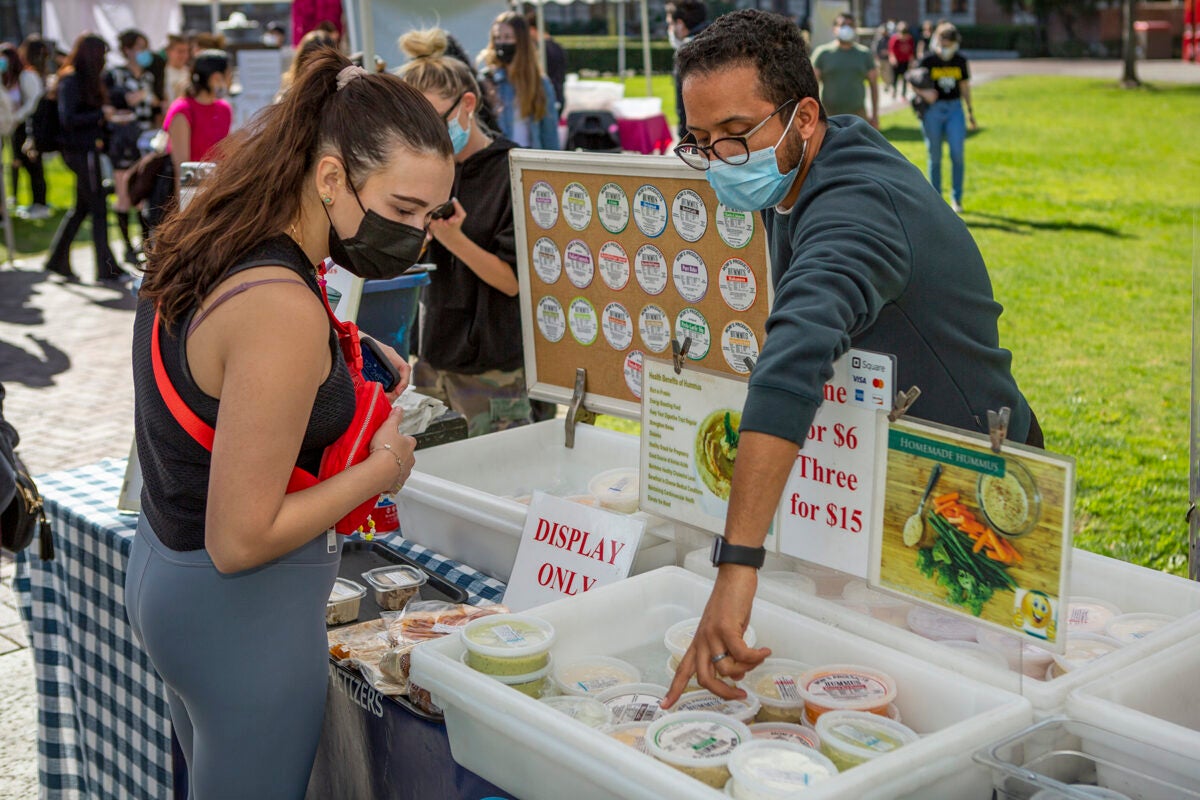 Wang and Dau were freshmen when the Farmers Market halted operations in March 2020 as the COVID-19 pandemic shut down in-person classes at USC and around the country. Though students returned to classes in person at the start of the fall 2021 semester, the unpredictable nature of the pandemic forced the university to delay the restart until the spring semester.
"When you think about it, we have we have two classes of students here right now who have never seen the Farmers Market," said Erika Chesley, senior associate director of USC Auxiliary Services.
The first version of the market started shortly after Chesley came to USC in 2012, though she would admit that it was a far cry from what students see now.
"We had a very meager farmers market set up in front of Doheny Library, and when I say 'meager,' I mean meager," she joked.
USC Farmers Market a hit since 2015
In 2015 the current version of the Farmers Market began and remained a hit with students and the campus community until COVID struck. For many students, the Farmers Market became a source of groceries for the week, so Chesley said it was amazing to see it back in full swing.
"I'm so excited," Chesley said. "I came through this morning and was walking between the buildings, and when I saw the tents, I just felt this joy come over me."
Just over 30 vendors lined McCarthy Quad on Wednesday, offering everything from seasonal produce like fresh avocados, asparagus and strawberries to pre-packaged snacks like glazed nuts, root vegetable chips and all-natural granola. Several local food stands also provided items like homemade hummus, pupusas and fresh salsa.
Crowds turn out for healthy food at USC Farmers Market
Anis Chafai has been working the Mom's Products stand since 2015 and said seeing the crowds of students throughout the Farmers Market was almost overwhelming.
"It makes me happy to work with students and see new faces and old ones," Chafai said.
And the students seem to love it too, as both Wang and Dau reiterated before heading back to class.
"Just make sure this continues," Dau said.