Looking back with Rodney Davis, the Trojan Marching Band's first Black drum major
He led the band at two Rose Bowls and the premiere of the movie Grease. You can still see him in the "Tusk" music video. Four decades later, Rodney Davis remains beloved at USC.
The USC Trojan Marching Band marched into history 42 years ago when it recorded the title track of a soon-to-be double platinum album with legendary rock group Fleetwood Mac. Leading the band into Dodger Stadium for the "Tusk" session was drum major Rodney Davis. He was also making history.
A few years earlier, Davis had been elected the first Black drum major of USC's marching band. Now the image of him high stepping into Dodger Stadium in the "Tusk" music video would be seen around the world. It would be one of the first videos shown on MTV when the network launched in 1981.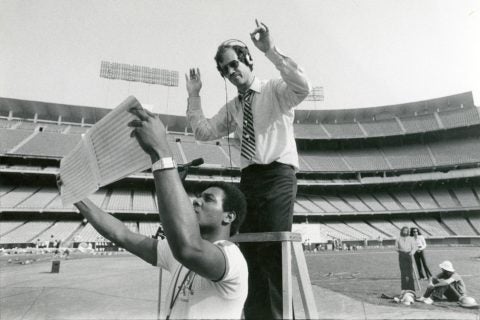 "I get hits on that on Facebook almost every week," Davis said. "Still, to this day. Mick Fleetwood even mentioned me in one of his concerts a couple of years ago. They showed the video and he said something like 'I should be paying him residuals.'"
Davis' rock star moment was just another achievement for a young man striving to be first and to be the best. While attending Carson High School, 15 miles south of USC, he received regular visits from Arthur C. Bartner, director of the Trojan Marching Band at the time, and Robert Wojciak, a professor at the USC Thornton School of Music. They encouraged him to attend USC as a clarinet performance major and join the band. Davis, drum major of the Carson marching band and first chair in the Junior Philharmonic Orchestra of California, applied only to USC — and was accepted.
Rodney Davis: A man of firsts
Arriving on campus in 1975, Rodney immediately broke barriers. He pledged the Theta Xi fraternity his freshman year and was accepted at a time when the Greek system was still effectively segregated.
"I had a friend who was already there and said, 'Why don't you try anyway?,' so I went ahead and did it," Davis said. "And I got in. I was the first Black person allowed to live on the row." He went on to become president of the fraternity, another first.
Davis also became one of the first Black students to perform in the USC Thornton Symphony, where he became first chair clarinet. He joined the Trojan Marching Band on alto saxophone and had his sights on being the best there as well: He wanted to be drum major. Under Bartner's direction, the drum major had become synonymous with USC pageantry: a Trojan simulacrum wielding a metal sword while clad in metal armor, a long flowing tunic and leather sandals. The photogenic warrior was seen around the world leading the band in the Rose Parade and was the focus of television cameras during USC football games.
Davis tried out in advance of his junior year, attempting to unseat the incumbent drum major. As part of the audition process, he gave a motivational talk to his fellow members. His speech is still memorable to band members who were there.
"He was talking about how the band was a family and he was going to take care of his family," remembered clarinet player Joan Joya Kahaleuahi. "The people who are in charge of a family, their motto is they 'wear the pants.' And then he said, 'I'm gonna wear the skirt in this family.' Everyone said, 'That's it. That's it.'"
Davis won the vote of his fellow students and became drum major for the fall 1977 football season. He soon impressed the band's director. "There was an aura about him," Bartner said. "He just looked the part of the drum major of the Trojan Marching Band."
USC's first Black drum major: 'You knew he was going to take care of you'
One of those kids was snare drummer and fellow Theta Xi member Rad Peterson. "Rod was the ultimate professional, totally focused, with an unwavering feel for tempo," Peterson said. "With Rodney leading us out on parade or the field, we really felt like the Trojan army marching out to battle."
As Theta Xi brothers, they performed a skit together at USC's student talent contest Songfest. Though Peterson felt overwhelmed by his role in the production, he said that "Rodney basically took me in his hands and guided me in stage presence and singing power. To this day, as a schoolteacher, I still use what I learned from Rodney in coaching my students to take their stage performances to the next level."
Taking care of his family, as Davis pledged in his audition speech, was not an empty promise. "I watched over everybody like I was their uncle," he said. "Especially the younger kids. A lot of things that people told me were very personal. I had to deal with some of their family issues at times. One of the kids, their grandmother was dying and I organized a blood drive for her."
You felt safe around him. You knew he was going to take care of you.

Joan Joya Kahaleuahi
"You felt safe around him," Kahaleuahi said. "You knew he was going to take care of you."
"Rodney was the fashion god," Peterson said. "I was a Northern California guy who wore Levi's jeans, sneakers and T-shirts. Rodney regularly worked with me to teach me how to dress and even took me shopping. I will always be grateful for the role Rod Davis played in my life, an impact that continues to this day."
"Rodney was working with the sections and helping everyone out," Bartner said. "He was like a teaching assistant."
Davis was reelected twice and served as drum major for an unprecedented three years, including a graduate year while he worked on a teaching credential. During his tenure, he led the band at two Rose Bowls, the premiere of the movie Grease and the pregame festivities for two World Series games. (Archival footage of Davis and the band can be seen in the 2007 ESPN miniseries The Bronx is Burning).
Rodney Davis still feels the love from his Trojan Family
Davis was featured on the cover of three albums released by the Trojan Marching Band, but the album he is most known for is Tusk. In the music video, Davis can be seen rehearsing band members, holding the score for Bartner as he conducts the recording and then, in close up, ceremonially marching into Dodger Stadium in full regalia, including his "skirt."
After graduation, Davis released an album as a singer and toured the country. He also worked with Dionne Warwick on the television show Solid Gold. His show business career came to an end, however, when his father called on his only son to help with the family business. He helped run his dad's chain of Firestone franchises that was advertised as the "celebrity tire and auto store." Famous actors, Olympians and even Rosa Parks regularly visited. The largest location in South L.A. made national news when it was burnt down during the 1992 riots.
Davis eventually became a successful real estate investor and now lives in semi-retirement in Palm Springs. He returns to his Trojan Family to perform with alumni band members at USC's homecoming. "When I go to the games," Davis said, "My partner John can get totally overwhelmed because thousands of people will yell my name out when I'm walking on the field for the halftime show with the alumni. It can be pretty overwhelming to go to any kind of event with me at USC."
After all these years, Rodney Davis — the trailblazer, the drum major, the role model — still moves to the front of people's minds.