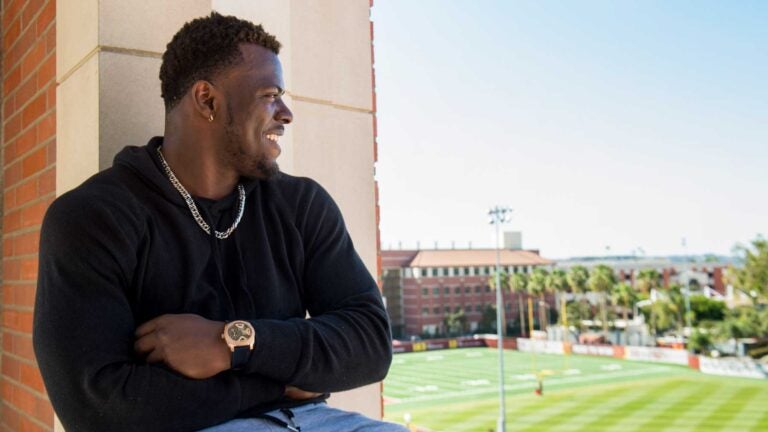 USC Linebacker Oluwole Betiku Finds a New Life Far From Home through Football
Natural talent, strong support and a little luck put dreams within reach for a football novice from Nigeria.
On a Tuesday last September, Oluwole Betiku was spending the afternoon with his mother and older sister. This might not seem out of the ordinary for a USC student-athlete. But Betiku is an ocean and a continent removed from his hometown of Lagos, Nigeria. It was the first time he had seen his immediate family since he left home at age 16.
The sophomore linebacker is an imposing man, 6-foot-3 and well over 240 pounds of what looks like solid muscle, a standout even at one of college football's most storied programs. "Nobody here parallels to Wole's raw ability," says wide receiver Josh Imatorbhebhe, one of Betiku's closest friends on the team. "He's unbelievable."
So, too, is the journey that brought him to Troy.
Ever since he was old enough to set goals, Betiku dreamed of leaving Africa.
"Growing up in Nigeria, you're taught to dream of greener pastures outside the country," he says. He remembers the re-spect and prestige achieved by those who had the courage to experience something new. "All my life, I wanted that for myself," he says.
The problem was getting a chance. He was a skilled basketball player but nowhere tall enough for a pro career. Betiku regularly wandered the streets of Lagos searching for pickup games, though, and it was during one such trip in 2013 that he caught wind of an opportunity. Ten hours away in the town of Uyo, a youth football clinic was in search of prospects. The program was part of a charitable foundation that scout-ed those with potential and placed them in American private schools under the care of host families.
Betiku had never even heard of American football, much less played it, but it hardly mattered. He hopped on a rickety bus and did his best to get through a battery of exercises and football drills at the clinic. Within a few months, he had earned a plane ticket to the U.S.
At USC, it's not just going to be about football. It will be about everything around you as a human being and helping you become a success story.

Oluwole Betiku
For his junior year of high school, Betiku enrolled at Junipero Serra High School in Gardena, California. The school's alumni include USC All-Americans like Robert Woods, Marqise Lee and Adoree' Jackson, though Betiku was nowhere near as highly regarded, at least not at first. The growing pains were evident: Betiku remembers jumping offsides as many as five times in a game, and asking coaches if he could play without bulky shoulder pads.
His potential was obvious, however. As a senior in high school, Betiku recorded 17 sacks and established himself as one of the top recruits in the country. But it was his story that captivated Tee Martin, USC offensive coordinator.
"As a young 17- or 18-year-old across the world in a place where you don't know anyone, you have to trust people," Martin says. "I didn't want to be just a recruiter. I wanted to be someone that would be in his life. At USC, it's not just going to be about football. It will be about everything around you as a human being and helping you become a success story."
At USC, Betiku found academic opportunities, a famed football legacy and a feeling of home.
There are five players of Nigerian descent on the football team, something that Imatorbhebhe, whose brother Daniel also plays on the team, says is no accident.
"You see a lot of Nigerians at USC. It's because we know what academics can do for you and your future," Imatorbhebhe says.
Imatorbhebhe's mother comes from the same tribe as Betiku's mother, and she has kept a watchful eye on him. Betiku calls senior linebacker Uchenna Nwosu, another Nigerian, his best friend on the team. He frequents both families' homes for dinners.
Yet he dreams of the day when he returns home to his own family in Nigeria. He imagines a throng of children crowding around to welcome him, wondering about his experiences the same way he would have at their age.
"I want to give back to them," he says, "because that country made me who I am today."