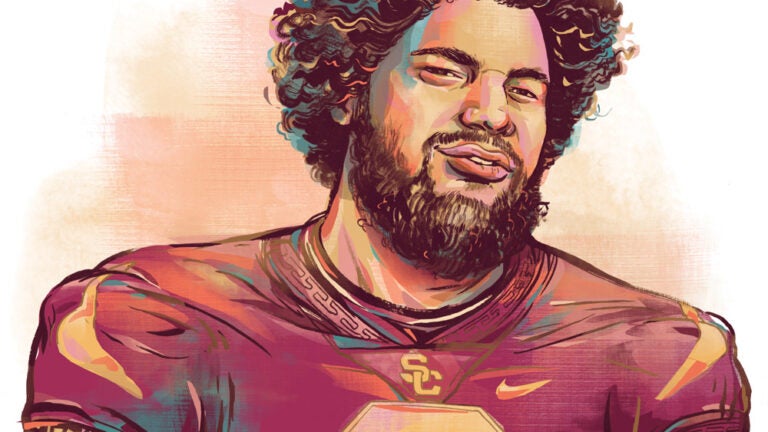 Stevie Tu'ikolovatu's Other Side—Helping Seniors Age with Dignity
A Trojan defensive lineman tackles an issue close to his heart.
Credit Stevie Tu'ikolovatu's grandfather for inspiring him to become a stalwart of Trojan football.
Family patriarch Sonasi Po'uha instilled in his grandson the importance of practice, whistling from the stands for more drills, more running and more repetitions than any of his coaches. "I think about him when we have hard practices or hard games and my body is sore," Tu'ikolovatu says. "The stuff he put me through was much crazier than what we are doing now, so it helps me mentally get through anything."
The results can be seen in the tackles, blocks and pressure the 6-foot-1, 320-pound Trojan defensive lineman applies to opposing teams. Tu'ikolovatu also earned praise all season for being a mentor and anchor for USC's defensive line.
Po'uha was also responsible for imparting another practice: respecting elders. He imported it from his native Tonga and passed it down to his children and grandchildren. When he was diagnosed with terminal cancer in 2009, family members moved in with him, roasting pigs in the backyard and bringing sodas to his bedside. Po'uha spent his last months at home, surrounded and celebrated by his loved ones.
"We were able to act as his hospice nurses, and it was a time that my family and I really enjoyed," says Tu'ikolovatu, who adds that he actually prefers to be around an older crowd. "I like to learn from them. I think they have a lot of wisdom to share."
At some point in life, everyone is going to reach the same struggles as they age. I tell everyone, the more you know, the better off you'll be.

Stevie Tu'ikolovatu
Tu'ikolovatu graduated with a bachelor's degree in sociology from the University of Utah in 2016. Still eligible to play football for another year, he chose to transfer to USC. For the football, sure. But also for the opportunity to earn a master's degree from the USC Leonard Davis School of Gerontology, the oldest and largest school devoted to the study of aging across the lifespan.
At USC Davis, he's learning about social policy and societal trends for the aging population. In one class, he was shocked to hear that falls are the leading cause of death and injury among adults over 65 in the United States. In another, he was surprised to learn about discrepancies in care provided to seniors.
"I thought people dying in their homes was typical around the whole world because that has always been in our culture," he says. "I don't think anyone would want to die anywhere but home."
Tu'ikolovatu hopes to head to the NFL after graduation and eventually wants to blend his academic and athletic experience in areas like strength training and nutrition to help people age healthfully. Down the road, he and his wife would like to open care facilities so that older adults can have a better quality of life.
The 25-year-old graduate student's field of study initially provoked humor from some of his younger teammates, who joked that he was studying aging because he was the oldest person on the team. But like his grandfather, Tu'ikolovato's chosen subject has now become a source of inspiration.
"At some point in life, everyone is going to reach the same struggles as they age," he says. "I tell everyone, the more you know, the better off you'll be."