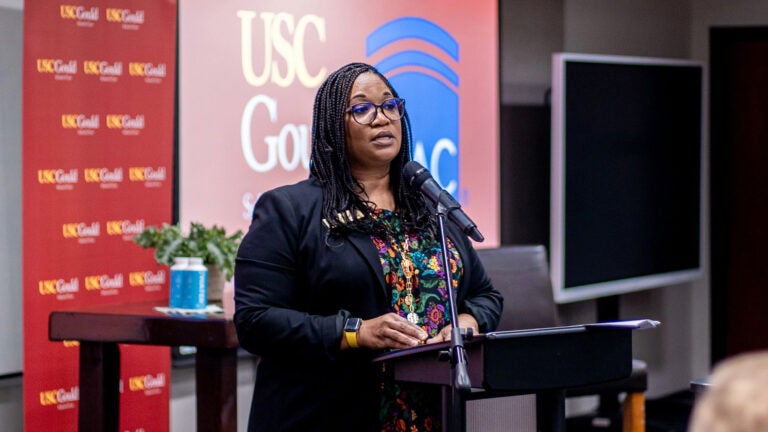 ­USC Gould Title IX trailblazer works to put more women in leadership roles
TITLE IX: "If we can continue moving forward, the future is very bright," says Associate Dean Nickey Woods.
Editor's note: Title IX — the landmark legislation that prohibits sex discrimination in educational institutions that receive federal funding — was signed into law on June 23, 1972. In recognition of this anniversary, we'll be profiling Trojan Title IX trailblazers throughout the academic year.
In 1992, Nickey Woods, associate dean of student affairs and DEI at the USC Gould School of Law and dean of students for the JD program, was a freshman at UCLA on a basketball scholarship. She knew about Title IX as far as scholarships and resources for female athletes went. But years later she realized, even 20 years after Title IX took effect, inequality was still the undercurrent in collegiate sports.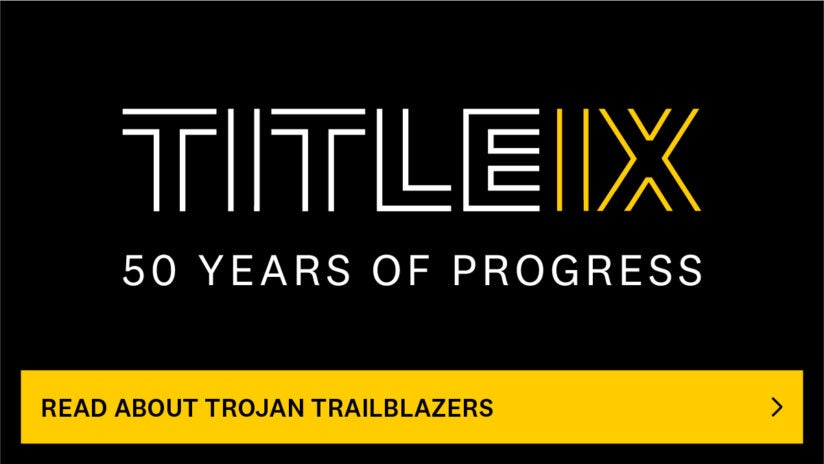 "It didn't dawn on me until years later that our training room was smaller and less resourced than the men's training room," she says. "That has obviously changed now, but that wasn't very long ago. The fact that I had access to fewer resources than my male counterparts was so normalized, I didn't even question it. Honoring Title IX and what it means ensures that we don't normalize inequity and inequality."
Woods assumed the role of USC Gould's inaugural assistant dean of diversity, equity and inclusion in summer 2021, and was promoted to her current position in fall 2022. She has worked to build trust and rapport between her office and the USC Gould community, forging partnerships with other schools and departments like USC Athletics and developing new programs like the DEI Fellows and DEI Ambassadors, giving law students firsthand exposure to DEI work.
She is encouraged that USC takes female leadership seriously, with more female students, more women on athletic teams, more women in senior administrative positions and more female leaders — notably, USC President Carol L. Folt. The visibility of women in leadership roles is important for everyone, Woods says.
"While it's critically important for women to see themselves in these roles, it's also important for men to see women in these roles," she says. "It's how we challenge stereotypes and encourage people to expand the notion of who is capable of leading."
Title IX trailblazer: working collaboratively
As associate dean of student affairs, Woods is inspired by the many opportunities to work collaboratively with students, faculty and staff on initiatives — she's currently writing a practice brief and developing a conference presentation exploring the integration of DEI and well-being initiatives — and reaching out to other DEI practitioners to stay current on trends and identify experts who bring ideas to trainings and seminars on campus.
We can't be silent about this for fear of appearing 'political.'

Nickey Wood, USC Gould
Yet, as Title IX celebrates 50 years, it's disturbingly clear that equality is not a nationwide goal, as proposed legislation in various states threatens progress on diversity, equality and inclusion. For Woods, honesty and bold action are needed to keep the momentum going.
"We must first reckon with what is happening that threatens to undo much of the progress Title IX has allowed us to make," she says. "We can't be silent about this for fear of appearing 'political.' This is about our right to exist, our autonomy, our safety, our future and equality."
Title IX trailblazer remembers her mother and grandmother
When Woods thinks of Title IX, her mother and grandmother come immediately to mind — the true trailblazers who encouraged her to push past obstacles that challenged them in the past and even the present.
"These women navigated America in the '50s, '60s and '70s at the intersection of being both Black and female, and I can't imagine the struggles they had to endure and overcome in a world that is still profoundly misogynistic and racist," she says. "When I first started playing basketball and running track, they were so proud and supportive and instilled in me the attitude that I could do anything. I imagine their encouragement was their way of ensuring that I was not hindered by the barriers they faced."
That reinforcement and the forward-thinking people who helped to make Title IX a reality are the guideposts Woods heeds as she forges her path as a strong advocate for DEI.
"Our society isn't free from discrimination, but Title IX ensures that these types of negative impacts don't go unchecked," she says. "If we can continue moving forward, the future is very bright."