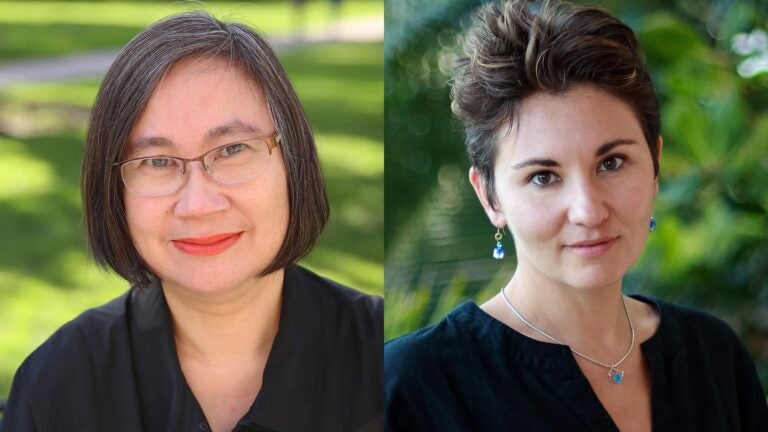 2 USC faculty members named Guggenheim Fellows
Art historian Lisa Pon is recognized for exploring Renaissance artist Raphael's collaborations, while composer Nina C. Young is known for her genre-defying work.
USC faculty members Lisa Pon and Nina C. Young have been awarded prestigious Guggenheim Fellowships for 2021.
Pon, professor of art history at the USC Dornsife College of Letters, Arts and Sciences, and Young, assistant professor of composition at the USC Thornton School of Music, are among 184 fellows selected this year for excellence in scholarship and the arts. They were chosen by the John Simon Guggenheim Memorial Foundation from about 3,000 applicants.
"It is an honor for the foundation to help the fellows do what they were meant to do," said Edward Hirsch, president of the foundation, "especially since this has been a devastating year in so many ways."
Lisa Pon: Art historian who will tell the story of Raphael
"I'm thrilled to have been awarded a Guggenheim Fellowship," said Pon, who joins three other members of USC Dornsife's Department of Art History that have earned the Guggenheim Fellows honor in recent years: Vanessa Schwartz, professor of art history and history; Susanna Berger, associate professor of art history and philosophy; and Kate Flint, Provost Professor of Art History and English.
"This fellowship will give me time for focused writing and, hopefully, post-pandemic research travel," Pon said.
She will use the Guggenheim Fellowship to complete her book about the Renaissance artist Raphael. The project, Pon said, goes against the basic idea of an art historical monograph — which normally focuses on a single work of art or artist — by examining the partners and collaborations in Raphael's personal and professional networks.
"My book is fundamentally about how we write about art and artists, what we want to know and can know historically, and what sustains our visual interest and intellectual curiosity, especially after 500 years of art writing," she said.
Pon specializes in early modern European art, architecture and material culture. Her work focuses on the mobilities of art, artistic authority and collaboration, and the Renaissance concept of copia, or abundance.
In addition to the Raphael-centered project, Pon is writing a book that examines fears about contagion, both biological and moral, in early modern Venice. She also heads a project that aims to digitally reconstruct the library of Julius II, aiming to virtually return the 16th-century pope's books to their intended setting in the Vatican Palace's Stanza della Segnatura, where Raphael's most famous frescoes reside.
Pon's research has been supported by organizations including the National Endowment for the Humanities, the Renaissance Society of America, the American Council of Learned Societies, the Center for Advanced Study in the Visual Arts of the National Gallery of Art, Spain's Ministry of Culture and the Getty Research Institute.
Nina C. Young: Composer who plans to explore aural architectures
USC Thornton's Young is a celebrated composer is known for genre-defying work that pulls equally from the classical canon, electronic music, minimalism and a host of other idioms. She plans to use the fellowship to pursue an ambitious fleet of creative work.
"I am so grateful for this award," Young said. "I'm really excited for the artistic focus this fellowship allows. I think it will be a rejuvenating experience."
Young has several projects lined up, some new and some that were delayed by the pandemic. A unifying interest is an exploration of aural architectures.
"I have been working a lot with the idea of creating virtual, physical, and perceptual spaces with sounds," she said. "Much of my work is focused on finding a flexible composition language that moves easily between acoustic concert music, electronic music and performative installations, and I've been increasingly interested in the aural architecture within physical spaces, both real and imaginary."
Her list of projects she wants to finish is impressive:
The premiere of The Glow that Illuminates, the Glare that Obscures, an immersive 90-minute installation-performance piece at the Experimental Media and Performing Arts Center incorporating the center's unique wave field synthesis spatial audio system, video projection, light and fragmented musical performance by the American Brass Quintet.
A new, evening-length work for the Percussion Collective with violinist Soovin Kim that explores the use of space and movement throughout a ritualized concert performance that will be premiered by Chamber Music Northwest.
A new, 30-minute piece for Hub New Music that utilizes performer spatialization and computer-synthesized speech to cast a virtual "reading" of new writings by poet and gender-studies scholar Rosie Stockton.
After a postponement due to the pandemic, the completion and premiere of a violin concerto for celebrated violinist Jennifer Koh, a co-commission with the Philadelphia Orchestra and the Los Angeles Chamber Orchestra.
It is an amazing year ahead for Young, full of exploration of new sounds and new collaborations. "I find it so much more meaningful to collaborate with musicians rather than create in a solitary way," she said.
That interest in collaboration and connection extends to her students at USC Thornton. Young teaches composition and interactive media classes while leading the Electro-Acoustic Concert Series and collaborating with artists across the university. She's currently leading the construction of a new sound lab at the school, an ambisonic dome that will allow students to further explore spatial elements of composition and sound design.
"There is so much possibility in the union of installation art, new media tech and concert music performance," she said. "We mostly encounter these in separate spheres. I'm excited to use this inquiry into aural architecture as a way to explore the relationship between these modes of practice, and I look forward to seeing what I and my students at Thornton find in these new methods."
About the Guggenheim Fellowship: Created in 1925 by U.S. Sen. Simon Guggenheim and his spouse, Olga Guggenheim, the John Simon Guggenheim Foundation offers fellowships to exceptional individuals in pursuit of scholarship in any field of knowledge and creation in any art form.
Applications for the fellowship undergo review by experts in each applicant's field. Fewer than 200 Guggenheim Fellowships are then awarded to individuals who have demonstrated exceptional capacity for productive scholarship or exceptional creative ability in the arts.