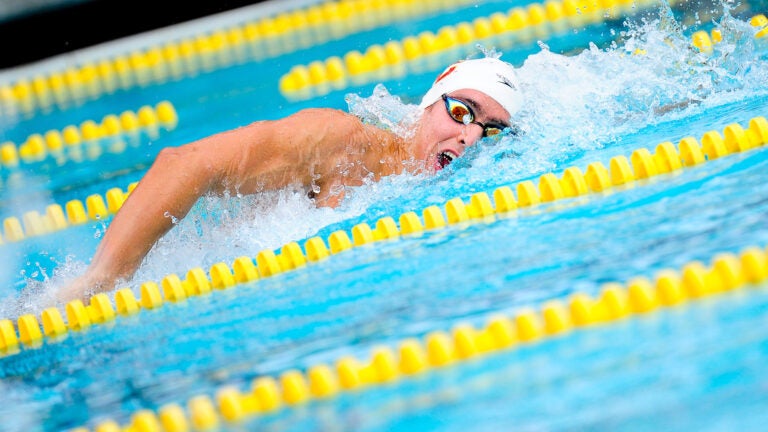 USC head coach believes in the science behind swimming
Dave Salo's cerebral approach to training results in championships for his athletes
While studying exercise science as a master's student at California State University, Long Beach, USC Head Swim Coach Dave Salo PhD '91 took a class in exercise physiology that changed the course of his career.
"I learned theories that were intriguing — and completely contrary to what I knew as an athlete," Salo said. "It piqued my interest in human performance."
For example, rather than encourage students to spin the wheels longer on a stationary bicycle, he discovered that if they instead rode for shorter amounts of time and pedaled faster, they could increase their endurance.
Salo, who earned a doctorate in exercise physiology from the USC Dornsife College of Letters, Arts and Sciences, built his career on that premise (originally put forth by a Cal State Long Beach professor), coaching many Olympic swimmers to victory.
Testing the waters
Salo worked as an assistant coach under the late Peter Daland for the USC swim team while earning his doctorate in exercise physiology at USC Dornsife and accepted a full-time coaching job in Irvine following graduation.
The job became a true test bed for Salo's philosophy.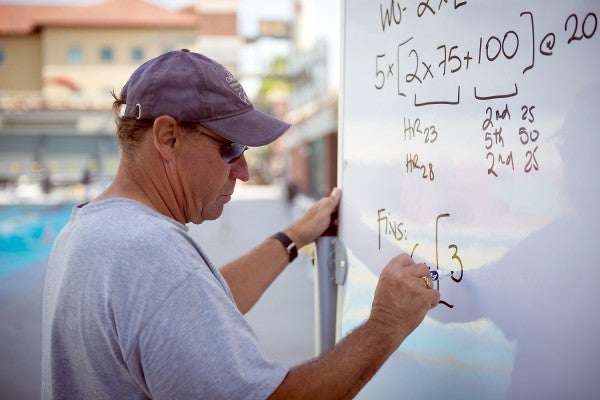 "On the first day of practice, I gave all the swimmers a lecture on human performance and exercise physiology," he said. "I told them things were going to be very different."
While some of his swimmers quit after learning about the changes, others put their trust in Salo's scientific approach. Many who stayed excelled.
Salo led members of his team to a number of Junior National Team Championships and the United States Swimming National Championships. It was at the latter competition where he coached Amanda Beard, Aaron Peirsol, Jason Lezak, Gabrielle Rose and Staciana Stitts, who won a combined five medals at the 2000 Olympic Games in Sydney, Australia.
"From 1990 to 2006, we had more athletes make the Olympic team than any other club in the country," Salo said. As a result of that success, he was recruited back to serve as head coach of the USC swim team.
"I was grateful to get this position because traditionally to become head coach at a school like USC, one would have to coach another Division 1 college team first."
When he arrived, the USC athletes were largely receptive to his unique methodology — with the exception of some distance swimmers who were skeptical about how swimming less would lead them to victory in long races.
"They assumed that I was just a 'sprint coach,' so they were apprehensive," Salo recalled. "But my first year, they were the ones who did the best. After that, they understood."
Peak performance
Salo is the author of two books, Complete Conditioning for Swimming (Human Kinetics, 2008), co-authored with Scott Riewald, and SprintSalo: A Cerebral Approach to Training for Peak Swimming Performance (Evanston, IL: Swimming Support Syndicate, 1989).
He makes sure never to stray from his roots as a scientist of human performance.
"There are the basic precepts that I employ that don't change unless I see something that forces me to ask the question, 'How can I make this better?'" Salo explained.
Sometimes his athletes challenge a component of his methodologies, and he makes sure to prove to them logically why it makes sense.
You have to justify what you tell your athletes to do. You have to be analytical and not spout out ideas you can't defend.

Dave Salo
"It's the lesson of a Ph.D.," he said. "You have to justify what you tell your athletes to do. You have to be analytical and not spout out ideas you can't defend."
In addition to having the opportunity to coach some of the world's most talented athletes, Salo appreciates USC for its wealth of intellectual capital.
"We are always looking for professors on campus who are doing work relevant to athletics — maybe it's a sociology professor studying the dynamics of group structure or a psychologist who studies the mental aspects of sports," he said. "My philosophy is always to take advantage of what's available so that as we move forward, the team will just get better and better."