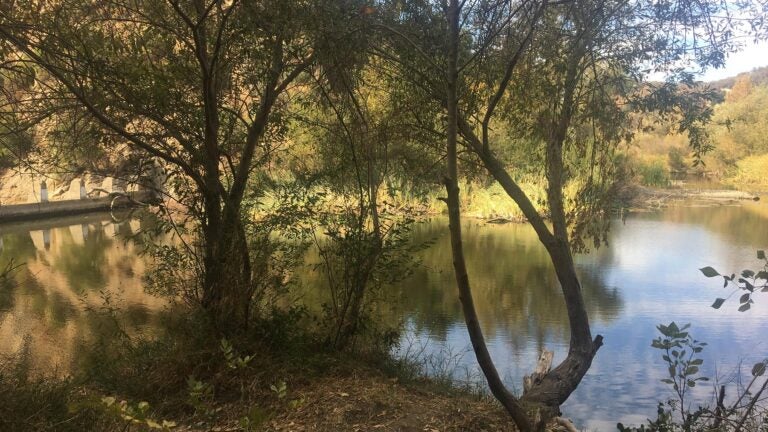 Hiking class gets USC college students to tap benefits of forest bathing
In an age of smartphones and sedentary living, Trojans aim to reconnect with the outdoors, get fit and learn to hike
Brenda Plitt and fellow USC students have been trekking across the Santa Monica Mountains every weekend. They turn off their phones and take in the terrain; they climb rocks and descend into lush valleys.
Sometimes they get a peek of the Pacific Ocean.
"We'll take a moment to take in the view," Plitt, a senior in the USC School of Dramatic Arts. "It's a much needed break from everything. … Hiking is just as much internal as it is external."
The hikes are for a new Department of Physical Education course taught by USC Dornsife College of Letters, Arts and Sciences lecturer Ian Culbertson, a former marine biologist and backpacking guide. Culberston, who also teaches a course on exercise and stress management, wants the class to get students comfortable with the outdoors. But he takes it a step further.
He wants them to be aware of the outdoors. Be present in the outdoors.
"Going up the elevation and looking around at beautiful views gives you this greater perspective," Culbertson said. "Sometimes you feel the world is a little bubble you live in. You get out and realize the world is bigger."
Outdoor appreciation
Hiking isn't just a way to get out and exercise, but it could be a way for students to manage their stress and anxiety. Research shows that being connected with nature can have spiritual benefits that may transcend that treadmill run.
"We know just exercise itself has benefits — not just physical benefits, but it can help with sleep and reduce depression and anxiety," said Sarah Van Orman, USC's associate vice Provost of student health. "There's evidence that outdoor activity has benefits that go beyond that."
In Japan, there's a phrase for this nature therapy — shinrin-yoku — which roughly translates to "forest bathing." Japanese researchers have found it to reduce stress and boost immunity. Here in the U.S. forest bathing is gaining momentum. The Association of Nature & Forest Therapy Guides and Programs trains and certifies forest therapy guides and expects to have about 1,000 guides by the year 2020.
Culbertson tells students to stay aware of their surroundings during the hike and avoid using smartphones, except for the occasional photo. Van Orman says this practice of "tuning out" of stressors is key.
"We are connected in a way we have never been before," she said. "That doesn't give us time to quiet our minds, to reflect and to think – because our attention is constantly moving from thing to thing."
Be in the moment
Culbertson emphasizes not only being present in the hikes, but also in our everyday lives. During one of the class lectures, he brought students out to a tree-lined area on the University Park Campus. Birds chirped.
"He had us close our eyes and listen to it," said Isabella Caltabiano, a sophomore studying international relations and environmental studies. "He had us pay attention to all these forces of nature around us at USC."
Students also gain outdoor skills. Culbertson instructs them on navigation, preparing for emergencies and what to do when you're lost.
Caltabiano, who grew up outside New York City, remembers one of their first in-class assignments: Walk up and down 14 flights of stairs at Webb Tower. They did it three times in a row. Later faced with steep inclines on the group hikes, Caltabiano understood the point.
Culbertson tailors the weekend hikes to the class's overall abilities. It's a balance of offering a hike that's challenging but also interesting: He points out local history, along with native plants and animals.
Student wellbeing
With all the required coursework, hiking might seem like a curious addition to your schedule, but Van Orman says don't write it off.
"I'm a big fan of P.E. classes in college," Van Orman said. Sometimes they can provide a skill that's not taught in classes like organic chemistry. But the biggest benefit, she said, is they force the students to take time out of their lives for their wellbeing.
"I hear from students that it's hard to give themselves permission to take time away from 'important stuff' like studying," she said. "This gives students permission to take care of themselves."
What's next in the outdoor curriculum? Culbertson is working on another course to push students a little further into outdoor appreciation: backpacking, coming next spring.