Academic achievers etched into annals of USC history
The names of Trojans who received 2016 accolades will be added to the Wall of Scholars
The academic achievements of 69 exceptional USC students took center stage at a ceremony in Leavey Library, where the names of these outstanding Trojans will soon be etched in glass on the library's Wall of Scholars.
The students gathered on May 12 with their family members, professors and classmates in the Weingart Reading Room, surrounded by the names of past honorees. USC President C. L. Max Nikias, USC Libraries Dean Catherine Quinlan and Skull and Dagger Society President Jerry Papazian '77 joined the crowd in congratulating the students.
The Skull and Dagger Society created the Wall of Scholars in 1995. Each year, the names of students who have won a national or international scholarship, or who have received certain USC academic accolades upon graduation are added to the wall's glass panels.
Papazian served as master of ceremonies and, before welcoming Nikias to the podium, secured a round of applause "for a group that rarely gets acknowledged publicly: the parents and other family members and friends who have supported these scholars for the last four years."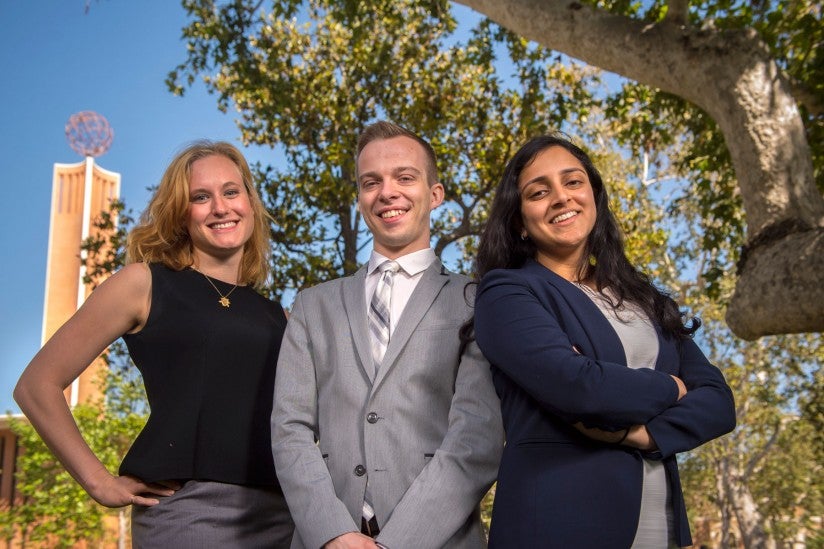 Nikias described the students' inclusion on the Wall of Scholars as "a wonderful tribute to their exceptional intellectual gifts and to their remarkable devotion to the pursuit of knowledge," and invited students to visit Leavey Library as alumni.
"When you do, you can proudly show your friends and your families — or even to your own children or grandchildren — that you have a unique place in the history of this university," Nikias said. "You will forever be part of our Wall of Scholars, and we will forever praise you as members of this special family, just as we hope you will forever praise your fellow Trojans."
'A great honor'
In her remarks, Quinlan noted that Leavey Library records more than 1.2 million visits each year and "holds a central place in the social and intellectual lives of our undergraduates."
Great libraries like ours are champions of permanence in many forms.

Catherine Quinlan
"And so it's fitting and a great honor for us," Quinlan said, "that Leavey Library also celebrates their achievements at commencement time as they prepare to enter the world at large and change it, as so many Trojan alumni have done before them."
She continued: "Great libraries like ours are champions of permanence in many forms — the persistence of knowledge, the continuity of the intellectual record, and, through the Wall of Scholars, the commemoration of the class of 2016's achievements to inspire the class of 2017 and beyond."