USC hosts London hackathon event for young entrepreneurs
Competition among secondary-school kids helps mark the opening of USC's London office, the university's ninth international office and its first in Europe.
More than 20 students from top secondary schools in the U.K. came together at a USC-sponsored hackathon event in London, where they competed to pitch a tech startup.
"The competition was incredibly tough," said Hao Li, assistant professor in the Department of Computer Science at the USC Viterbi School of Engineering and director of the Vision and Graphics Lab at USC's Institute for Creative Technologies. "We were really impressed with all the schools' pitches."
James Ellis, dean of the USC Marshall School of Business, and Elizabeth Daley, dean of the USC School of Cinematic Arts, welcomed the participants, and two USC students — Riley Testut and Aimee Zhang — served as mentors for the competitors.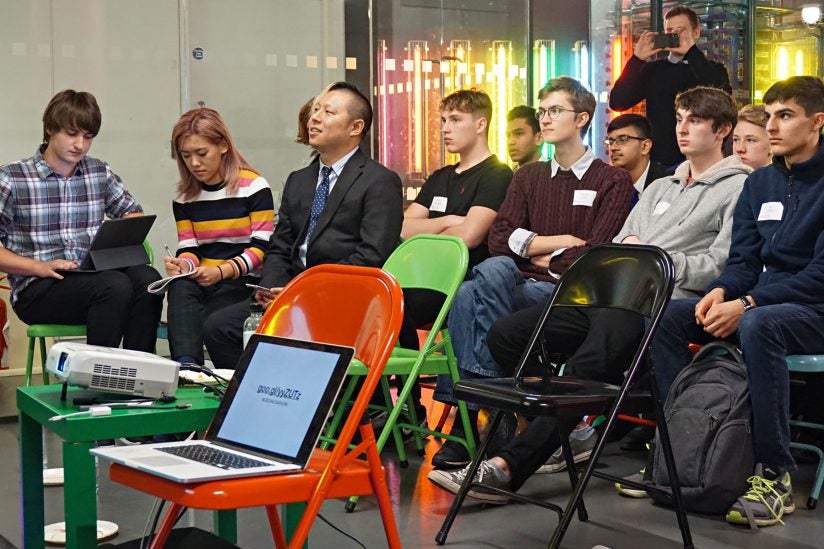 The mentors and Li, one of the world's leading motion capture experts and researchers, assigned each school team a real-world company that had secured initial seed funding, but required an additional injection of funds to move its business to the next level.
Students, working in groups, researched their companies and created pitches to sell their companies to the panel of judges.
Following four impassioned pitches, the Dulwich College team took the gold and was crowned the winner for its innovative pitch about a watch for the visually impaired.
"The team from Dulwich College beat the competition by going the extra mile: It built a prototype which enhanced the visuals of the presentation and prepared thoughtful answers to the judging panel's questions," Li said.
Dulwich computer science teacher Steven Carroll said his team members were determined to win the competition.
"They really enjoyed themselves and were particularly excited to learn more about how Riley, Aimee and Hao had developed their individual businesses," Carroll said. "It has certainly sparked some creative ideas at the school."
The Feb. 20 hackathon was among the special events marking the opening of USC's office in London, its ninth international office and the first in Europe. The office will serve as a center for recruiting, education and research partnerships and more.