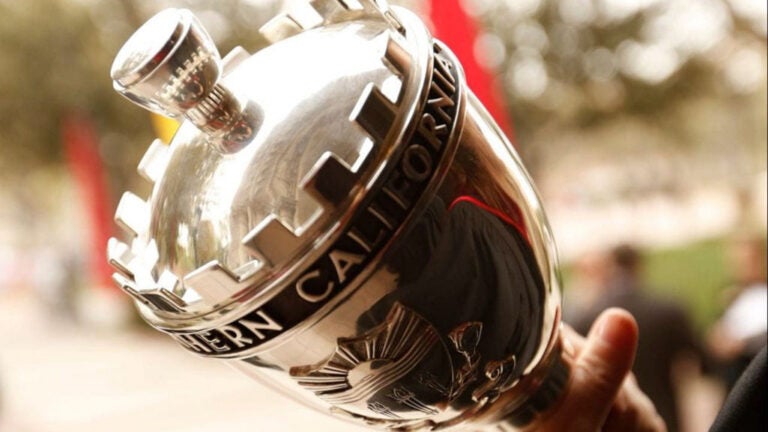 USC to mark inauguration of President Carol L. Folt with week of activities
Faculty symposiums and a student-focused arts showcase are among the events leading up to Friday's formal installation ceremony.
The Trojan Family will mark this week's inauguration of Carol L. Folt as USC's 12th president with a slate of events celebrating the university's faculty and students.
---
LIVE COVERAGE: Watch the livestream of the inauguration ceremony starting at 10 a.m. Friday.
---
Folt, an accomplished leader, internationally recognized life scientist and award-winning teacher, most recently led the University of North Carolina at Chapel Hill. Although she took the helm at USC in July, she will be formally installed in office Friday.
"The inauguration of USC's next president marks the beginning of a new era of excellence in teaching and research, institutional accountability and service to our local communities, the nation and the world," Trustee Chair Rick Caruso wrote in a letter inviting the university community to join in the week's events.
?? Faculty symposiums
Among the key events marking the inauguration are two faculty presentations that will highlight innovative work across diverse fields of study. Faculty presenters will focus on the themes of discovery, creativity and innovation in a TED Talks-like format:
Health Sciences Campus symposium: Featured topics include stroke rehabilitation, eliminating diabetes-related amputations, using models to develop better cancer treatment strategies and protecting patients from surprise medical bills.
University Park Campus symposium: Featured topics include how USC is addressing sustainability, uses of artificial intelligence in social work, air pollution and migration, and the place of chamber music and dance in the digital age.
When: 2-4 p.m. Thursday.
Where: Bovard Auditorium.
?? Arts showcase
Wednesday evening will feature a program of performances and exhibitions showcasing the USC arts schools and their students. The showcase, featuring student work as well as multidisciplinary collaborations, will include musical performances, dance and theatrical presentations, standup comedy, short films and an art exhibition.
When: 7 p.m. Wednesday.
Where: Bovard Auditorium.
?? Inauguration ceremony
The formal inauguration takes place in Alumni Memorial Park with the processional and official ceremonies beginning at 10 a.m. Friday. As with USC's annual commencement ceremony, the event is outdoors and will proceed regardless of weather.
When: 10 a.m. Friday.
Where: Alumni Memorial Park.
If you're planning to attend: The event is open the public and several thousand guests are expected. Parking for inauguration events is complimentary, though you must get a parking permit from the attendant at the entrance; tell the attendant you are arriving for inauguration. General information for attendees is on the USC inauguration website.
If you're marching in the processional: Delegates who have been invited to participate in the processional should assemble on campus between 8:30-9 a.m. Those participants can learn more on the inauguration website.
To view the livestream (public): A livestream of the inauguration ceremony will be available via the USC home page.
USC employees and students can view livestream on Slack: Faculty, staff and students can watch the inauguration ceremony live via TrojanTalk, the university's new collaboration and communication tool powered by Slack. To view Friday's event on Slack, register online for Trojan Talk.
?? Universitywide luncheon
Following the inauguration ceremonies, a celebratory luncheon for students, faculty, staff and friends of the university will take place at locations across the University Park Campus. In keeping with Folt's emphasis on sustainability as a university priority, the luncheon will be a zero-waste event.
When: Noon-2 p.m. Friday.
Where: McCarthy Quad, Argue Plaza and the West Leavey Lawn.
?? Football festivities
Folt's inauguration date coincides with the USC Trojans' football game against Pac-12 rival Utah. The newly inaugurated president is scheduled to oversee the coin toss before the game and, during halftime, the Trojan Marching Band is also scheduled to present a presidential celebration.
When: Kickoff 6 p.m. Friday.
Where: Los Angeles Memorial Coliseum.